Haylee was excited to get to review Sculpture Technique Model by ARTistic Pursuits Inc.
WHAT IS IT?: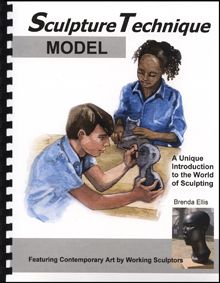 Sculpture Technique Model is part of the newest series of art instruction books from ARTistic Pursuits Inc. There are two in the sculpture series, and the other one is called Sculpture Technique Construct.
The Model book covers creating mass with putty, creating scale with clay, and creating surface with fiber. It is intended to teach students the processes involved in working with specific materials while also teaching elements of sculpture in an understandable format. This book contains a total of 12 project assignments.
These books are recommended for upper elementary through high school level students. They can be purchased for just $47.95 each.
OUR EXPERIENCE:
Haylee has used all of the early elementary books from ARTistic Pursuits Inc. in the past, and she has always enjoyed them. When I first mentioned the sculpture books to her, she wasn't sure what to think, but since she's always had fun with these books in the past, she was happy to get to try out the Model book.
Our goal was to complete one of the three units in this book during the review period. We chose the first unit, which covers creating mass with putty. The unit begins by explaining what mass is and how it relates to sculpture. Then it explains the three methods for sculpting: additive, subtractive, and modeled.
The first lesson goes on to show a photograph of a known sculpture as it discusses the concept of sculpture, what it is, how it can be appreciated, and some information about the pictured sculpture and its creators. Then it gives a detailed explanation of the properties of putty, what tools and equipment are needed, safety when using it, and basic instructions for its use. Then comes the first project assignment: modeled mass.
The pictured examples for this assignments are fish inspired by jewelry and headdress pieces from Africa. This first assignment suggested that Haylee create a simple form that could lay on a flat surface. Haylee chose a pizza!
She had never worked with Durham's Rock Hard Water Putty before, and I found it at my local home improvement store. It was really inexpensive, and I bought the smallest can they had, knowing I wouldn't have any use for any leftover materials. She ended up needing another can for the other two projects in this unit, so if you choose to use this book, I would recommend buying the larger can before starting this unit. It comes as a dry powder that you mix with water in order to create a putty.
The book gave step-by-step instructions along with multiple illustrations to show Haylee how to use the putty to create her sculpture. She had a lot of fun making her pizza! The book is self-paced, but any spot where you must stop and wait for a sculpture to dry before proceeding is indicated with a hand symbol after that step. Her pizza had to air-dry for about two days. Then she got to paint it with acrylic paints. I have to admit that it looked pretty cool by the time the paint dried! She made the toppings part of the sculpture, so it was three dimensional. I laughed when I saw it, because the only toppings on it were pepperoni and green pepper, which is her standard pizza order! It was true to life.
The next assignment focused on static mass. It instructed Haylee to create some type of single animal form that has some appendages, and to choose a subject matter that was of personal interest to her. It explained that this type of sculpture begins by forming the basic shape of your form with a mass of twisted newspaper secured with masking tape. Then you cover it with putty and allow it to harden. The pictured example in the lesson showed the natural, basic sculpture without any paint or embellishment so Haylee could see the form without distraction. It also talked about how many sculptors choose to leave their creations in their
natural form for that reason.
For this assignment, Haylee chose to create a bumblebee. The instructions told her to consider how her sculpture would stand, and if necessary, to create a stand to go with it. But she was able to slightly flatten the bottom of her bumblebee so that it would stand up on its own. Painting her sculpture was optional, but she loves to paint, so of course, she wanted to add those sharp, contrasting colors of yellow and black to add detail to her design. The appendages on this creation are the antennae. So cute!
The final lesson in this unit discussed dynamic mass. It explained that dynamic mass communicates a sense of movement through the use of wings, legs, or other appendages. The examples shown in photographs included a dog, an airplane, a tiger, and a horse. The lesson assignment suggested the dog but again reiterated that Haylee should choose a subject matter that was important to her. Dogs are a big part of her life (we have two whom she adores), and she sleeps with one of them every night. So of course, she chose to sculpt a dog!
Once again, she was instructed to start with a basic shape made from newspaper secured with masking tape and then to cover it with putty. It said she had about 30 minutes to create her sculpture before the putty would begin to
harden.
This time, the book gave very specific instructions for painting her sculpture using a layer of gesso, a a pencil for drawing special features like eyes, and then how to layer the paints to show all of her details. Haylee had so much fun creating her dog!
At the end of the unit, there was an evaluation included where Haylee could reflect on what she had learned and created in this unit. It summarized the concepts she'd learned and asked her to explain her understanding and how she applied them to her work. We went over these questions orally together so I could see what she had gleaned from the activities.
It also referred her to read an article in the back of the book called "The Road to Creativity" by Daniel D. Ellis. This talked about the steps that occur when artists take their ideas and transform them into completed works. We read that aloud together and went over the included discussion questions.
Next, it talked about understanding craftsmanship where it asked her to think about problems she may have encountered while working with the putty and what changes she had to make in her process in order to get better results.
This was the first time that Haylee had ever worked with putty, so this was a whole new experience for her. As she tackled each project, I could see her growing more and more comfortable and confident with the steps in the sculpture modeling process and in how to use the materials in such a way as to get to her desired result. I think she learned a lot from the unit, and I thought her sculptures were really cute! I can imagine that she'll want to do more of them in the future, as this has opened some new doors into creativity for her.
This book was different from the early elementary books we've used from ARTistic Pursuits Inc. in the past. Those follow a basic format of learning a little about art history, studying a great work of an artist, and then applying a particular style or technique to drawing, painting, or printmaking. Whereas this book focused on sculpture technique, with each unit narrowing the focus to a particular medium used to cre
ate and model a sculpture.
Haylee seemed to really enjoy this study, and she was able to work on it without any help from me. I love that each assignment included such detailed, step-by-step instructions with plenty of illustrations to show her how it's done. She was able to follow along herself and emerge with a completed project without my assistance.
In the front of the book, it gives a table of contents along with a detailed list of the art supplies needed for each separate unit to make shopping and planning easy. I did find that the supplies required for units 2 and 3 were tools that were very specific to sculpting. Since we haven't sculpted in the past, we would have to purchase a lot of basic tools that are new to us. It's outside of our budget at this time, so we probably won't be completing the other units right now, but it will be nice to have the book to explore later if Haylee expresses continued interest in sculpting as she approaches high school.
As always, ARTistic Pursuits Inc. made this medium and technique easy for Haylee to understand, and we'll continue to expand her artistic horizons with these wonderful art instruction books in the years to come!
Check out what other Crew members have to say about this and other art instruction books from ARTistic Pursuits Inc. by clicking the banner below.