Happy Thanksgiving! I trust you all had a wonderful time with the families in your own households this week! It was odd not to have any guests or extended family to share the meal with this year, but I was very blessed to have a special meal with my husband and all of my own children. My oldest son is 21, so every holiday we share could very well be the last one we'll share with him while he lives under our own roof. He doesn't spend a lot of time at home any more now that he's been steadily dating someone for over a year, but he made a point to have dinner with us and take a peaceful walk with his mom after the meal before taking off to see his girlfriend, so I was certainly thankful for that! We all had a wonderful day together.
TOP FAVORITE BREAKFAST:
Egg 'N' Bacon Sandwiches. The only change I made to this recipe was to use light English muffins so I could use a whole muffin per sandwich for just a few more calories rather than serving it as an open-faced sandwich. It was delicious! I could eat these any day of the week and never tire of them. I served them with some sweet fresh cantaloupe for a total of 266 calories. Here's a photo from Taste of Home.

TOP FAVORITE LUNCH:
Vegetable Beef Stew. My husband enjoyed this lunch so much that he texted me to tell me how good it was. My young son wasn't so fond, but I also thought it was very good. It hid a healthy amount of nutritious butternut squash, as well. I served it with a small buttered roll and salad with light dressing for a total of 348 calories. Here's a photo from Taste of Home.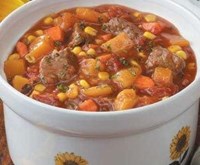 TOP FAVORITE DINNER:
Mushroom Turkey Tetrazzini. This tasty dish is an old favorite. It uses 4 cups of cubed cooked turkey, making it an excellent way to use up leftover turkey from Thanksgiving dinner. What's more, it makes 8 servings, so there's plenty to go around. I serve this with green beans (or other leftover vegetables) and a salad with light dressing for a total of 362 calories.
That's it for now! I had a wonderfully relaxing weekend, completely free of Black Friday shopping for the first time in my married life! One thing coronavirus has brought to us is a far less busy lifestyle with more quality time to just "be" together. That's probably the most positive thing to come out of this crazy, messed up year! I can't lie…I'll be glad to bid farewell to 2020. But in the interest of focusing on the positive, I'll share my holiday photos.