We had the delightful honor of reviewing Introductory Science by Science Shepherd.
WHAT IS IT?: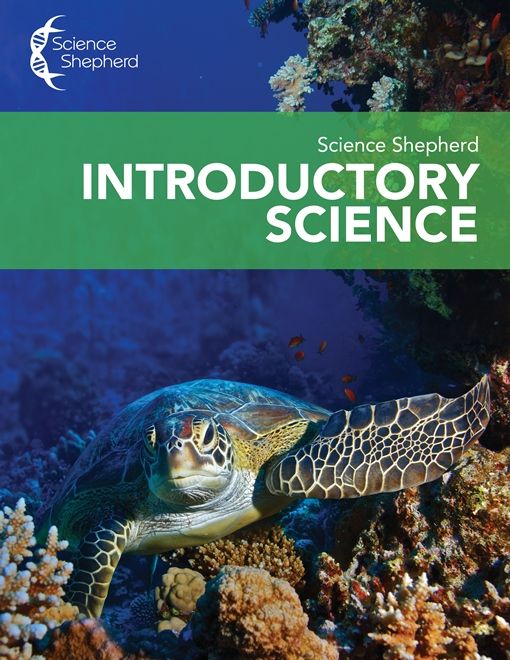 Introductory Science is a Christian-based elementary science program intended for ages 6-11.
This is an online curriculum that is presented through daily video lessons combined with a printed workbook offered in level A (ages 6-8) or level B (ages 9-11). Your subscription lasts for 1 year.
A variety of science topics are covered, including creation, biology, geology, astronomy, oceanography, meteorology, and much more!
You can view a sample video lesson at the product link above, and you can view workbook samples here:
The prices are as follows:
If you do not complete the course within 12 months, you can also purchase an extension for $5/month.
OUR EXPERIENCE:
My 8-year old son, Holden, absolutely loves anything to do with science, and for him, it's never enough! So when we were given the opportunity to try out the Introductory Science program, he was really happy to add it to his activities.
I was able to select either the level A or level B workbook to go along with the online video course. After looking at the samples of both workbooks, I realized that level B just includes everything from level A with the addition of a few more pencil activities like crosswords, word searches, matching, and additional questions. So we settled on using level B and figured if it was too much, we could just omit the extra stuff and be no worse off. As it turns out, it was just right for him, and he was quite capable of doing the extra work. I would definitely recommend going with level B, because then the additional pages are there if you want to use them.
Because this program is an introduction to science topics, it covers a lot of areas of science. We touched on just 3 of them in the first five weeks of the program, and those are the ones I'll be talking about in detail here. Each day involved a video lesson followed by a workbook page. Some days had additional workbook pages or hands-on activities, so I'll take you through some of the things we did.
During the review period, we spent the first two weeks on the Introduction. This discussed the truth of God's word, his Creation, and how he allows us to share dominion with him over the Earth that He created. It went like this:
Day 1:
Day 2:
Video Lesson
Workbook Page
Activity: We created a model of our favorite animal. Holden chose a lion.
Day 3:
Video Lesson
Workbook Page
Matching Puzzle
Day 4:
Day 5:
Video Lesson
Workbook Page
Activity: Holden drew a picture of all the things God created on Day 3.
Week 1 Review page: Crossword Puzzle
Week 2 followed a similar pattern but also included a Video Activity. In every video activity, a pair of twins demonstrate a hands-on activity (like an experiment) that is explained in the workbook, and it's very helpful to watch them do it first. This one asked Holden to draw and color all the things that God created on the 6 days of Creation and to try to do it without looking back in the book. Holden's not big on artsy activities and doesn't enjoy coloring at all, so I didn't make him do this part. We just talked about it instead. It was enough for me that he drew one of the days of Creation in week 1! Another one of the activities this week asked Holden to list some of the tasks that he can do by himself…things we have given him dominion over. So as we came up with that list, I dictated them into his workbook for him. Another activity asked him to write about the ways he can take care of the things over which he has dominion, so again, I dictated his answers down. The final workbo
ok page this week was a crossword puzzle review.
In the third week, we covered Science Skills and Tools. Here, we learned about the scientific method, data collection, and tools for collecting data. This week, we got to do several hands-on activities. The video activity had me put several small objects into a paper bag without Holden looking to see what they were. Then he had to reach in and use his observation skills to predict what each object might be. I used a pencil, a ball, a coin, and a piece of Lego. Holden thought this was fun, and he guessed them all correctly!
The purpose of the next activity was to practice classification. We had to color 9 flowers that were printed on a page in the workbook in 3 different colors and cut them out. But they had different numbers of petals…some 4, some 5, and some 6. Holden had to sort or "classify" the flowers by the number of petals they had. Then he had to fill out a data sheet to show his analysis of the data he collected regarding the colors and numbers of petals in his classifications.
The final vide
o activity showed Holden how to make a bird feeder out of a pine cone, peanut butter, bird seed, and string. He had fun rolling it in the bird seed! He didn't know you could make your own homemade bird feeder this way. A "bonus" assignment was to record data on the birds that came to feed on it, but we didn't get to do that part because it rained for days and days! We put it away to hang it up once the weather gets sunny. This has been the rainiest May ever! Then we wrapped up the week with the crossword puzzle review.
Weeks 4-6 cover meteorology. We've done 2 out of 3 of those weeks at this point. Week 4 explained what meteorology is, all about our atmosphere, what weather is, what precipitation is, and all about the water cycle. For the activities, Holden got to draw a picture of his favorite kind of weather, draw a picture of the earth with its atmosphere, the sun, and the moon illustrating their relative position to one another. The video activity was an experiment with 2 tin cans, one with warm one and one with ice water, to demonstrate evaporation and that water is always in the air. The weather here has been unseasonably cold and rainy, so we decided to save this experiment for once the weather actually brings us some warmth and sunshine so we can see the results much faster. Fortunately, the weather forecast shows we're finally in for clear skies and seasonable temperature later this week! Then we completed the crossword puzzle review.
In week 5, which we just finished up, we learned about measuring temperature and what affects the temperature, all about seasons and what causes them, and the order in which the seasons occur and why. The video activity was fun, and Holden really enjoyed it because it was like playing a game trying to answer the question before the answer was revealed in the video. It showed some pictures on the screen and asked a question about seasons and weather, and Holden had to call out the a
nswer very quickly. He really liked this! He was surprised by the giant hailstone they showed in the last question! He'd never seen hail like that, so he learned something new with that one. We did some matching puzzles throughout the week, and then the final video activity was to select a dry leaf outside and make a crayon rubbing of it, showing the details on the back of the leaf. Holden thought it was cool the way the veins in the leaf just popped right up on the paper! Then we finished up with the review crossword puzzle.
Holden has done really well with this course. It's fun for him, and the hands-on activities offer a lot of variety and age-appropriate activities for him to do. It's been pretty easy for him so far, but he has learned some new things along the way. I would judge this course to be most appropriate for grades K-3. I think it would perhaps be too simple for older than that, but there are still a lot more topics to cover in this program that we haven't gotten to yet…geology, oceanology, plants, astronomy, underwater creatures, flying creatures, land creatures, human beings, being healthy, ecology and natural resources, matter, energy, motion, and magnets. That's 35 weeks of material! I'm sure there will be plenty to challenge him along the way.
You could definitely do this course at your own pace and complete it much faster if you desired. I really like how the worksheets and activities are all laid out in order in the workbook, so you don't have to jump around. The activity pages are all interspersed with the worksheets just where they occur in the program. I also love that the workbook is spiral bound so it lays flat. There's not too much writing involved for younger children, and there's a good mix of multiple choice where they circle the answer, fill in the blank, and true/false questions. The word searches and crossword puzzles are age appropriate, and Holden loved the matching activities. Holden still has some writing difficulties, but it was easy for me to read the questions aloud and let him answer orally while I dictated his answers. Holden also has significant attention deficit issues, and I really loved that the video lessons were concise and interesting. The set makes it look like the teacher is a news reporter with screens all around him that display pictures and videos to watch as he teaches the material. The daily lessons could all be completed in just a few minutes. This also made it easy to do a week of material in one day if you prefer block scheduling. Even doing it that way was not too much. We tried it both ways, depending upon our schedule that week, a
nd it worked well either way.
We also received the answer key for the workbook. So if you didn't watch the lessons with your child and you had any question in your mind about the right answer, you could easily look it up in the answer key. But if you had a limited budget, you could definitely get by without it for this simple elementary course.
We have been so very pleased with this program! It's all just right for Holden, who is finishing up 2nd grade right now. I feel confident that we will continue with this course and complete it within the allotted year. We've enjoyed the activities so much, and it was just plain fun! The video lessons were such a great alternative to a textbook-based curriculum and so much more interesting! This program really suits Holden's learning style. He doesn't even have to sit still while he watches! I've been projecting the videos to our television from our school computer so he could watch them on the living room's wall-mounted tv! He loves that! The videos are nicely cataloged on the website, too…each week is grouped together so it's easy to navigate from one video to the next. The only thing that would make it even easier is if the website remembered where you left off and picked up on the next visit right at the next video!
But I can live without that. It just means that I have to find the right video and start it up for Holden when we're ready for the next lesson. It's a small price to pay!
I would definitely recommend that you give this program a try, particularly if your child has trouble sitting still for textbook-style courses and likes hands-on activities. And all the activities we did used household items, so we didn't need to purchase any special supplies, which also makes this program a winner over a lot of other ones we've tried!
See what other Crew members have to say about this and other science courses from Science Shepherd by clicking the banner below.