Haylee always gets excited when she gets to review a new art material, so she ran to the mailbox when we received the Kwik Stix 12 pk from The Pencil Grip, Inc.
WHAT IS IT?: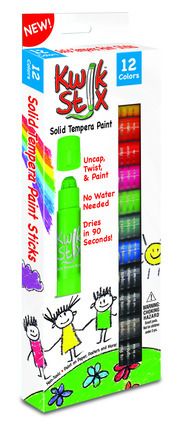 Kwik Stix are a really cool way to let your kids show their creativity with tempera paints without the mess and cleanup required with traditional paints.
Kwik Stix contain a solid form of tempera paint so your kids can draw and color with them in the same way you would with a crayon, but with the rich, vibrant colors and appearance of a painted picture.
This medium goes on smoothly without the need for brushes or water, and it dries instantly.
You can purchase the 12 pack directly from The Pencil Grip, Inc. for just $11.99. Or if you prefer to order from Amazon, you can also get them there for the same price. Other assortments of colors and sizes are also available.
In addition, the vendor included a free sample of The Pencil Grip in my shipment. We've used other pencil grips in the past when my left-handed student was learning to write, but I must admit that this one is especially comfortable to hold! It has a squishy texture, and I think even an adult interested in improving their pencil grip would be interested in trying out one of these!
OUR EXPERIENCE:
Haylee absolutely loves anything to do with art in any form. You name it, she'll try her hand at it! When she heard about Kwik Stix, she begged for me to try to get on this review. She practically stalked the mailbox, hoping they would arrive before our vacation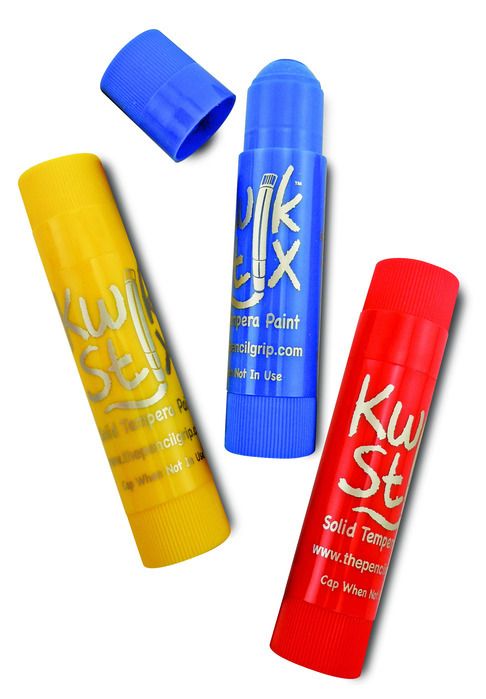 , but they were waiting for us when we got back.
She has really enjoyed using them. The colors are so bright and vibrant, so it makes her drawings automatically fun and colorful. She said using them was similar to some silky crayons we've tried in the past, only these have a firmer texture that doesn't make a mess and doesn't get smooshed on the paper if you apply pressure, so she preferred this over anything similar we've had before. And because they are firmer, they also don't wear down as quickly as the silky crayons did.
I love that they store neatly in the box, the lids snap on securely, no brushes or water are required, and you don't need any special paper to use them. In addition, they should stand up to a fair amount of use. She used these on some cheap off-white drawing paper and also on some thick, white watercolor paper and had equally satisfying results on both. The brighter white the paper, though, the more vibrant the colors seemed to be.
We have a large collection of traditional tempera paints, and honestly, I rue the day I ever brought them into the house! She makes such a mess with them. From oozing paint bottles to messy brushes and leaky water cups, that paint has ended up everywhere but on the paper, it seems. I'll definitely be making those traditional paints disappear now that Kwik Stix are in the house!
Here's a gallery of some of her creations using these fantastic Kwik Stix!
If you have budding little artists in your house, you'll definitely want to give these a try! I feel comfortable letting my kids play with these when I'm not in the room, and that's always a good thing!
See what other Crew members have to say about Kwik Stix by clicking the banner below.