I was so excited to have the opportunity to review Emu Oil and Pure Lanolin Lip Balms by Koru Naturals.
WHAT IS IT?:
Koru Naturals offers a variety of all-natural health and beauty products.
Their premium grade Emu Oil is pure and not refined as some similar products can be. It has no additives or preservatives. It has a milky white color and contains many vitamins and minerals, as well as omega 3 and 6. Because of this, it is easily absorbed into the skin and is a wonderful and effective moisturizer. It can also be used as a leave-in conditioner for your hair. It is non-comedogenic and hypoallergenic. It comes in 2, 4, or 8 oz. bottles. A single 2 oz. bottle is just $9.85.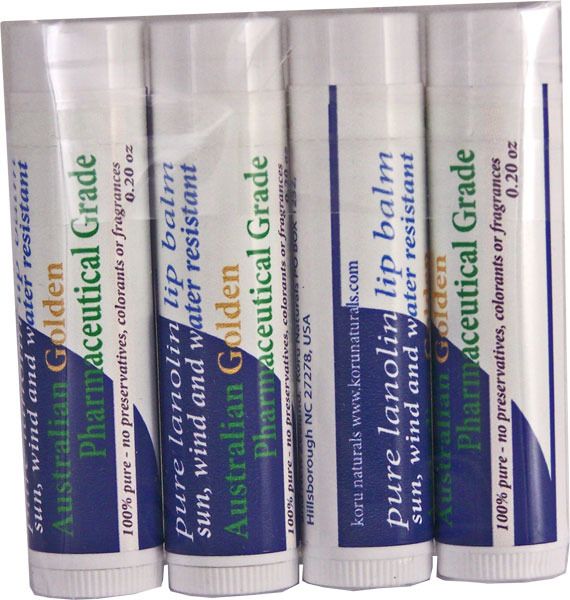 Their Pure Lanolin Lip Balms contain pure pharmaceutical grade 100% anhydrous lanolin. It does not contain any additives, preservatives, colorants, or fragrances. It is resistant to wind, sun, and water. Because it does not contain any petroleum, you don't have to worry about it drying your lips and causing the need for constant re-application. Pure Lanolin Lip Balms are available in tubes or pots. The tubes come in a 4-pack for just $9.80.
OUR EXPERIENCE:
While I was waiting to receive my package from Koru Naturals containing these 2 products for review, I decided to do a little research on the uses of Emu Oil, since I had never heard of it before. In the process, I learned that there are all kinds of practical applications for this unique oil, largely because of its natural anti-inflammatory properties. Through some internet searching, I learned a lot about its therapeutic benefits for a variety of health conditions ranging from arthritis to eczema. Since my sister has rheumatoid arthritis, I told her about it right away so she could order some from Koru Naturals.
I have a less common form of eczema called dyshidrotic eczema. It causes me to experience pain and swelling in the joints of my fingers and even my toes, followed by a breakout of pinhead sized blisters along my fingers and toes. I can use topical steroids for the treatment of the blisters once they break out, but the swelling and painful nodules in my finger joints that occur at the onset is something I have to live with prior to the appearance of the breakout. So after reading about emu oil's anti-inflammatory properties, I decided to give it a try on my impending eczema attack. My finger joints were already swollen, and one joint in particular was very painful. I wanted to experiment with the Emu Oil by only using it on the worst joint so I could compare it with the others. I'm happy to report that the very first day I rubbed a drop or two into that joint, there was a noticeable improvement in the swelling of my finger joint, and as a result, the pain significantly lessened by the end of that day. I was so impressed! I'll definitely be continuing to use it for that purpose in the future.
Since Koru Naturals promotes Emu Oil as a moisturizer, I wanted to try that out, as well. We've been experiencing a particularly intense blast of winter over the last few weeks here, and it seemed like a good time to test out its effectiveness as a moisturizer. I used it on my hands, face, and typical drier hot spots like my elbows. Wow! I have to say I was not prepared for the intense softness this oil would produce on my skin! Everywhere I put it, I experienced an amazing softness that I would liken to baby's skin. Now that's what I call a real moisturizer!
I also tried it out as a conditioner for my hair and scalp. I had watched some videos online about different ways that people had used it in their hair. I first put a few drops in my palm with my regular conditioner and rubbed it through my hair before rinsing it out. It felt so good that I added some more to the ends of my hair and my scalp. I wash my hair every other day, and I suspect I may have used too much in my hair, because it did give me a feeling on the second day of really needing to wash my hair…like it was kind of oily and listless. I guess I got carried away! It definitely did moisturize my hair, though. It's easy to misjudge how effective this product is…a couple of drops really are enough to work through your hair. Needing so little of it for any its many applications means that this 2 oz. bottle will last me for a long time.
Overall, I'm very pleased with this product and will definitely continue to use it as both a skin moisturizer and as a treatment for the inflammation associated with my dyshidrotic eczema.
The Pure Lanolin Lip Balm was the product I was most excited to try. I tend to suffer from chronically chapped lips, and I always have some kind of petroleum based lip treatment applied at all times. After reading about the lanolin lip balm on the Koru Naturals website, I realized that what I've been using has probably caused my lips to need constant reapplication. Instead of helping, I've just set up a cycle of needing to continue using more. So I was really excited to test out that theory and see if the Pure Lanolin Lip Balm would do the trick for me.
I was not disappointed! Since beginning to use this product regularly, I have not had to apply anything so often. When I put the lanolin on my lips, I felt an immediate sense of relief. I was really pleased to notice that when drinking my morning hot tea, it did not rub off on my cup, either, so I didn't have to reapply it every time I had something to eat or drink. It stayed on for hours, and I only had to reapply it by the afternoon. It gave my lips a feeling of intense moisturizing, and even in the blustery snow we've had, my lips did not become chapped when I found myself having to walk in subzero wind chills. Now that's impressive! The 4-pack of this product allowed me to keep one in my vehicle, one in my purse, one by my favorite chair in the living room, and one to give my husband. There's no doubt in my mind that I will continue to use this product in the future. I'll make sure I'm never without it!
Check out what other Crew members had to say about these and other products from Koru Naturals by clicking the banner below.