I had the opportunity to review a great e-book called Paperless Home Organization by Simplified Pantry.
WHAT IS IT?:
Paperless Home Organization is an e-book that helps you eliminate all the piles of paper in your life! Whether your piles and files are organized or disorganized, this book will hel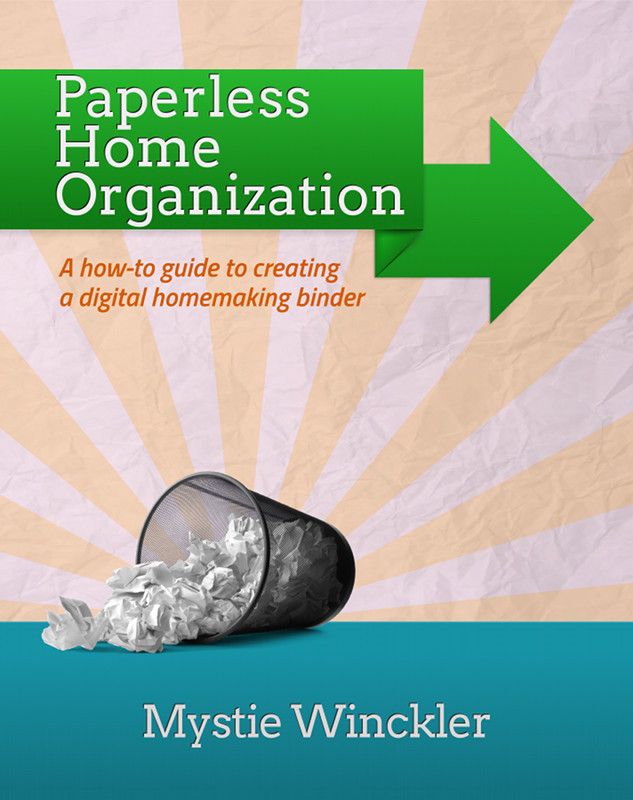 p you get rid of that physical clutter and manage it all in a sensible way in digital format.
Better still, this book shows you how to get yourself set up with this clutter-free system without any further investment in apps or programs. The book will take you through the process of installing the free tools you need, step-by-step, and get to started on the road to a paperless life!
This organizational system uses only free web-based applications that will sync with free apps for your Apple or Android device.
Get started on your journey to freedom by getting this e-book for just $3.99.
OUR EXPERIENCE:
For this review, I was provided with 3 different e-books offered by Simplified Pantry: Simplified Dinners (groups of simple recipes that were developed from a basic pantry list…$12.99; take a
look at the sample), Simplified Dinners Gluten-Free/Dairy-Free (same concept but gluten-free and dairy-free…$12.99; take a look at the sample), and Paperless Home Organization. I initially thought that I'd be most interested in Simplified Dinners, but once I received the 3 products, I was drawn right away to Paperless Home Organization, so my review is based on that product. Interestingly enough, my husband was also drawn to it like a fly to honey, and I'll explain why in a moment.
Despite its purpose being to eliminate paper, ironically, I printed it out, laminated the front and back covers, and bound it with plastic comb binding. After all, I wasn't paperless yet, and I've always preferred to read a physical book where I can pencil in notes right on it if necessary. Call me old-school if you must!
I just enjoy the feel of holding a book in my hands, but perhaps this book will eventually break me of this habit!
I exclusively use a laptop and an original iPad, so I set up the suggested software and apps on those devices as I read my way through the book. There were a number of steps involved, so I found it easiest to set up each component as I came to it in the book. Then at the end of the book, I found a handy setup checklist that briefly summarized the steps in setting up the paperless system, and I was able to use that to make sure I hadn't missed anything along the way.
The whole premise of this system is based on the organizational principles in David Allen's book Getting Things Done. Now it just so happened that my husband had already read Allen's book, and he had fully implemented his organizational system at work. When we did a major purging in our house last fall, he had explained the system to me, and we had begun setting it up at home, too. So the concepts were already familiar to me, as well, which makes adopting this paperless version of the organizational system a bit easier in terms of having my paperwork already sorted and filed and simply beginning to get it all scanned into the computer and organized into the Paperless Home Organization virtual filing system.
This book suggests the use of Evernote, Remember the Milk, Google Calendar, and Gmail, which are all free resources. There are additional features available in Remember the Milk if you want to pay to upgrade (like automatic sync), but you can get by without upgrading. The suggestions the author makes for filtering your email into folders via Gmail sounded promising, but my husband said he'd already tried it and found that he didn't necessarily look at all of his email in a timely fashion if it wasn't in his inbox. He said he'd rather sort it manually so that he is forced to see it and deal with it right away. I can relate to that need, so I opted not to use filtering in Gmail, but instead, to stick with my regular Cox email address and file the emails manually. I have a compelling need to have an empty inbox, so I do deal with my inbox messages in a timely fashion. However, if you are not efficient at dealing with your emails, you should definitely considering following this book's suggestions on filtering in Gmail.
What I did like, though, was using Remember the Milk to make notes to myself of tasks I needed to complete and then sort them into categories to be dealt with in a prioritized manner. I also tend to use my Outlook Calendar most, so I found a free program called SyncMyCal that allowed me to synchronize appointments between my Outlook and Google Calendars. That worked out great, too. Evernote is the program that allows you to scan in all of your printed documents, but then have the tremendous convenience of being able to search on any word in any of the documents (even hand-written ones) to find them quickly. Brilliant!
I found this book to be well laid out, and the explanations and illustrations were very helpful in understanding how to set up this system. I can definitely see how it could work. For me, I really like the paper filing system that we just set up in the fall. So I haven't completely bought into going paperless just yet, but I'm using this book to help me at least cut down on some of the volume of paper and to manage my tasks and digital items more effectively. It's easy to take portions of this book and make it work for you, even if you choose not to adopt the entire paperless system. I would definitely recommend this book if you are even trying to minimize your use of paper in your household.
Simplified Pantry is offering a discount right now through June 3rd. With code TOS2013 entered during checkout, you can get 30% off any ebooks on their website!
Take a look at what other Crew members had to say about these products from Simplified Pantry by clicking the banner below.

***