It's the end of January, and that means it's time for me to think about what homeschool curricula to choose for each of the kids. I immediately hit a snag when I realized that I'm going to need to change up math for Holden next year.
You see, he's always done Saxon Math, and he's finishing up Saxon Math 3 in
May (and we start again in June). I own all of the levels through Algebra II, but I know that Saxon Math 5/4 switches to the self-study format. In addition, there are no longer pre-printed worksheets starting with that level, which means the student has to copy the problems down onto graph paper. Those two factors alone will mean it will not be a good fit for Holden at this point.
The first issue is that he definitely has issues with hyperactivity. He needs interaction to help him focus on what he's doing. The second issue is that he is left-handed and lacks fine motor skills as of yet. His writing is still too large, and he fusses a lot about writing much at all. So expecting him to copy problems down in a legible, orderly fashion in a limited space will simply not work.
So this realization got me thinking this weekend about what math program might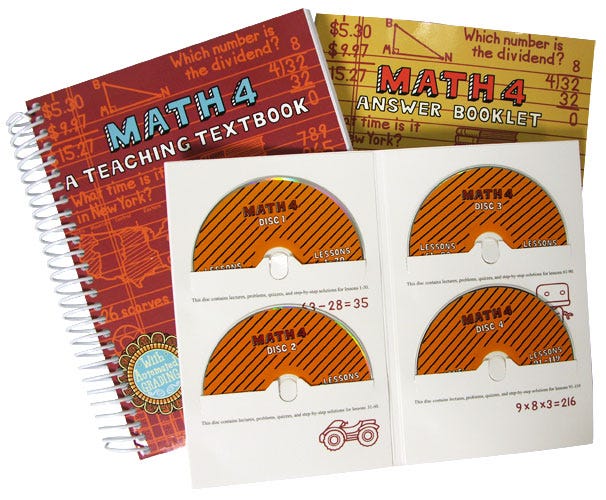 be a good alternative for him for 3rd grade. In considering my options, I began leaning towards Teaching Textbooks. I played around with sample lessons on their website, and I think he would enjoy the interactive video lessons. The optional workbook would have the problems printed out for him already with ample room to work them, and he could enter his answers in the program on the computer. That's perfect for him! I think he could handle it on his own, and that would also free up some time for me to fit in my workout now that I'm back to daily exercise again.
My only concern is that it seems like the levels run a bit behind. Since Holden would have been starting Saxon Math 5/4, I looked at the placement test for Teaching Textbooks 4, and it seems a bit simple. In addition, the sample lessons I looked at were for concepts that we've already covered in Saxon 3. So I'm wondering if I should start with level 4 or level 5. This is where I could use some advice from someone who has used it before.
If you are familiar with Saxon and Teaching Textbooks and perhaps have used both of them, please share some feedback with me on placement in this case. I don't want to make things too easy for him…he is pretty sharp with math concepts in general. And I don't want to lose ground on the pace we're used to with Saxon. I like my kids to be ahead a bit with their math learning so that the standardized testing we're required to do at the end of the year is pretty easy for them. That way, if they hit a bump in the road, they have extra time to master the concepts before feeling the pressure of needing to know them for that test.
I'll be posting more on this topic in the coming weeks as my thoughts and plans come together for each of the kids.
Where are you with your school planning?