Holden was super excited when he heard he was going to have the pleasure of reviewing the Faith Builders Bible by Zonderkidz!
WHAT IS IT?:
The Faith Builders Bible is a basic hardcover bible written in the NIrV (New International Readers' Version) translation with the added feature of a block-building theme in its full-color illustrations. The NIrV translation is written to a third-grade reading level, making this an ideal bible for elementary-aged students.
It's available for just $24.99.
OUR EXPERIENCE:
I have to admit that the cover of this bible is pretty awesome to look at! It definitely caught Holden's attention the moment in came out of the shipping package. He was rea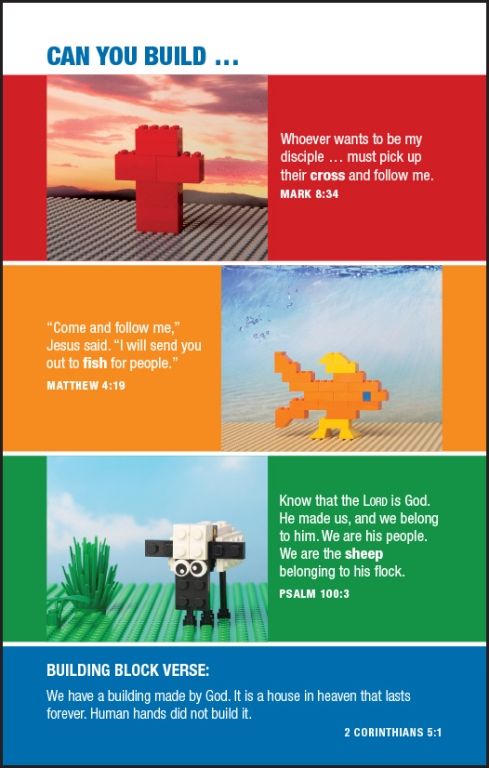 lly excited to get a bible of his very own, with his favorite brick-building theme to boot!
During our daily bible study, we usually listen to a dramatized reading of the bible passages for the day online. However, once this bible came on scene, Holden repeatedly asked to do our bible reading straight from this bible. This is because he loves looking at the full-color brick-building illustrations of the bible passages! To be honest, though, there are only 24 such illustrations in the entire bible, which didn't seem nearly enough for our family. When he'd discover there weren't any illustrations to go along with what we were reading for the day, he quickly lost interest and wanted to go back to listening to the dramatized reading we normally use. When illustrations were included, though, this bible was definitely his first choice! His older sister even got in on the action, helping him to build some of the pictures with his Lego
Duplo blocks.
This bible features a small dictionary in the back, as well as a list of "great bible stories." There's also a neat illustration in the front that shows all the books of the bible broken into groups by law, history, poetry, major and minor prophets, gospels, church history, letters, and prophecy. Beyond that, there were no study notes, insights, or other resources to use other than the illustrated pages.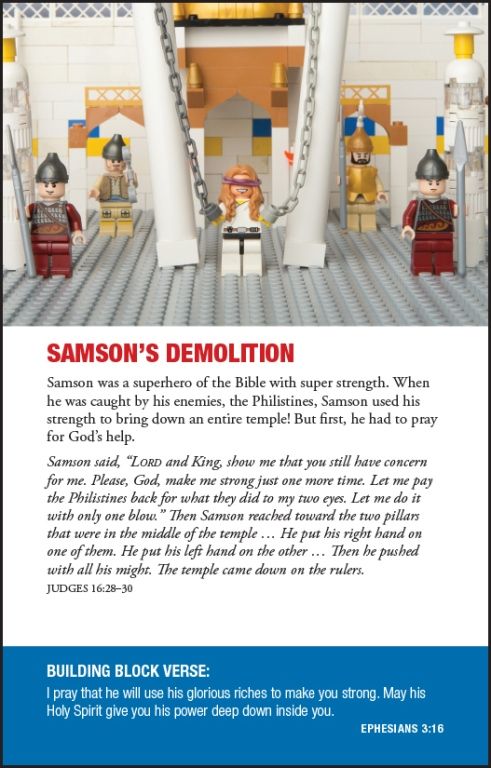 Each illustrated page featured a super cool block-built image from that bible event in vibrant colors, a brief summary of the event, and a highlighted "building block verse" from the story. Sometimes, it encouraged the reader to build their own version of the illustration.
The font size is typical for most bibles, though I personally wish it were a bit larger to make it easier for young readers to follow on their own. I know my 2nd grader still has difficulty keeping his eyes on the correct line when he's reading by himself, so a larger font and/or greater line spacing would help with that a great deal.
I often see specially themed bibles for little girls, but not so much for boys. I was really happy to see this release that tailored more to the little boy in my life. After all, he deserves a special bible, too!
If you have a building block fan in your house, you may want to give this bible a second look!
Take a look at what other Crew members have to say about the Faith Builders Bible by clicking the banner below.