I think I was the one in my house who was most excited about getting to review Music Appreciation: Book 1 for the Elementary Grades by Zeezok Publishing LLC.
WHAT IS IT?:
Music Appreciation: Book 1 for the Elementary Grades provides a complete and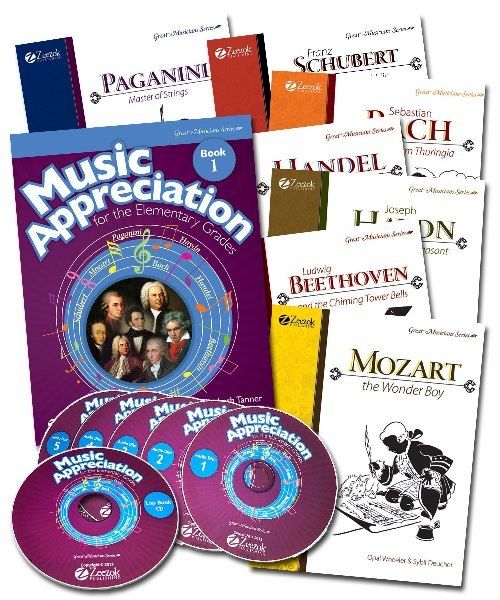 thorough study of seven of the greatest classical music composers of all time. This includes Bach, Handel, Haydn, Mozart, Beethoven, Paganini, and Schubert.
From the Great Musicians Series of composer biographies to the fun and engaging workbook to the CD of lapbook printables for each composer to the entertaining CD collection of their works, this program offers a multi-sensory experience for elementary students, but quite honestly fun for middle school students (and their parents), as well.
A suggested schedule is laid out for you in the student's workbook, which allots 4 weeks of study for each of the 7 composers for a total of 28 weeks of material. All this is available for just $169.99.
OUR EXPERIENCE:
We've had so much fun with this composer study that I'm not even sure where to begin! We began our study with Johann Sebastian Bach, but you can study the composers in any order that you choose. First of all, I want to say that I felt the study was so thorough, very interesting, and so very engaging and fun!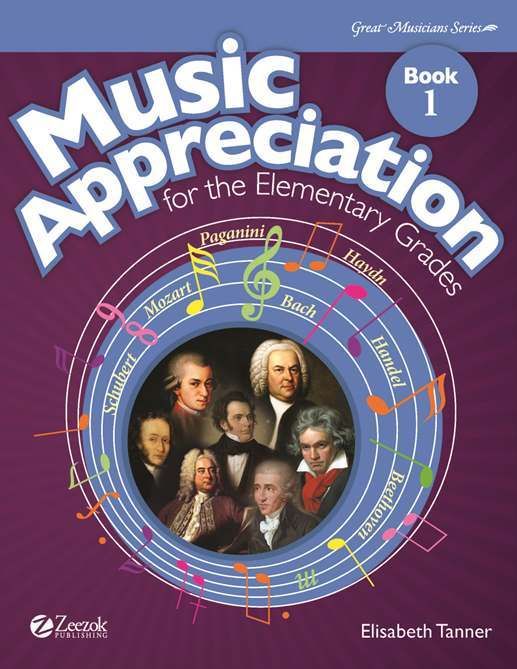 We had a whole biography book from the Great Musicians Series to read all about the life of Bach from childhood to his death. We learned that he was the youngest of an enormous family and that his parents died when he was still very young. He was raised by one of his older brothers who had a tendency to restrict and control his musical experiences, but it was clear from early childhood that young Sebastian was a prodigy of musical talent! I don't want to give away too much about what we learned of his life, but it was truly remarkable! There was so much we didn't know. His life was filled with tragedy in many forms, but he was unflinching in his pursuit of music, and in his pursuit of providing music for God's glory.
I love how the program examines the character traits of each composer, showing examples in their lives of those traits being demonstrated and how they impacted the lives of the composers themselves as well as the people around them.
We also really enjoyed the way that Zeezok designed the elements of the program to be used together. For instance, they interwove the listening of the music with the reading of the biographies so that as you read about the circumstances under which the composer created each piece of music, you got to stop right then and listen to that piece on the CD before continuing the story. It broke up the lengthy reading and kept it interesting for the kids. They really enjoyed the music in this way.
The workbook is designed to be used by a single student. This worked out
fine for us because my 2nd grade son, Holden, struggles with writing and wouldn't have been interested in using the workbook himself. Instead, my 6th grade daughter was the one writing in the book, and Holden watched her do the activities and participated orally where he could. We discussed all the questions orally, and although my daughter did most of the writing, I sometimes dictated for them just to change things up.
There was a Tidbits of Interest section in the workbook that we read after each chapter of the biography. It gave additional information, interesting facts, and background information that made the biography even more meaningful.
We all really enjoyed the hands-on activities that were outlined in the workbook. For our study of Bach, we did an experiment on oxidation using some pennies in vinegar and in water in which we compared the effects on the copper of the penny. My youngest was especially excited to wait a couple of days and see what happened, but my daughter was really surprised how much green appeared on the vinegar penny over the weekend!
In addition, t
here was a fun recipe included for German Rye Bread (since Bach spent his life in Germany). I decided to cut the recipe in half to adapt it for use in my bread machine so that all we had to do was add the ingredients in the necessary order for my machine and turn it on. Sure enough. After about 3 hours, we had perfectly baked bread that was surprisingly delicious! We had no idea that it contained unsweetened cocoa powder until we made it. That was surprising! But my family really enjoyed the bread (we left out the caraway seeds because we don't like them), and we ate every slice of it! We even bought some fresh corned beef and swiss from the local deli to use up the last of the bread as Reuben sandwiches, which were delicious!
There was also some copy work for each of the kids…one page of handwriting lines was provided for grades K-3 and one page of regular lines was provided grades 4-6. Here, they copied some Latin phrases used by Bach when working at St. Blasius Church in Muhlhausen.
There was a variety of printable lapbook elements that we had fun putting together throughout the study. By the end of our study of Bach, we were able to put them all together to create a completed lapbook of what we learned. This made a lovely keepsake! We used a different style base than the traditional lapbook…one I created myself and have used in the past…that makes it easy to store the complete lapbooks in a binder for easy reference in the future.
To wrap up our study, there was a little Quiz on Bach at the end of the unit to check for comprehension and retention of his biography, style of music, and the vocabulary terms we learned along the way.
Next, we moved on to our study of Handel. We learned more about music styles, wind instruments, and musical elements. Interestingly enough, we learned that both Bach and Handel experienced blindness at some point in their musical careers! It's amazing how these remarkable composers could continue to create and play incredible music that would stand the test of time even after they could no longer see to write down their compositions or see what their fingers were playing. Incredible!
I also really liked how easily I could adapt the suggested schedule to meet our needs. We do school only four days per week, so the material in this program would easily last us an entire school year rather than the suggested 28 weeks. I just made quick pencil notes on the schedule pages of how we wanted to chart our course for 4 days/week, and then we just checked off each assignment as we went along.
All of the activities are laid out so nicely, and there's not too much
of one thing before moving on to a completely different type of activity. And there's such a great variety of assignments to appeal to all types of learners. My daughter is crafty, so she enjoyed the lapbook activities. My son is a science geek who loves to cook, so he enjoyed the oxidation experiment and the bread baking a great deal. My daughter also loves workbooks, so the cutting and pasting, matching activities, and comprehension questions suited her learning style perfectly.
The bottom line with this program is that it has something for everyone in your family. And although it's targeted at elementary grades, I honestly think it's just as appropriate for middle school or anyone else in your household who is interested in studying the great composers. Even the music selections on the CD's for any one composer reflect a variety of styles and tempos to appeal to different children and different moods. I also liked the self-reflection activities in the workbook that allowed my kids to think about how the music and the different tempos made them feel and affected their moods.
I can't say enough wonderful things about this program. It covers so much material, but manages to do so in a mature way that is every bit as enjoyable for the children as it is for the adult who is teaching it. It includes so much more than I ever imagined when I read the description. I would really strongly encourage you to have your family experience this program if you have any interest in true music appreciation at all. You won't be sorry! It's an investment in a true understanding of the music and how it came to affect all the musicians and compositions that would come after it.
I'm so thankful that my family has had the opportunity to experience this wonderful and enjoyable learning opportunity, and I know without a doubt that we will continue with this program to the end. I was also excited to learn that Zeezok plans to release Book 2 in 2017 aimed at the middle school grades. I can't wait!
Check out what other Crew members had to say about Music Appreciation by clicking the banner below.