I was really excited to have my 1st grader try out the New American Cursive: Penmanship Program Workbook 1 by Memoria Press!
WHAT IS IT?:
Memoria Press offers a wonderful series of penmanship workbooks that use the New American Cursive font. New American Cursive is a simplified cursive font that eliminates 26 strokes from the three most common cursive handwriting programs, making this sty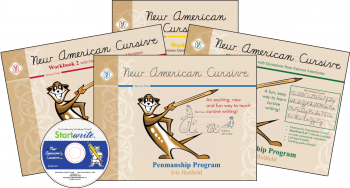 le of handwriting easier to learn and more accessible to even younger students as early as first grade.
Students are intended to practice for just 20 minutes per day in the first workbook. The workbooks are spiral bound from the top to make the paper equally accessible to both left and right handed students.
The New American Cursive font still has a beautiful style that doesn't differ so much in its overall appearance from more traditional cursive, yet it truly is easier to learn and write!
The New American Cursive: Penmanship Program Workbooks are available for just $22.95 each.
OUR EXPERIENCE:
I should start by saying that I attempted to transition Holden to a traditional style of cursive writing a couple of months ago, but it was a complete failure! He literally cried over it every day in frustration until I had no other choice but to abandon it altogether and go back to printing. You see,
Holden is the only left-handed person in our family and I know that only added to his frustration. It was hard for me to even know if I was teaching him the right way, because I'm not left-handed, and I couldn't relate to the frustrations he was experiencing.
Then along came the opportunity to review this New American Cursive workbook, and everything changed! I watched the video that explained how to help a left-handed child hold the pencil and position the paper properly, and I was all too eager to give it a shot. Holden was apprehensive about trying again, but I explained to him that this program was simpler and easier to learn, and he agreed to give it a try.
I started out by reading the teaching guide in the front of the workbook. It suggested that I play some classical music during the lessons in order to help Holden concentrate on what he was doing. I actually found that to be a fabulous tip! He even got to a point where if I forgot to put it on, he started asking for it! It really did seem to help him focus.
The video really gave me some good tips on teaching a lefty how to write in cursive. The best one was to have him pick up the pencil about an inch to an inch and a half from the end when he writes. This allowed him to be able to see what he was writing without be
ing obstructed by his own hand. He had complained about that before, and that tip completely eliminated that issue. But again, I never knew before what I needed to know to help him with the special challenges he would face as a left-handed writer.
The wonderful thing about the New American Cursive font itself is that it is simpler, eliminating 26 strokes from traditional cursive. And yet it still has the polished appearance of the traditional font. It even maintains the slant to the right, which I was glad to see. Once I explained the simpler format to Holden, he looked relieved and was very willing to give it his best effort. That was a good start!
The workbook does not come with a pacing guide, although you can purchase a lesson plan from Memoria Press if you desire one. It was easy enough, though, to get a feel for the format of the lessons. Each letter of the alphabet has 3 workbook pages devoted to teaching and practice of the letter. The first page shows the student the letter with numbered arrows indicating the starting point and the direction in which it should be written. The student is asked to say the letter, trace it with their finger, and then write it. The second page is 4 lines of the letter, devoting 2 lines each to capital and lowercase. The student traces the dotted letter, then writes it twice on their own, and then continues this process. It gives the student just enough practice without making it overkill. In the other program we used, Holden immediately became overwhelmed with how many times he would have to write the letter once he figured it out, and it just froze him in his tracks
. These pages of New American Cursive are very manageable for him.
The third page gives some mixed practice with joining the letters together that the student has learned so far. The book calls it "holding hands," which Holden giggled at…I thought it was really cute. There are only 2 lines of work on that page, and the rest of the page is blank for the student to do some artwork. Holden normally does not like to draw or color, but he was so excited about actually being able to write the letters and see his accomplishments that he actually asked for crayons so he could draw pictures to decorate those pages! That was a real surprise to me! You can take a look at a 3-page sample of how those pages are laid out.
Then after every few letters of instruction, there is one page of review. So for Holden, I had him do the 3 related pages in one sitting, and then when the review page came up after every few letters, he would just do that one page as well as he could on that day. This pacing seemed to be just fine for him, and he asked me if this workbook could take the place of his printing lessons. Imagine that! He liked it so much that he gave up printing altogether and asked to make it part of his regular school work! So that's exactly what we did, and he continued doing it 4 days/week instead of his other handwriting. It has gone so very well for him, and I love how at the bottom of a new letter's practice page, it would ask him to critique his own hand writing by circling the letter he thought he'd done the best. He had a habit of asking me what I thought, so I always turned it back around on him to have him evaluate his own writing, and he took great pride in doing so.
I really couldn't be more pleased with this program! It has been an excellent fit for him, and he is learning the letters well.
He is just 7 years old and finishing up first grade in a couple of months, and it has completely turned around his attitude towards learning cursive writing. I'm so pleased with it that I have purchased the New American Cursive font for StartWrite software so that he can continue practicing this handwriting font for years to c ome! StartWrite/NAC is also availab le at the same link from Memoria Press.
I'm sure you can imagine my delight when he was reading Amelia Bedelia for school and was able to keep reading, even when the sentences were printed in cursive! He, too, was delighted, as if he even surprised himself! This is a real accomplishment that would not have been possible at this time if not for New American Cursive!
So if your child has ever been frustrated with cursive, if you have a left-handed child, or you want to start off on the right foot, you should definitely give this penmanship program a second look!
Check out what other Crew members had to say about this and other products from Memoria Press by clicking the banner below.