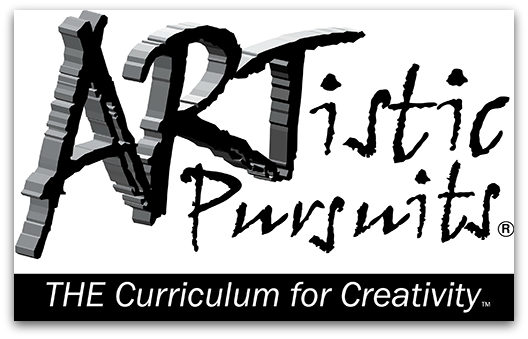 My daughter was extremely happy to get to review Early Elementary K-3, Book 3: Modern Painting and Sculpture by ARTistic Pursuits!
WHAT IS IT?: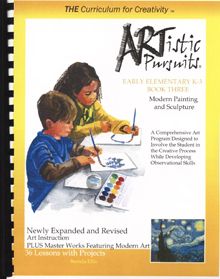 ARTistic Pursuits offers a diverse series of art instruction books for grades PK-12. Each one focuses on a specific mediums and art techniques and examines period art that demonstrates those elements.
There are three books in the Early Elementary K-3 series, and we reviewed book 3, which focuses on modern painting and sculpture. This book shows students how our view of art today has been influenced and changed by the ideas, artists, and art of the past. Students will learn how to examine abstract art for its line, space, and color, and see how the realism in art can tell a story.
The books are conveniently non-consumable, spiral-comb bound with clear plastic covers on the front and back, making them ideal for use by multiple students. A recommended supply list is printed in the front of each book, so you can be sure to gather everything you'll need ahead of time. There are links on the vendor's website where you can purchase complete supply kits for each book if you aren't up for the task of gathering the supplies for yourself.
Each book is available for just $47.95.
OUR EXPERIENCE:
I do want to mention that although my daughter is currently finishing up the last few weeks of 5th grade, I chose this K-3 book for a reason. We began the ARTistic Pursuits series when she was wrapping up 3rd grade, and because she had not had any previous art instruction, we began with the K-3 book one at that time. The next year, I asked for advice from a representative at ARTistic Pursuits, and they kindly recommended that Haylee continue through the books in order, regardless of her grade level, just because she had not had any prior formal art instruction. That way, she'd get exposure to all kinds of mediums in an introductory manner before being expected to move on to more advanced techniques. So we've done exactly that, and now she is ready for book 3 of the early elementary series. It's been exactly right for her, so I certainly appreciated that advice. I know she would have been overwhelmed by the higher expectations if we had moved on too early, and as it is, she absolutely loves this program!
Early Elementary K-3, Book 3 begins with Impressionist Painting and Sculpture. I'm going to summarize the first four lessons for you in order to give you an idea of how the books are laid out and what kind of instruction and assignments are given in each book.
Lesson 1 was titled "Art and the Subject." This lesson explained how art in the Middle Ages and the Renaissance was based on biblical subjects and scenes, and people who wanted to be viewed as important often had their portraits painted in fine clothing within or around paintings of Christ. But then in the mid-1800's, the Impressionists began painting people doing everyday things, the way they actually appeared in their daily lives. Then the lesson presented a painting by Edouard Manet and made observations about it. Then there were a few questions for Haylee to answer in her own examination of the painting.
Then came the first project! Haylee got to paint with Gouache. The book gave her a photograph and explanation of how to arrange the materials in front of her before she began. Then she was asked to draw a family member and paint it with her gouache paint set. It gave very specific instructions on how to properly set up and use the paints, how to mix the colors, and how to apply the strokes of paint to the picture with both flat and round brushes. Haylee chose to paint her big brother, Hayden.
Lesson 2 was titled "Lines and Solid Shapes" and continued this Impressionist concept by explaining how they often used common household items in their paintings. For this assignment, Haylee was told to find some colorful dishware to paint. She had to arrange them, draw them in pencil on watercolor paper, and then add the paint by using lines and solid shapes. Step-by-step instructions and examples were provided so she could follow along as she created her own painting. She chose a colorful mug (my favorite) and a bright soup bowl on a plate.
I thought she did a wonderful job with capturing both their placement and the details of the dishes. I'm not sure if you can see the details that well in the photograph, but I think the flowers on the cups came out especially well. She had a lot of fun with this one!
Lesson 3 was titled "Paris, City of Change" and talked about the transformation that took place on the streets of Paris during the mid-1800's. Gone were the drab, worn-out buildings and dirty streets, and in came new buildings and cafes. Better employment improved the lives of the people allowed them some leisure activities on the weekends. People traveled more and enjoyed a more exciting life, and the Impressionists wanted to capture this in their paintings. Then it provided a self-portrait painted by Gustave Caillebotte and explained his work in Paris at that time. He attempted to paint people and things he knew and reality as he saw it. His subjects were not interesting to art educators of that time period, but he continued with his work anyway.
Another of his paintings depicting everyday scenes was then featured, and the setting was compared with the settings of other paintings of his day. Then Haylee was given a few questions to answer about the painting as she observed it in more detail. She really enjoyed examining it more closely and looking for specific elements in the picture.
Next up was the project…to make a color wheel! The book explained the purpose of a color wheel and its benefit to understanding how colors work together. It also talked about primary colors and how other colors are made from combinations of those. Then it explained how brown is made and how you can make variations of that, as well, and suggested that she experiment with color mixing on her paint pal
ette.
Lesson 4 was titled "Gouache Paint Techniques." It talked about how the Impressionists painted everyday things that you might find in your home. Haylee's assignment was to find some type of colorful food in the refrigerator and use that as a subject for painting. She had to draw it in pencil first and then use the gouache paints to paint the picture. She selected an orange and a bunch of red grapes and put them in a bowl on the table in front of her. We thought the bright, contrasting colors would be good to paint. She had fun with this!
I really can't say enough positive things about how much fun this program is for Haylee. It's something that she looks forward to each and every week. She's been exposed to so many different types of projects and has learned so much about art and techniques that she never knew before.
The early part of this particular book even taught her how to properly care for and clean her paints and brushes. ARTistic Pursuits has become an incentive for Haylee to get her other school work done so that she can spend some time on her art projects. I would have no problem spending my money on this product, and even the recommended supplies are reasonably priced but of the utmost quality, and I never would have known the differences in quality or what to buy if we were not using the ARTistic Pursuits series of books. I highly recommend this program!
Check out what other Crew members had to say about this and other art books by ARTistic Pursuits by clicking the banner below.