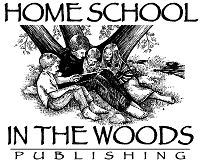 With our recent cross-country move from VA to TX, we felt so lucky to get to review the Make-a-State Activity by Home School in the Woods. It was perfect timing for us!
WHAT IS IT?:
The Make-a-State Activity is the latest addition to the Activity Paks series from Home School in the Woods, which also includes other titles such as The Old Testament, The New Testament, Composers, and Artists. Home School in the Woods is a company well-known for its vast variety of hands-on history products. Some of the other series include Time Traveler American (I've purchased Industrial Revolution Through Great Depression), Timeline, Lap-Paks (I've previously reviewed U.S. Elections and 20th Century in America), and Project Passport (I've previously reviewed Ancient Egypt and Ancient Greece).
This newest activity pak includes 20 projects that compile a finished lapbook that can be used for any state! That means you can use the product over and over again as part of a whole 50-state study (plus Washington, D.C.!), or you can use it for an individual state you might be studying at the time. This pak is generic enough to be used again and again for different states, yet it also includes some state-specific items like maps, quarters, symbols, flags, vocabulary words, and a recipe representing each state. There's also a "State Page" that gives a brief overview of facts about each state.
It also includes suggested resources to help you find out more information about each state you choose to study, and of course, the internet is a great place to find basic facts to help you complete the lapbook elements. There's also a file folder game included to add some fun and reinforcement in recognizing each state and its capital, as well as the order and year it entered the union.
This is a digital product, and it's available for download for just $18.95, or on CD for just $19.95. It's designed for children in grades 3-8.
OUR EXPERIENCE:
I've been homeschooling my kids for over 14 years, and all of it was in the state of VA. I was planning to do an introductory VA state study with Holden for 4th grade this year, but then my husband took a job in TX, and we moved about 2 weeks ago! That threw a wrench in my plans since we already owned th
e textbooks we needed to study VA. Suddenly, I had a need to learn for myself about TX history so I could teach it to my children! My middle-schooler will go to public high school in another year, so she now has to study TX history in preparation for that, too, in addition to Holden. I was already on a hunt for something digital that I could put together quickly and have ready for our arrival here in TX, and that's when the Make-a-State Activity came up for review! The timing couldn't have been any better, and it turned out to be just what we needed!
Right away, I was able to access the materials and get everything printed up on paper an
d cardstock before I had to pack up my printer supplies for the move. That was key. I organized it all in a binder so we could continue working on it even when our belongings were no longer accessible to us! I dropped it into a small travel tub to take on our trip so we could continue to work on it even after we arrived and were waiting for our household goods to follow after us. Because everything fit into one binder, that made it easy to take along and access whenever and wherever we needed it. All I needed then, was markers or colored pencils, scissors, and a glue stick. That was easy!
Since we had a lot going on and we intended to spread out our study over the course of our school year, I went with the pace of completing one project per week. It would be easy to do one every day, or to sit and complete several in one sitting if you had the time. But it lends itself well to being combined with other resources and spread out for a more extensive study, as well. So I gathered up my collection of fun books on the 50 states to add to our learning. There's also a page included with suggested resources that includes books, websites, and videos.
Here are the activities included in the pak:
Key State Facts
Origin of State Name
State Motto
State Symbols
State Song
State Industry/Agriculture/Climate
State Wildlife
Regions
State Geography
State Government
State Seal & Flag
State History
Famous People From…
Native Tribes
State Landmarks
Sports Teams
State Quarter
Recipes
State Vocabulary
State Timeline
BONUS 1: State Pages
BONUS 2: "Name That State!" File Folder Game
Our first project was the Key State Facts. I loved that most of the information we needed to be found with a quick internet search. We were wowed right from the start when we learned that the anticipated 2017 population of TX is nearly 28 million! And it's over 268 thousand square miles…so large that it spans two time zones!
Our second project was the Origin of State Name. We learned that it came from the Caddo and Hasinais Indian word "tejas," meaning "friends" or "allies."
Our third project was the State Motto, which we learned was "Friendship."
Our fourth project was the State Symbols. The pak included a printed picture of the state bird, the mockingbird, and the state flower, the bluebonnet. Haylee researched over 20 other state symbols, and she drew the state bird, state dog breed, and state flag inside the booklet. We didn't even realize that states designated so many state symbols!
Our fifth project was the State Song. We learned that the song is Oh, Texas, Our Texas by William Marsh and was written in 1924. Haylee wrote out the first stanza and the chorus inside the booklet, which we glued onto a cool dimensional "music stand." That was neat and interactive!
Our sixth and final project was the State Industry/Agriculture/Climate. We learned that the major industries here are cattle, cotton, and lumber. The major agriculture is livestock, cotton, greenhouse and nursery products, chicken eggs, and hogs. A significant climate element to note is that Texas ranks first in occurrences of tornadoes with an average of 139 tornadoes per year! Haylee was a bit surprised to learn that, but it explained all the warning siren tests we've heard ever since we arrived here! This lapbook element was also interactive with 3 flaps you could lift to reveal the facts in each category. Inside each flap, a symbol of the category popped out in 3-D, which was cool.
We've been really pleased with all that we've learned so far, and we look forward to continuing with this study for 20 weeks while we add in our other books and resources as we go. Haylee is in 8th grade, so she is doing the writing and coloring of the elements, and we're researching and discussing the facts together. Once the lapbook is completed, I plan to use the completed project as a teaching tool with Holden for the last half of our school year when he and I can sit together and study on his level.
I really love that a one-time purchase of this product allows a family to use its materials repeatedly if they choose to study other states along the way. That's a great investment!
If you've tried other products from Home School in the Woods such as the Time Traveler series, you may have found the sheer amount of projects a little overwhelming, or you may have found that your children favored certain types of projects over others in a product line. In that case, you'll be happy to know that they just opened an "a la carte" store where you can now purchase individual projects rather than a complete product. Your child might love the newspapers, or they might love the file folder games, or they might enjoy the crafts. Whichever elements they enjoy most, you can now purchase a selection of those items individually. Be sure to check out what's available! And in honor of the 200th anniversary of the Erie Canal, you can enter code "alacarte" at checkout to download the Erie Canal project for FREE!
Take a look at what other Crew members have to say about a variety of the wonderful hands-on history products from Home School in the Woods by clicking on the banner below.