Holden had the pleasure of improving his Spanish learning once again with Elementary Spanish 1: Grades 3-5 by Middlebury Interactive Languages.
WHAT IS IT?:
Middlebury Interactive Languages offers a variety of online language programs for students in grades K-12.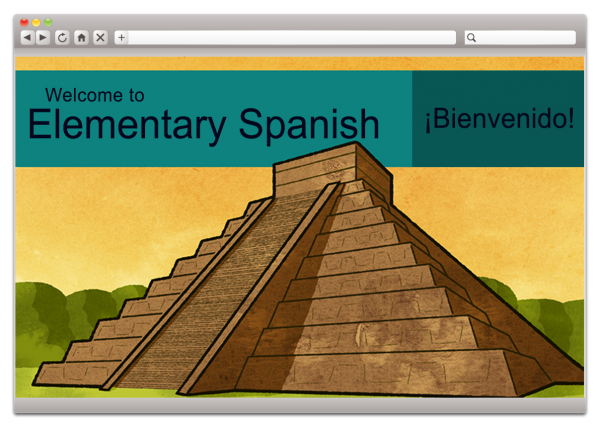 Program subscriptions can be purchased for either one or two semester periods to learn Spanish, French, Chinese, or German, with or without teacher support. They are self-grading programs, and parents can log in to view grades and activities at any time.
Online lessons include animated videos, drag-and-drop activities, as well as speaking the language and recording your voice for playback and comparison.
We reviewed Elementary Spanish 1: Grades 3-5, which is a two-semester program. Without teacher support, it costs $238.00. The primary focus of the program at this level is to acquire language vocabulary, though the cultural stories present vocabulary in context, which also provides opportunity for natural learning of grammar principles.
OUR EXPERIENCE:
Holden is 8, and he has used other levels of the Elementary Spanish programs in the past and has always loved the experience. The animated cultural stories are fun to watch, and it's amazing to see how much understanding he can obtain from a completely
Spanish-speaking story by listening to it in the context of the video.
The videos do a good job of communicating the meaning of the language through the images being seen as you listen. Then the subsequent exercises that follow isolate the targeted vocabulary from the story, allowing him to manipulate words and images in a variety of ways that help him match and remember those words and phrases.
Each time he completes
an exercise, there is a check mark at the top of the screen that he can click to see the assignment graded instantly. He can also go back at any time to practice an exercise again, which helps with reinforcement if there's a section about which he feels unsure.
Each time he logs in, he can easily see which lesson is next and click on that to proceed. After 4-5 segments which are catalogued down the left-han
d side of each lesson, his lesson is complete, and he can either move on or exit until next time. Each completed segment will be shown with a giant checkmark across it so he can see that he has completed it before moving on to the next one.
There is also a calendar section that shows check marks on completed lessons, though the calendar itself is not a functional one, in that you cannot move assignments around or affect in any way when they are scheduled. I think it's probably for use in teacher-supported courses. But it does help you, as
the parent, to see an overview of completed lessons. It actually did come in handy for me. Since Holden had done these courses in the past, I left him alone to complete his lesson each day once I'd logged him in. But when I went back and looked at the calendar overview to look for the little checkmarks and make sure all the lessons were complete, I realized that some lessons were incomplete. When we went back to them, we realized he'd been doing many of the activities but forgetting to click on the checkmark to get them graded. Unfortunately then, his work was not b
eing saved for many of the activities. He's working on doing those activities again and getting them graded so his progress is accurately shown. So my recommendation would be that a parent verify that all activities have check marks on them before logging out each day, even if your child is working through the lessons independently. Luckily, Holden doesn't mind doing them again because he really enjoys this program!
In fact, Holden enjoys it so much that he is doing a lesson every day, even though the elementary programs are paced at two lessons per week so they last a full school year. We were using something else for Spanish up to this point in our school year, but Holden asked to replace it with Middlebury Spanish instead, so this is now our primary foreign language course for this school year!
I have to say that he h
as done quite well with the program. I love that he can do it by himself, too, giving me a little block of time to do other things at home. There are built-in reviews of the material as well as quizzes at the end of each unit, which is great for checking his retention of the material.
I would highly recommend this course for your young learners! The pace of it seems just right, the lessons are just enough without being too much for one sitting, and the interactive nature of the activities keeps students engaged.
Check out what other Crew members have to say about this and other language courses from Middlebury Interactive Languages by clicking the banner below.