My daughter loves all things art, so she was very excited to get to review the Entire Level II by ArtAchieve.
WHAT IS IT?:
ArtAchieve offers a series of online art lessons designed to help kids learn the basics of drawing and subsequently adding design and color to those drawings with various media. But the primary objective of the program is to learn the skill of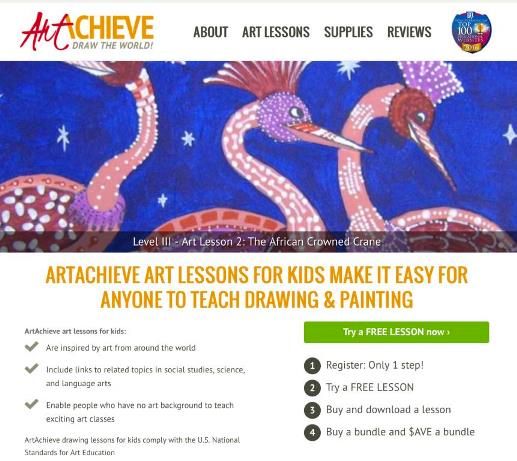 drawing.
There are five levels of difficulty available, and customers may choose to purchase either single lessons, small bundles of three lessons, a value bundle that includes an entire level of lessons, or the entire curriculum. Whatever you choose to purchase will be available for you to access online for a period of 1 year.
There are also some free lessons you can try out before you buy additional lessons. Each lesson has a warm-up exercise as well as the instruction presented in your choice of either a video or PowerPoint slides. It's also helpful to read the FAQ's to get an idea of how and where to begin. The program is suggested for ages 6 and up, but it also says that regardless of age, you should start with the simplest lessons and work your way up.
Single lessons cost $4-$11 each, depending upon the level. You will want to consult the website for the discount bundle pricing.
OUR EXPERIENCE:
My daughter, Haylee, is almost 12, and she's actually pretty confident with drawing already. So when we were given the opportunity to try out a level of this wonderful art program, we decided to try out the Entire Level II.
Getting started was simple! We logged into the ArtAc
hieve website, and all of the lessons in our level were listed there. We could go in any order we wanted to, but we began with one of the free activities about drawing simple lines and also warmed up with one of the Level I free lessons before starting our Level II series. There's a convenient supplies list broken down by each lesson on the website so you can make sure you have all the tools you'll need before you start the lessons. That was really handy.
There were 14 lessons in the Entire Level II, and Haylee enjoyed completing a number of them during the review period. She tried out both the videos and the PowerPoint presentations. The program suggests listening to classical music as you work, but Haylee preferred the quiet. It also suggested warming up your hands and using them to warm your eyes before starting, but after trying it a couple of times, Haylee felt kind of silly and decided she preferred the simple PowerPoint presentations. She also liked being able to take her time and not have to worry about pausing the video as she worked on her drawing.
Each PowerPoint lesson began with an image of the actual item from around the world tha
t Haylee would be drawing. It would give a little history lesson about its popularity and how it was used. Then it gave a list of supplies needed and told her to download the warm-up exercise. Each warm-up exercise consisted of random blocks of the finished drawing that she would have to copy into empty blocks below them in order to practice the types of strokes that would be required in the final drawing. It would provide a list of rules for drawing, and then the actual instruction would begin. The slides would help her locate a starting point on the paper and then would literally show one line at a time for her to draw and its orientation to that initial focal point. Each new step was shown as a red line on the slide so it was easy for her to see what to do next.
After the basic drawing was completed, it would move on to show her how to add color and decoration. It would show suggestions on what other people have done to decorate the basic drawing, and then it would explain how to add the final color to it. When she was finished, it would show her completed artwork from other people and ask her to reflect on how hers was similar or different.
I really loved that Haylee was able to log in, select a lesson, and complete a lesson all on her own without any help or guidance from me. I often watched her from another room, and she was always so focused and attentive to the program. She really enjoyed adding her own flair of designs and colors after completing the basic drawings.
One day, she had a friend over from a neighbor's house to play, and I suggested maybe the do a lesson together since the little girl enjoys drawing, too. Her friend is only 8 and a half, and I was amazed that even she was able to complete a beautiful piece of artwork that I was able to send home for her mom to see. That demonstrated to me that this art program is truly equally effective for kids of all ages!
Haylee really e
njoyed this program and looks forward to continuing to complete the lessons over the course of the year. It was nice not to have to download and store any files on my computer, as well, because the online nature of the program allowed her to complete a lesson anywhere, any time, on any tablet or computer she could access at the time. Sometimes, I even cast the lessons from my computer onto our big living room television screen so she could sit comfortably on the couch with a small table to do a lesson.
I can see how this program would be a great summer activity for your
kids to keep them engaged in something productive. It would also be a great curriculum to work into your regular school year since you get a whole year to complete the lessons. It would also make a great birthday or holiday gift for any child who loves art or loves to draw! And I could even see it being a relaxing activity for an adult. Its step-by-step instruction is so easy to follow that I honestly think anyone could do it!
Take a look at what other Crew Members had to say about this and other levels offered by ArtAchieve by clicking the banner below.