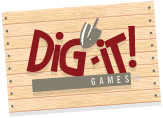 My teenager and I had the opportunity to review the Roman Town (iOS App) from Dig-It! Games.
WHAT IS IT?:
Roman Town is an immersive mystery game that combines history and puzzle solving in order to exercise your students' skills in strategic thinking, spatial reasoning, memory, logic, math, and more. They will also learn about ancient games, Roman history, and daily life in this historic civilization.
While solving mini-games and puzzles along the way, players will be trying to track a thief named Ladrone and gathering clues.
This game is targeted for ages 9-11, as it meets Common Core standards for grades 5-8. However, I think anyone 9 and up who enjoys history-based video games and puzzles would enjoy this type of adventure game.
Roman Town is designed for iOS devices and can be downloaded from the iTunes store.
OUR EXPERIENCE:
Hayden just turned 16 during this review, and although he's above the target age range for the game, he's not above interest in it. He's always enjoyed history-based video games, and he really enjoyed reviewing Mayan Mysteries (also by Dig-It Games) a couple of years ago. And although he's in public school now after being homeschooled through 8th grade, he was free for the summer and jumped at the chance to give this a try.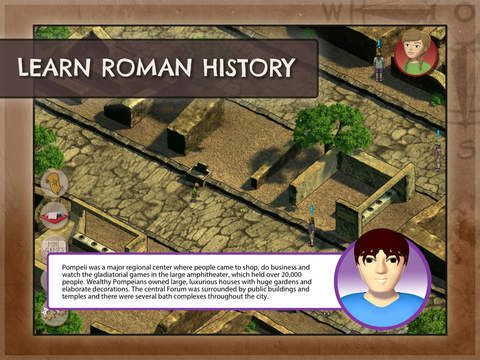 I believe this game is designed for about 4 hours of game play in order to complete the entire game, but it only took Hayden about 2.5 hours of intensely dedicated play time. He loves mini-games within a game, so this was right up his alley. This game includes 35 unique, replayable puzzles.
At the start of the game, the characters explain the circumstances and decide to begin exploring Pompeii and where Ladrone may have gone. You choose which character you want to play as, but you can switch characters at any time. There are four different locations you visit with each character in order to reach the fifth location.
As you reach a mini-game, you are given random historical facts about the area you're visiting. Then you are asked to solve some sort of puzzle There are 10 types of mini-games. They include Artifact Identification, Calculi, Dots and Boxes, Roman Numerals, Concentration, Knucklebones, Code Breaker, Jigsaw, Pipes, and Maze.
Artifact Identification: Set to a timer, you race to match the names of artifacts with their pictures. Hayden initially enjoyed this game but wished that there was less repetition of the same items within the game.
Calculi: This was a popular Roman board game. This game looks a lot like a checkerboard but plays like Connect Four (only it's connect five!). Hayden said this game was super fun. He likes strategy games, and he felt that playing against the computer was still fairly challenging. He enjoys this type of game and didn't tire of playing it.
Dots and Boxes: Playing against the computer, you take turns drawing lines in an attempt to draw a complete box. If you are successful, you take another turn. At the end, whoever has the most boxes wins the game. Hayden found this game to be particularly frustrating and was the only mini-game that he truly did not enjoy at all. It took an unusually long time to get past this game. He said it took him 4 or 5 tries each time the game was played to win. He said he didn't know if he was just really bad at it or if the computer was just too "smart" to play against, but it made the game not enjoyable at all, and he was anxious to get past it.
Roman Numerals: In this game, you simply had to translate Roman Numerals into numbers within a time limit. Hayden thought this was really fun and a good refresher for him! If a player is unfamiliar with Roman Numerals or has forgotten the rules for using them, the details are explained on the left-hand side during game play.
Concentration: Just like any other concentration game you've played, there 3 rows of tiles that you had to flip over and try to match pairs. The images were artifacts from the time period, which made it more interesting. Hayden really enjoyed this.
Knucklebones: This is like a dice game (similar to Yahtzee) but using bones instead of dice. It is a game of chance. Hayden said it was fun, but because there was less strategy and more luck involved, he had to repeat it quite a few times in order to win.
Code Breaker: This game has you try to figure out a 4-digit code to unlock a safe, which revealed a clue. Hayden said this game was his favorite one of all! He played it a lot just because he liked it. He went back several times to play it again. This was the first game he talked to me about, so I know he really enjoyed it!
Jigsaw: In this game, you had to assemble the jigsaw pieces in order to complete a picture. It might be an image of an item used in this time period, a period painting, or a drawing. No rotation of the jigsaw pieces is required…just moving them into place. Hayden said this game was really simple overall. Some of them only had 8-9 pieces, but then others had quite a few pieces. Overall, it wasn't especially challenging.
Pipes: Here, you had to put joints and pipe sections into place underground to continue the flow of water from one side to the other and back up to the surface. Hayden said this could have been more fun if the pathway hadn't been so obvious. He was able to find the path within 5-6 seconds and place the pieces to complete the puzzle within 10 seconds. He liked the concept of the game but wished it had been more challenging.
Maze: Tilting the device to move a ball through a maze, you had to try to put the ball in a hole on the other side. Hayden thought the maze was very simple, but he thought it would be somewhat more challenging for a 9-10 year old but not especially difficult.
Each time Hayden completed a region with both characters, he received a portion of a letter. This led him to a slide puzzle which he had to complete. He said he wasn't very good at the slide puzzles and got rather frustrated. He spent the bulk of his playtime trying to get past these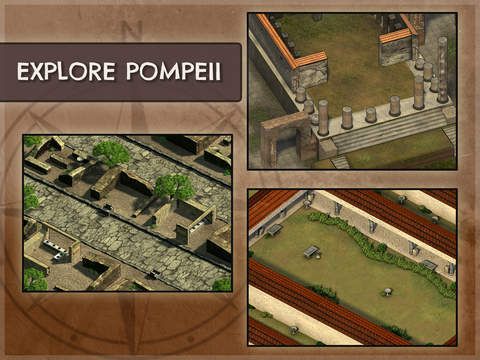 puzzles. He actually got his sister's help at one point!
Once he'd completed all 4 of the slide puzzles, he then had the complete letter. This led him to the 5th and final region. Here, he had to make contact with various people until he found the one that told him the location of Ladrone. Once he found Ladrone's location, he received a postcard that gave him the impression there may be more to this adventure in the future!
Overall, he enjoyed the game for its historical value. He said the random facts were very interesting and he even learned a few new tidbits. He also enjoyed the educational content of the mini-games. But he said each time a mini-game was repeated, the same facts were given, and he wished they had included new information instead. He felt the content was appropriate for the target age range of 9-11, and he felt the mini-games spanned a broad range of easy to difficult so there's something for different ages.
Check out what other Crew members had to say about Roman Town and Mayan Mysteries by clicking the banner below.