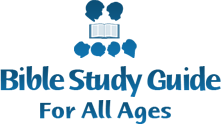 My 5-year old son, Holden, got to use the Beginner Student Pages and Beginner Time Line. My 9-year old daughter, Haylee, got to use the Intermediate Student Pages and the Bible Book Summary Cards. They both got to use the Children's Songs CD Set. These were all provided by Bible Study Guide for All Ages.
WHAT IS IT?:
The Bible Study Guide for All Ages is a unique concept that allows children of various ages and even entire families to study the bible together. It offers plenty of variety to fit every family and group. All participants can just do the oral study from the Unit Teacher Guide, or you can use that for the adults and teens and incorporate Student Pages for children, which are available in several levels for various ages. When working this way, the group reads one set of passages aloud and then has written activities that are age appropriate for each child. The levels of the Student Pages include:
Beginner Level for age 3-grade K

Primary Level for grades 1-2 (this level also requires a Primary Teacher Guide)

Intermediate Level for grades 3-4

Advanced Level for grades 5-6
You can read the FAQ's to get a better feel for how to select the materials you'll need to accommodate your whole family into a group bible study.
The FAQ section will also explain the order of study for the program and why it doesn't start at Genesis and proceed through Revelation in that order. Instead, the program provides a mix of Old and New Testament in each year of the program so that your children don't have to wait four years before they get to study about the life of Jesus!
The Student Pages are grouped into 26 lessons per workbook, with a total of 416 lessons at each level. Each workbook of 26 lessons can be purchased for just $5.95. They've set it up so that if your child changes grade levels before they've completed the study, you can just order the next workbook at the next level up and continue on with the same study without having to repeat any previously studied material. In other words, a given lesson # will cover the same material in all levels, providing activities appropriate to the student's grade level. This is one of the many things that make this program unique!
Other items we used include the Beginner Time Line that is $24.95, the Bible Book Summary Cards that are $24.95, and the Children's Songs CD Set that is $19.95. While these items are not required, they do add a lot of value to the lessons, and I personally would consider them essential. Assignments for these items are made on the Student Pages. The nice thing about summary cards and time line is that they are large and durable (like mini-posters), so you only need one set of them for all of your children to share, no matter how many kids you are teaching. They come shrink-wrapped in plastic, so if you choose to use them, I'd recommend that you get a sturdy expanding pocket folder to store them in. I had some on hand, and they were perfect for storage.
OUR EXPERIENCE:
I was really excited at the opportunity to do bible study together with my 4th grader and Kindergartner at the same time. I'm just going to be discussing the Beginner and Intermediate Level products in this review, because that's what I used with my own children. You can take a look at the Beginner Level sample or the Intermediate Level sample before reading the rest of my review so you can see what I'm talking about.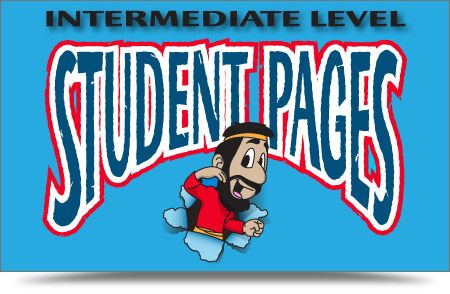 The Student Pages are essentially age-appropriate workbooks that you select based on the skill level of the child. I'd recommend starting off with their grade level, or at least trying out the samples of their grade levels before committing to a whole series so you can make sure the assignments are on level for your individual children. But I went by grade level only and found them to be a good fit for my kids.
Right from the start, I loved how easy it was to follow the flow of the activities. We began with reading a couple of passages of scripture directly from the bible, and that was the lesson portion on which the activities in the Student Pages were based. The scripture reference was stated at the beginning of the lesson on the Student Pages, and their lessons corresponded to one another, even though their activities were different.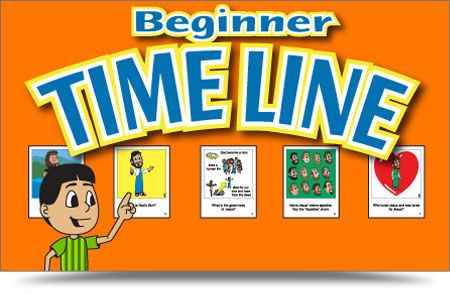 Once we'd read and talked about the scripture, we move on to the next step. For Holden, we'd review a Beginner Time Line Card, which came from a set of 8.5"x11" colorful cards that helped to convey a bible event we were studying. This provided a great visual cue to help him remember bible events from one lesson to the next.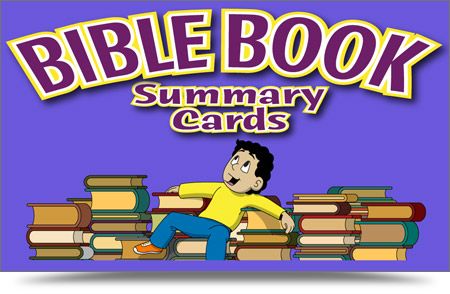 While he looked at that, Haylee would review a Bible Book Summary Card. These were 8.5"x11" colorful cards that provided visual cues on one side about major events that take place in that book of the bible, and on the other side, gave a brief summary of that book along with some simple comprehension questions. Answers to those questions are provided right on the cards themselves. These were great for helping her to remember the significance of each book of the bible.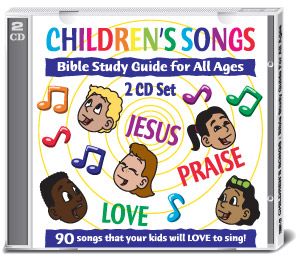 Then I'd have both kids listen to the related song from the Children's Songs 2-CD Set. These contained 91 a capella songs sung by children that helped the kids with their memory work and covered things related to what they were studying. For instance, when the kids were learning about Jacob and his sons, they listened to the song "The Twelve Sons of Jacob" to help them remember all of their names.
Between the songs and the cards, we found it was a fun way to kick off our lesson. Then the kids would be working on their Student Pages. The workbooks are oversized, so we found it easier to just tear out the current lesson page and work with just that one page, which is printed front and back for each lesson. Since Haylee is older in 4th grade and can read and follow directions independently, she'd then begin working on her page on her own. Then while she set to work, I would give a little more individual assistance to Holden who is just in Kindergarten.
Both of their worksheets began with a review section called "Remember It?" Holden's had a series of questions we'd do orally, and the answers were printed in small print underneath the questions. Haylee's review section gave a varied approach from lesson to lesson with things like true and false, selecting the correct answer, tell what happened next, draw in a symbol from a key for the correct answer, etc. This offered her a lot of variety so things weren't the same from one page to the next.
Then they'd both have an application section where we'd consider the story we'd read from the bible, talk about it, and use the discussion questions to make self-application of what we learned. These were entirely age appropriate and a good opportunity for kids to figure out how the events in the bible apply to them today in their everyday lives.
In addition, Holden's pages had a pencil drawing that demonstrated the bible story, and he could look at that while we talked about it and color it if he wanted to. Haylee's pages always had either some map work or timeline work for her to do.
On the back side was the "Discover the Bible" section. Their pages had numbered boxes with some sort of illustration or cartoon in each one, and there was a corresponding numbered instruction for what the students needed to do to that illustration in order to answer a question or demonstrate understanding of the bible story. Sometimes Holden would have to color something specific that identified a bible character or an event. Sometimes he'd have to trace a word in a speech bubble or something of that nature. Whereas Haylee would have to draw in something missing from the picture of the event, mark out things that didn't belong in order to make the picture represent what happened, underline or circle something, or fill in some blanks in the speech bubbles. Again, there was a LOT of variation in the activities within a lesson and from one lesson to another. I can honestly say she never got bored with these pages and looked forward to doing them!
There was also a "Get Active!" section for both of them. These gave suggested activities for the teacher to do with the students that helped to demonstrate the concept in a meaningful way. The kids always enjoyed anticipating what this might be, and it was totally different from lesson to lesson.
For both of them, the worksheets, cards, and songs really helped ensure that they had comprehension, retention, and application of the scriptures we'd read at the beginning of each lesson. The bottom line is that these were engaging lessons we could work on together in one sitting that were fun and offered a lot of variety and practical application. They were fun, and the kids sincerely looked forward to doing them.
The vendor recommends doing these lessons twice per week, but you can do them as often as you'd like. Haylee was always begging to do more of them. She didn't view them as schoolwork and really thought they were fun! I liked how they tied together things they'd already studied at church and at home and made it all fun and real for them. I loved how the lessons and worksheets flowed easily, and I didn't need to keep referring to a separate teacher's manual for what to do next. There's a brief summary of how the lessons go in the front of the Student Pages, and that's really the only thing you need to read before you start…then off you go!
This program is simply delightful. I can definitely see us continuing to use this long-term, and I'm also going to recommend it for the children's multi-age bible study class at our church. We have a small congregation, so there are children of mixed ages in one class, and this lends itself to that environment beautifully!
I hope you'll spend some time checking out this program. You won't be sorry you did!
Take a look at what other Crew members had to say about this and other levels from Bible Study Guide for All Ages by clicking the banner below.

***