The kids and I got to review
Vocabulary Spelling City
from
www.spellingcity.com
. We have used this site for years to test spelling words for our homeschool, but we only had access to the free features of the site. So when the opportunity to review the premium membership arose, I jumped at the chance to try out the other amazing features.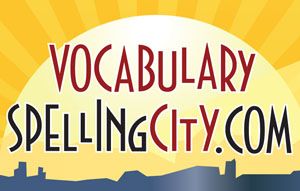 VocabularySpellingCity.com has:
While the free resources are wonderful, the premium services are even better. Here's a checklist to compare the added benefits of premium membership.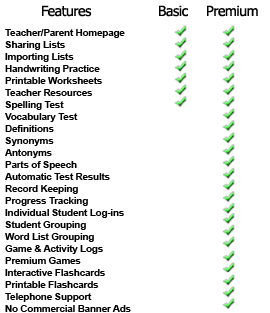 And here's a video that gives you an overview of the site:
VocabularySpellingCity Overview
Did you know...
that almost all of VocabularySpellingCity's games are printable? Click
here
to learn more! How Much Does It Cost Per Year?
Families: Up to 5 students $29.99
For inquiries, contact sales@spellingcity.com
As I mentioned at the beginning, my children have been using the free features of this website for years as a way to test them on their weekly spelling lists. I love that you can add your own customized lists and save them for future use by your other children.

Adding word lists is simple. You can even name your lists for easy reference. In the premium membership, you can even sort the lists into groups, which is extremely useful when saving lists for multiple children of different grade levels.

You can enter lists for spelling and/or vocabulary purposes and quiz on each. The kids can have fun playing games with their word lists, all the while learning the spellings and meanings in an entertaining way.
Another premium feature worth its weight in gold for me as a teacher is that is saves your children's test scores. This means you don't have to write them down or see them before they close the window. They can simply take their quizzes as you have scheduled them to do so in your personal lesson plans, and then you can reference the teacher area at your convenience to see how they've been doing. Each child can sign in with their own password when it's time to take their quizzes or play the games for added learning opportunities.
The games are lots of fun, and my 8 year old daughter begs for computer time to play the games, even long after she has completed the quizzes. My kids also like to study their words again just before they take their quiz by clicking each word in the list. When you do this, the website makes the word larger and spells it both out loud and visually and uses the word in the context of a sentence to help the child understand its meaning and usage. This is great reinforcement.
When the child finishes a quiz, it gives them immediate feedback as to how they did and shows them corrections for any words they missed. They can even re-take the test if necessary. When they get all the answers correct, they get a "magic wand" type sound and cheering to congratulate them on their success. My kids love to hear that encouragement that congratulates them for a job well done!
Consider, too, the cross-curricular uses of this site. Not only can you use it for spelling lists and vocabulary words from your language arts curriculum, but think of how useful it could be for adding terms from math (types of triangles, shapes, etc.), science (defining terms from various types of science), and other subjects. This has far-reaching capabilities for boosting memorization of word definitions in all subjects for your homeschool!
It's recommended for children in grades K-12. However, I also have a preschooler who is 4.5 and is just beginning to learn to read. As his keyboarding skills improve, I could definitely see adding simple 3-letter words with which he could play and quiz, as well.
While I've gotten by all of these years with only the free portions of the website, I'd be hard pressed to give up all of the wonderful premium features now that I've tried them out. At $29.99/year for access for all of my children, it's not a bad investment at all. I would definitely encourage you to try it out!
Click the banner below to see what other Crew members had to say about this product.


I was provided with a premium membership free of charge for purposes of this review. However, all opinions are mine and reflect my family's honest use of the product.