My rising 3rd grader, Haylee, had the opportunity to try out the 8-week online
Elementary School Grammar Rocks Course
by
Time4Writing.com
.
From the Website: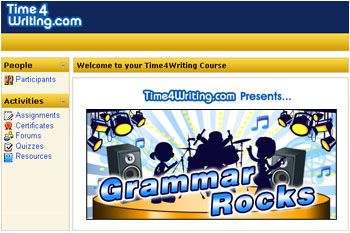 ES Elementary School: Pre-Sentence Grammar Course Overview
This course has been created for the youngest eager writers, starting at 2nd grade. During the eight week pre-sentence course, students will be introduced to parts of speech and how to recognize and use them in a sentence.
Students will understand how to recognize and form a complete sentence with a subject and predicate. Students will also learn to recognize basic capitalization rules and proofreading strategies.
Unit 1 – Nouns
By the end of the first unit, students will be able to correctly identify common nouns and capitalize proper nouns. Students will be able to differentiate between concrete and abstract nouns.
Unit 2 – Pronouns and Adjectives
By the end of the second unit, students should have a complete understanding of all types of pronouns. Students will also be introduced to adjectives and be able to recognize and use them in sentences.
Unit 3 – Verbs
By the end of the third unit, students will be able to correctly identify action, helping, and linking verbs in a sentence.
Unit 4 – Capitalization
By the end of the fourth week, students will be able to recognize and utilize the most common capitalization rules.
Unit 5 – Sentence Structure
By the end of week 5, students will be able to identify and correct run-on sentences and fragments.
Unit 6 – Sentence Subject
By the end of unit 6, students will be able to correctly identify complete subjects in sentences and be able to form complete sentences with subjects.
Unit 7 – Sentence Predicate
By the end of unit 7, students will be able to correctly identify the predicate in a sentence and form complete sentences with predicates.
Unit 8 – Proofreading
By the end of unit 8, students will begin to recognize simple proofreading strategies and utilize them in their own writing.
Flexible Scheduling Available
Have Questions?
1-888-771-0914
Info@Time4Writing.com
Available weekdays 8:30am-7pm EST
Quite honestly, my daughter LOVED this from the every beginning. It just so happens that she is covering the same material right now in her regular Language Arts program for 3rd grade, so this course was a perfect fit for her with perfect timing.
Haylee raced to the computer each day to do her lessons, and it was something she could do on her own once I got her started and went over the instructions with her. Once you sign up, you log in and set up your child's profile. You can even add his/her photo, although I was never able to get it to accept her photo image for some reason.
The program takes the student through a tutorial of how the program works and then gives them a quiz on the rules to make sure they understand. I thought that was a smart move.
Before you begin the course, there are also two suggested schedules you can view on how to complete the course in either 4 or 8 weeks. Although it's called an 8-week course, there is some extra time built in so you can make-up days you missed before your time runs out.
Each day, the student has the option to use read the lesson with an audio accompaniment or with a video presentation of the lesson. Haylee loved the video presentation. Then it moves into some practice of the material with immediate feedback as to how you're doing. Then there is usually a homework assignment of sorts. For this, you open a box and begin typing your answers to the questions. You have an opportunity to use spell-check and double check your responses, and then you submit it to the teacher for grading. Usually within a couple of hours, I would receive an email that the teacher had responded to Haylee's submission, and there would be a link to take me to her assignment. There, the teacher's grading and comments would be attached at the bottom of her original submission. The teach sometimes recommends the student re-do an assignment. The student is given up to 2 chances before a final grade is given for the assignment.
Once Haylee got past her graded assignment, then she could proceed on to the next assignment, which could be a new lesson or a quiz.
At this point, Haylee has completed 5 of the 8 units. Last week, I received a mid-course update from her teacher, Ms. Nicole. Here is what she had to say:
Dear Parent,
Haylee has been doing a very good job on the work that she has completed to date in Elementary Grammar. She is currently working in Topic 5 and is right on target to finish the course on time.
Haylee has done an excellent job on all of her writing assignments. She has two multiple choice quizzes on which she did poorly. From looking at her activity reports, I believe that she rushed through the two attempts on these quizzes. I would encourage her to slow down and carefully read her answers before submitting. She knows the material! She just needs to make sure she's answering correctly!
I am enjoying working with her, and I look forward to seeing her assignments in the second half of the course!
Best,
Ms. Nicole
www.Time4Writing.com
It went on to show me how she did in each unit and suggested that she review two of the sections. I was very impressed with the feedback!
Overall, I think the instruction in this course is great, the exercises are enjoyable and fun for Haylee, and she looks forward to working through the lessons. I think the teacher's feedback has been right on, and I think it has been great practice for Haylee. I also like giving her the opportunity to work with another teacher besides myself. I think that experience has been a positive one for both of us.
I'm pretty thrifty when selecting curriculum for our homeschool, so I probably would not personally spend $99 for an 8-week course to be used one time by one student. I have 3 children, so I tend to purchase curriculum that can be used in turn by each of them so I get the most bang for my buck. But if you have a single student or a large budget for your homeschool, then I would definitely recommend this course! It certainly makes Language Arts, a subject that is notoriously dry, come across as engaging and fun. That's definitely worth something!
The bottom line is that we will continue to use the course to the end, because Haylee really enjoys it, and I think it gives her a great opportunity to learn and reinforce basic grammar skills.
Check out what other Crew members have to say about this and other Time4Writing courses by clicking the banner below.

I received this course free of charge for review purposes, but all opinions are mine and reflect my family's honest use of the product.