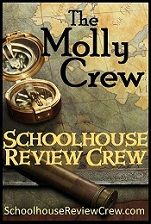 I got to review an e-book format cookbook called
Everyday Cooking
by
Everyday Homemaking
.
ABOUT THE PRODUCT: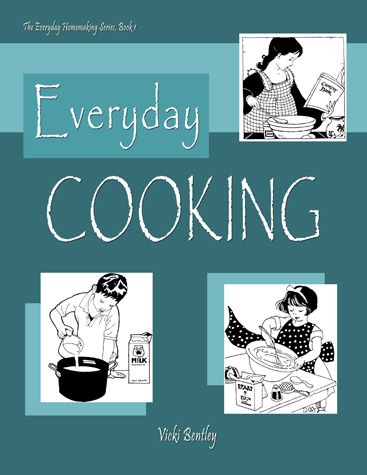 Collection of tried-and-true recipes and hints for simple, everyday cooking with an emphasis on whole foods - from a busy homeschooling mother of eight.
100 pages; coil-bound glossy cover; $17.99.
(Also available as an e-book for $14.99.)
VIEW SAMPLE PAGES here.
(Takes you to my publishing site; you can order there or return to this page to order.)
Here are some
sample recipes
for you to try free!
I received the e-book format, so the first thing I did was print it out on both sides of the paper so it would only take up 50 sheets and would read like a regular book. Then I laminated the front and back covers and bound the whole thing with plastic comb binding. Voila! Instant cookbook.
The book is laid out nicely with both a table of contents organized by category of dish and an alphabetical index in the back. This makes it easy to find a specific recipe you might be looking for.
The cookbook starts out by giving you some practical tips about how to save time and money by cooking ahead, freezing portions or ingredients when they are in season, and stretching your meats to last. Throughout the recipes, the author also gives you preparation tips and multiple cooking methods for meals that can be cooked in different ways, i.e. pressure cooker vs. slow cooker. Also included are basic recipes for base ingredients like seasoning mixes and cream-of-soups so you can cut down on pre-packaged products that are used in lots of recipes.
There is also an extensive section on bread-making, complete with photos of the process, a basic recipe, and lots of variations. The author even discusses grinding your own grains and the differences between them.
Then comes the extensive collection of recipes for everything from appetizers to baked goods, main dishes to soups and sides, and desserts to snacks. Of these, my family tried a number of them:
1.

Becky's Mystery Cake

– This was the most heavenly cake I think I'v

e ever had! Truly a delicacy. I'll take this over a traditional cake with frosting any day of the week! I actually made this for my 13-year old son's birthday, and he absolutely loved it. My family polished it off in no time flat! This one really is a must-try! This recipe will go in my permanent recipe box. Although the recipe is a bit of an indulgence, I did make some healthier ingredient substitutions, and it still came out fabulous! This recipe is definitely a keeper!

2.

Bekah's Blueberry Buckle

– I had lots of fresh blueberries I needed to use up, so this recipe was

a natural choice. They are so good for you, so I was anxious to find a way to get my children to eat them. We thought this recipe was just okay. It gave a range of how much lemon zest to use in the crumble topping. We agreed it needed less next time, and I think I would omit the salt from the topping altogether. While the contrast of sweet and tart was interesting, I think the tart outweighed the sweet blueberries. I think perhaps more of a streusel topping might be a better complement. But my neighbor enjoyed the slice I took her. It's probably a matter of personal taste.

3. Chill-Chasing Chicken Stew – This was really pretty good! The cookbook gave two options for cooking methods, and I chose the slow cooker method. My whole family enjoyed this very much. I made the Cheese-Garlic Biscuits to go with it, and it made a nice combination.


4. Cheese-Garlic Biscuits – This recipe was touted as being like the ones served at a popular nation-wide seafood restaurant. I and my children enjoyed these, but my husband said he'd rather have a plain biscuit. Again, a matter of choice. We thought they went very well with the stew above. However, a couple of days later, I still had quite a few left to use up. I decided to turn them into smoked turkey and cheese biscuit sandwiches and served them on a platter for lunch. They disappeared really fast! I think they made even better sandwiches than biscuits. Delicious!


5. Mom's Roast – This was downright FABULOUS! We all really, really, really enjoyed this! It had so few ingredients but turned my sirloin roast into a masterpiece of tender meat and gravy in the crockpot. It was so flavorful! It reminded me of the roast beef and gravy that my mom used to serve as Sunday dinner when I was a kid. Lovely! This recipe is also going in my permanent recipe box! It was truly a piece of cake to make. I made the Oven-Roasted Potatoes to go with it.


6. Oven-Roasted Potatoes – I made these to go with the roast, and they made a nice complement with the meat and gravy. In fact, my 13 year old son had his roast and gravy served over top of these potatoes, while my younger kids had the potatoes with ketchup for dipping, kind of like hashbrowns. These were pretty good, but nothing extra special. The use of onion soup mix was a faster alternative to chopping up a fresh onion as I normally would, and the book does give a recipe for homemade onion soup mix, as well.


7. Potato Soup – This, I made for lunch. It sure contained a LOT of half-and-half! But it turned out pretty good. My son and I enjoyed it a lot served with some shredded cheddar cheese on top. A good crusty bread would go well with this, as well. It was pretty much unseasoned and left to you to determine what to add and how much, to taste. It didn't take too long to make, though, so that was a bonus. I added lots of Nature's Seasoning Blend, and it seemed to turn out just right. I sent this in my husband's lunch to work, and he replied that it was perfect!


8. Red Beans & Rice – This was a hit with my family. My husband especially enjoyed it because it wasn't spicy. In fact, it was pretty bland and fairly unseasoned overall. While that may be a plus for children, those of us who enjoy some kick would want to add some seasoning separately. I've made authentic Cajun style red beans and rice in the past, and it definitely contains some Cajun seasonings! But that was the main difference I noted. The texture and other flavors in it were very good.
Overall, I found the recipes to be pretty good. They are very basic recipes for the most part, leaving the cook to add seasonings to suit their own taste. That's fine for a veteran cook like myself, but if you were a beginner, you might find the need to tweak the recipes to be a bit frustrating.
Initially, I expected this to be a cookbook that would provide lots of healthy, nutritious whole foods recipes. Though I enjoyed the recipes, I must admit I was disappointed in that regard. There is no mention of low-fat or fat-free ingredients, and there is an abundance of sugar, albeit in less processed forms, but still a LOT of sugar in the baked goods. Easy substitutions like natural unsweetened applesauce for oil aren't even mentioned or suggested, and I wish there were nutrition facts given to provide calorie, fat, and portion size information at a minimum. And I found it to be a stark contrast from "whole foods" to include a recipe like Dorito Casserole.
Photos of any of the recipes other than the bread would have been helpful, as well. I'm a very visual person, and I really appreciate photos of foods to peak my interest in trying a recipe.
In the back of the cookbook, there are tips on meal planning and shopping hints. There's also a checklist of basic cooking skills that the author suggests home economics students should complete to demonstrate their basic understanding of food preparation and cooking. Some sample weekly and monthly menus are included, as well as a list of basic kitchen accessories. The author also explains the selection of kitchen equipment such as a grain mill, mixer, and cookware, with photos and comparisons.
There's certainly a lot of information in this cookbook. I look forward to trying more of the recipes. I guess I had mixed feelings about it overall. Some of the recipes were very good, but I did do a lot of substituting of healthier ingredients and lower fat options. I reduced sugar content by using a sugar/stevia blend in baking, and I used fat-free ingredients whenever possible. I don't think I'd personally refer to it as a whole foods cookbook, but it does have some useful tips on some homemade basic pantry items so you can always have them on hand, and it has a good variety of recipes so there's something for everyone. I love to cook and try new recipes, and I'll definitely use this cookbook again!
Check out what other Crew members had to say about this and other products from Everyday Homemaking by clicking the banner below.

I was provided with the e-book version of this cookbook free of charge for purposes of this review, but all opinions are mine and reflect my family's honest use of the product.