WHAT IS IT?:
Homeschool Planet is an online planner designed to organize not only your homeschool, but also your home and life! From assignments to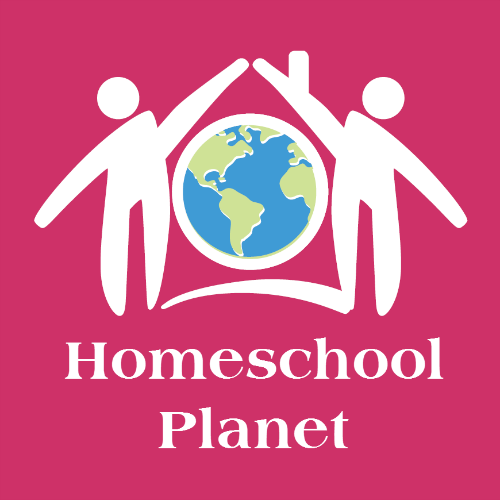 chores, appointments to online activities, and shopping lists to text messages, all of it comes together in one place with Homeschool Planet!
And because it's an online planner and not software that you have to download, you can use it anywhere, any time you have an internet connection, and you can use it on any device with a browser…no special apps required!
Not only that, but each member of your family can be given their own login information, and YOU control whether they can view only or edit and add information, as well.
Whether you and your children prefer a digital checklist or a printed copy to hold in your hands, Homeschool Planet offers just what you need with options for either or both. And what's more, scheduling and rescheduling are a snap with the built-in scheduling helper. Missed an assignment? No problem. You can choose to either mark it complete, bump it to the next day, or move all assignments for that class forward to continue the same pace.
This online service is available for just $65/year or $6.95/month with no commitment. You can also try it free for 30 days and find out for yourself how Homeschool Planet can simplify your life!
OUR EXPERIENCE:
Over the course of 12+ years of homeschooling, I've tried a number of digital homeschool planners in an effort to eliminate the pages and pages of printed school schedules I've created in a word processor year after year. But unfortunately, I've always found them to be too time-consuming and cumbersome to enter all of our assignments. There were just far too many repetitive entries that had to be manually entered, and rescheduling was either difficult or impossible, or cost too much money to justify how difficult it was to use in the first place…until now!
Seeing that the review was coming up soon, I decided to start by doing the 30-day free trial that's available on the Homeschool Buyers Co-op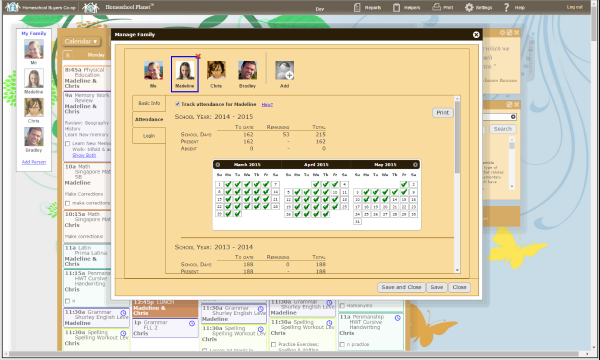 (HBC) website. We had a few weeks of our school year left, so I thought that would be a perfect time to enter our remaining assignments and get a feel for how it worked without investing too much time in case it didn't work for me. So when we had a couple of days off from school, I set up my account, students, and school year information, and then I spent some time watching the simple tutorial videos that are built in to the program in the "help" section. Then I entered just a week of school at first so I could overcome any learning curve before I got too far. I did learn some shortcuts and simpler ways of entering information by doing it that way, so I would definitely recommend that you start with a sampling of information when you first try it out so can learn as you go. It will definitely save you time when you sit down to enter a larger volume of information on your next try. So all I did on this first attempt was to enter a week of assignments for two kids. I played around with printing them out in different report settings and switching between calendar and planner formats. It was pretty cool to see all the customization I could use to get just the right printed planner I wanted.
Once I was more familiar with it, I went ahead and entered the remainder of our school year, because I could see that it had the potential to work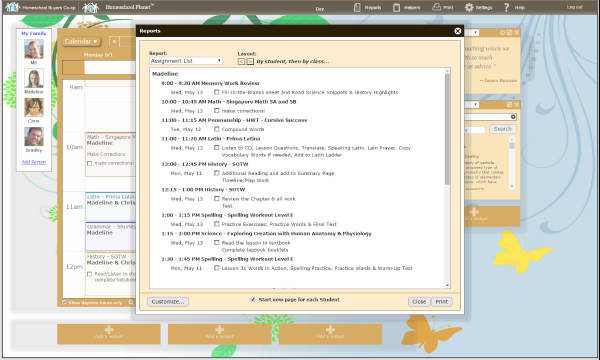 for us. And once I understood better how to enter large chunks of information quickly, it was all so easy to do! I found it to be quite intuitive for me to use, and I found the learning curve was pretty short…I pretty much had it mastered over the course of a couple of days. I had set up personal logins for the kids, and they were able to pull up their assignments on their tablets (iPads or Nabi Android tablets) pretty easily. We could check off the assignments as we did them on the tablet, or they could use a printed version. My daughter found she liked having a printed assignment sheet best, so we played around with different formats until she found the one she liked best. Since my youngest is only 7, I pretty much manage his schedule for him, since we still do all of his work together. So I found I liked having the schedule up on my iPad to check off as we went through the day. It's really nice that it can be used digitally or on paper like that to suit each user.
By the time we finished up those last couple of weeks of school, I knew we were hooked on Homeschool Planet (HP)! There's a "contact us"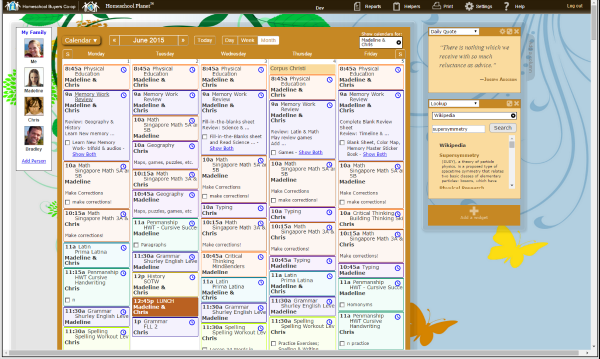 section in the program where you can leave feedback for HBC on any issues you've had in using the program or any feedback you'd like to offer on how to make it better. Several times, I'd offered up suggestions or things that didn't work for me and what would work better, and I'm quite impressed to say that they always took the suggestions to heart and had already made some of the changes by the time the month was over! That was great to see. Whether we were chosen for the review or not, I knew we would be continuing to use it, and it would be well worth the purchase price to us! So with that decision made, I went ahead and took some time during our week off from school to enter the whole next school year for both kids. It was even easier this time because I'd already learned a lot from playing with the small amount of data I started out entering, and it went really well. In no time at all, I was all set for our new school year! So when I was chosen for the review, I was absolutely ecstatic!
Before long, I was off and running, exploring all the other capabilities this program has to offer. With the help of one of the tutorial videos, I was able to sync HP with my Google Calendar. It only took a few short steps, and then suddenly, my whole busy life began to converge in one place! That was amazing. I already sync my Outlook Calendar with my Google Calendar, so no matter which place I enter my appointments, it will all end up on HP! Then I took advantage of customizing the widgets around the perimeter of the calendar screen. I linked our emails and cell phones to the program so I can send text messages from HP, and then I set up multiple shopping lists, which I can easily text to my phone whenever I'm headed out to the door so that I can grab what I need while I'm out. I can't tell you how convenient that is! And if my husband offers to stop on the way home, I can easily text the list to him, as well. My daughter also loves that she can use it to text messages about her school day to her dad while he is at work. The kids don't have phones, so that was something new for them. I noticed on the HBC website that they posted a message about texting, and how in the future, they may have to add a fee for text messages, but there would always be an allowance for so many messages/month that would be free. I'm fine with that! We don't use them too often, so I'm sure any future fee for texts would not likely affect me. I just love the convenience of sending those shopping lists to myself!
I can also see the weather for the day, and even read an inspirational daily quote or scripture message! And again, you can customize which of these widgets you want to see. And I can even select the translation I prefer for the daily scripture passage! That's pretty cool. I also set myself up in there with my daily and weekly cleaning schedule. It's great to be able to keep myself and my household duties on track as well as the kids. It has really helped me keep up with housework, because I have the schedule open while we are doing school anyway. So when the kids are working on an assignment and I'm sitting there waiting, I can look at something on my cleaning schedule and go do a chore very quickly and come back before they are done and check it off my list. So I find it really helps me with my own time management, as well, by keeping that list in front of me throughout the day. Any spare moment that arises becomes an opportunity for me to go and quickly knock something off that list. I also have reminders on there of monthly things like giving our dogs their heartworm prevention or when to clean the hamster cage or change the water for the fish. It also has a to-do list that I use a lot when we have a week off to make sure I take care of pending household things when I have larger blocks of unscheduled time. I used it just this week to make sure I got a new battery for my car, one for my watch, and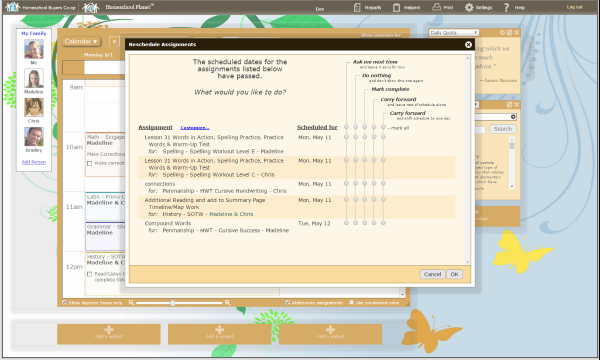 got 2 of our vehicles inspected before the week was up.
It is so easy to reschedule things, too. I can do it manually, or I can let the automatic rescheduling helper remind me of unfinished assignments as soon as I log in for the day. It will show me all the unfinished tasks and allow me to either leave them alone, mark them as complete, reschedule them without affecting other assignments, or move the whole schedule forward.
Once when I was entering a large amount of data for a single class, I clicked on "save and close" when I was done, and I received an error message that it was unrecoverable and had not been saved. I was kind of frustrated, but I'm happy to say that HP fixed that issue by adding a periodic save button. So now you can save periodically without closing the class you're working on. Now I have no more problems with lost data! And originally, when you printed the assignment list, it did not show the resource (like the book name) the assignment came from, which made it unusable as a schedule for my daughter. I sent feedback about it, and during the review period, they added the resources to the assignment list and notified me that it had been updated! How great is that?!? I love that HBC actually listens to its customers and values their feedback regarding HP. It's truly a homeschool product created by homeschoolers for homeschoolers!
At this point, the only thing I could see that could make this product any better would be if it would store my whole year's school schedule as a file somewhere so that I could access it again in the future in its original form. I say that because my kids reuse the same core curriculum from one child to the next with years in between. It would be great if I could pull up the unrevised original schedule in a file and upload it again to be used in the future so I wouldn't have to enter it all over again for the next child 4 year down the road. And guess what…before the review period was over, I checked the list of upcoming changes in the next update, and the ability to save it as a file is on the list! Woo-hoo! And another suggestion I had made to them was to make it so you could reschedule a missed assignment from today to tomorrow, even if that class is not scheduled until later in the week, and they soon sent me a note saying they'd taken the suggestion to their planning meeting and had decided to make that change their top priority for the next update! Yay! I just love how they take customer feedback to heart!
And I should mention, too, how easy it is to "plan" out your materials using the program. If you have books you want to read but don't have a pre-set schedule to go with them and just want to finish them over a designated time period, you can tell HP what pages are in the book and over what time period you want to read it, and it will schedule it all out for you automatically! And if you have a class with a repeating pattern, you can tell it the repeating pattern, and it will continue scheduling that pattern for you. For instance, if you have a vocabulary book, and you doing lesson 1A on day 1, lesson 1B on day 2, lesson 1C on day 3, and take a test on day 4, you can set up that repeating pattern for the year, and HP will continue the pattern and numbering for you for the whole course so you don't have to enter all of that manually. That's such a timesaver!
Homeschool Planet l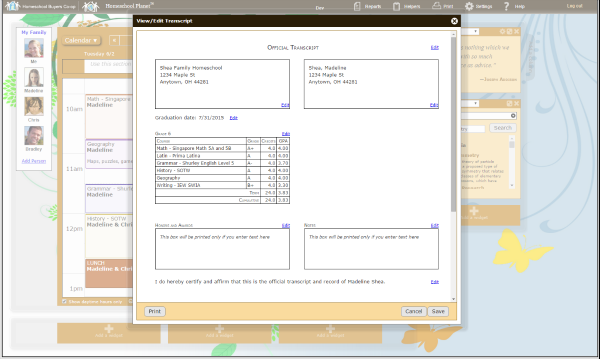 iterally manages my life at this point. It has a whole year of our school assignments, all of our sports practices and game schedules, all of our doctor and dental appointments, my shopping lists, my to-do list, my commitments to volunteer at my oldest son's school, committee meetings, field trips, and even my due dates for my reviews, all in one place! I can't tell you how much that has improved my life!
I really can't rave enough about this program. I really never thought I'd ever find a digital planner that worked for me the way I wanted it to work, but Homeschool Planet really does! And I even pull it up on my phone before I go to bed a night to make sure I've taken care of the last few chores of the day. It's so convenient to access it anywhere, anytime I have access to the internet!
It has other capabilities, too, that many would find beneficial, like the ability to track hours spent on core subjects, creating transcripts, and tracking grades and attendance.
Go ahead and give Homeschool Planet a try with that free trial! I can almost guarantee you that you'll be hooked before the trial has ended. :)
Take a look at what the other Crew members have to say about Homeschool Planet by clicking the banner below.