My daughter had the fun opportunity to use Global Art by Gryphon House.
WHAT IS IT?: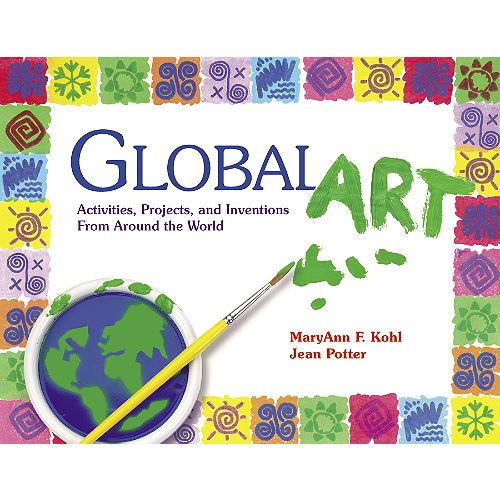 Global Art is essentially a craft idea book that promotes global understanding in elementary-aged children. It introduces them to ways in which they can use various art mediums to express their creativity in the styles of countries and cultures from around the world. It incorporates fun and engaging activities involving collage, painting, drawing, printing, construction, and sculpture.
You can purchase this non-consumable 190-page book from Gryphon House for $16.95.
OUR EXPERIENCE:
I should start by saying that my 8-year old daughter, Haylee, absolutely loves to do arts and crafts of any kind! She was really excited when this book arrived in our mailbox. She sat down with it right away and began perusing the pages so she could begin plotting which projects she wanted to tackle first! I had her make a list of the ones she was most interested in so we could create a list of supplies to have on hand. Surprisingly, we had most of the supplies already, as so many of them are basic, everyday craft supplies, so we were able to dig in get started the very first day!
We planned to use the book for after school enrichment so that we completed at least a couple of different projects each week. It gave her something to look forward to once her assignments were done for the day!
I'd like to go through and just highlight a few of the projects she made. First off, she was dying to try out face painting! There were a couple of different projects face painting projects in the book, and we eventually tried them both!
Our first project was Kathakali Face Painting, which represents the country of India. We've never done face painting at home before, so I was skeptical of how well this would work. The book told us to blend tempera paints with skin lotion so it would be easy to remove. We made a palette of 6 colors to work with. We applied it with Q-tips and a paint brush.
Kathakali Face Painting is used by theater participants to transform them into their characters. The book demonstrated a sort of clown type face, so we did that first. She was so excited that she ran down to the neighbor's house to show her girlfriends.
Haylee's little 5-year old brother, Holden, decided that looked like fun. He'd never gotten his face painted before. He was wearing a lion shirt that day, so we decided to paint his face as a lion. He loved it! He even posed with a ROAR!
This proje
ct was a big hit with both kids. I can definitely imagine us doing this one again and again. Surprisingly, the paint really was easy to remove with just a wet paper towel! Brilliant!
Haylee's next project was simply Face Painting and represented the country of Africa. This project was a traditional tribal face painting. The book instructed us to make elongated triangles around the eyes with black and then fill it in with yellow/brown. I have to admit that it looked pretty fierce, despite her smile! She really enjoyed this one, too, and ran upstairs to dance around in a tribal manner and how her older brother how she looked.
Another project Haylee was really excited about was called Ancient Stenciling, which represented the country of China. The book instructed her to start off by drawing a design with a marker on a strip of acetate. I just happened to have a box of overhead transparencies, so that was perfect for the job. I cut off a long strip and let her draw some shapes. Then I cut them out for her, and this made a stencil design. Then she laid it on paper and filled it in with paints, creating designs in the shapes as she went. She really loved this! She wanted to keep her stencil strip so she could use it again another time and decorate it different ways. We thought this
project was a great idea with endless possibilities, and I'm sure we'll be creating other designs in the future.
Then she did another project that represented China called Tangram Design Game. The book explained how to draw and cut out tangram pieces from construction paper, but it just so happened that I had several sets of plastic tangram pieces on hand as a math manipulative (and what homeschooler doesn't?), so we used those instead. The primary example in the book showed a swan, so she used that as a starting point for creating pictures with the pieces. Again, there are endless combinations here, and I loved that this pro
ject was open-ended.
Haylee is a big sucker for jewelry, so when she saw the Filigree Jewelry project that represented Egypt, she was ready to jump in. In fact, she insisted on doing this project even though we did not have the wire listed in the required materials! Being the creative type, she decided to improvise and use chenille stems instead. Close enough, right? They do have wire IN them!
This made for some very oversized earrings (and bracelets, too)
, but she had a lot of fun making them and hooking them over her ears. I had a big laugh when she came in and showed me how she'd made it work. I have to give her an A for the effort!
Then she saw the Decorative Necklaces that represent Central Africa. Appealing to her love of jewelry again, she grabbed some paper plates and got busy cutting out a necklace and decorating it with markers. Now granted, this type of jewelry only looks good on an 8 year old, but she had a lot of fun making all of these projects!
I'd have to say that this book was really a good choice for my daughter! The projects were fun, the instructions were easy to follow, and the process was simple. Nothing we made took a huge amount of time to make, which made them ideal for after-school activities. Many of them, she was able to create on her own without any help for me, even gathering her own supplies from our craft supply drawers. Others (like the face painting), required my assistance, but I have to admit it was fun, and I didn't mind at all! In fact, many of these projects were made more fun by working on them together. We shared lots of smiles, and I envision us continuing to work on projects throughout our school year as the mood strikes us! After all, she still has a list she made of her "must do" selections!
I would definitely recommend this book to anyone with elementary-aged kids who enjoy crafting. It would make a fun supplement to any around-the-world studies you might be doing! It was great that there were so MANY projects to choose from, so there was always something to suit Haylee's mood. And I have yet to have to purchase any special supplies…that's the best kind of crafty fun…the kind you can do on the spur of the moment with materials you already have on hand.
See what other Crew members thought of this and other books from Gryphon House by clicking the banner below.

***