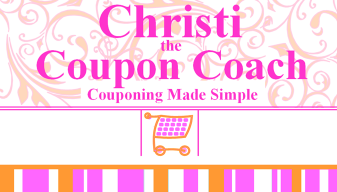 I got to read and review the wonderful book Couponing Made Simple by Christi the Coupon Coach.
WHAT IS IT?:
Couponing Made Simple is a no-nonsense book that not only describes the concept of couponing, but explains a great method for putting coupons to work for you and your grocery bu
dget.
If you've ever seen people in line ahead of you at the grocery store and wondered what all the fuss with coupons was all about, you may want to give this book a try.
It's available from Amazon for $18.00 for the physical book, or just $4.99 for the e-book in Kindle format (purchase link available on Christi's website). This book also has a "look inside" feature at Amazon so you can take a look at some of the contents before making your purchase.
I received the 132-page physical book for review purposes. This is not a book about extreme couponing, but rather it's a book about real couponing for real people with practical tips on how to make this practice work for you and your family.
OUR EXPERIENCE:
I must start by saying that in the past, I've been known as a serious couponer and rebater. I subscribe to couponing and rebating websites, and I used to track my savings so I could show my husband how my "hobby" was saving us money. But then, I didn't have 3 kids, and the deals were more plentiful than they are today. I got a lot of things for free years ago. It seemed as the years went by, it became a lot of time-consuming work for very little savings, and I had mostly let it go by the wayside. At that time, I used the "binder method" that is mentioned briefly in the book. This is where you fill a zipper binder with trading card pages and file your clipped coupons into categories so the face shows inside each slot on the page. When I dealt with a lot of coupons, this worked very well for me, but when my coupon usage waned, it became too much to keep up with for the return of savings.
Frankly, I wasn't sure I was even interested in reviewing this book, because I couldn't imagine there was anything new about couponing that I could learn. And while I wasn't exposed to any new concepts in the book, it did get me to try another method I hadn't had confidence in trying before.
In Couponing Made Simple, Christi first gives you real life examples of the kind of savings you can expect when you get serious about couponing. If you've never couponed before, this will certainly get your attention and make you continue reading the book. Then she explains some of the basic rules for couponing. Next, she decodes the language and jargon associated with coupons and sales and what it all really means to you. Then she begins to explain her method for organizing her coupons. Now this is largely a matter of preference, as there are many ways to file your coupons, whether it's an expanding file, a card box, a binder, or a file box. But pay attention here…this is where my personal journey with this book really began. While I was fully aware of this method of organization, I had never bought into the idea that it would work for me and therefore had never actually tried it.
So my first step in implementing Christi's methods was to set up my file box of hanging files and folders. As a homeschooler, I had all the supplies I needed for this already on hand…file box with handled lid, Pendaflex files, manila folders, labels, and a pencil. I immediately got to work by preparing the future home for my coupons. Now although I hadn't bothered removing the coupons from my Sunday paper for probably several months, I did have a stash of coup
on inserts tucked away in envelopes that a friend at church had passed on to me every week after she'd clipped what she wanted from them. So I set to work implementing this filing system right away using those inserts. Then as my Sunday paper was delivered, I'd add the current Smart Source, and on Tuesdays when the Red Plum insert came in the mail, I'd add that one, too. Then once a month, the Proctor & Gamble insert would be in the Sunday paper, as well. And so my stockpile of coupons began. I organized my box with right-tab folders for Red Plum, left-tab folders for Smart Source, and center-tab folders for Proctor & Gamble. This makes it easier for me to spot the one I'm looking for. I put them all in date order with the most recent in the front and working backwards. I have a Pendaflex hanging file to house each month's worth of coupons in manila folders. This also makes it easy for me to go right where I need to in my file box. I found that I had coupons dating from March to June available to me, so I was ready to get started.
Now in the next chapter of the book, she recommends purchasing extra Sunday papers so you can have multiple inserts, and she says you should have at least one set of inserts for each member in your household. For me that would be 5. Now I'm fortunate that my local Dollar Tree store sells my Sunday Paper for just $1 earl on Sunday mornings, so I could gain an extra Smart Source for just $1, but since Red Plum is not included here and only comes by mail, I'm not yet convinced that this is worth my while unless I know of a specific coupons in that specific insert that will make it worth my while. Only time will tell if I take that advice or not. But for now, I was thrilled to realize I had enough coupons on hand to get started with putting this method to the test right away.
Other chapters take you through the step-by-step process of preparing for your shopping trips, matching coupons to sales, tips and tricks, and ethics. The ethics chapter has very important for new couponers and veterans alike. You want to make sure you start off doing things right. Bad couponers who don't follow the rules because they either don't know them or they simply ignore them eventually spoil it for the rest of us, so you want to learn to do it the right way. Now I must point out here one flaw in the book. Christi talks about how she files her matching coupon inserts with like pages together so she can stack them and cut multiples of the same coupons at one time. I don't know how many inserts she uses, but I do know that "batch cutting" is actually not allowed. It's one of those little known regulations of couponing that have been implemented by manufacturers in recent years due to the attention drawn by those "extreme" couponers. Some coupon clearing houses actually have machines designed to detect batch cutting, and the manufacturer can refuse to redeem the coupons for the store who turned them in. So in effect, by batch cutting, you can actually be robbing your favorite grocery store of the savings you received by making them pay for it themselves rather than being reimbursed by the manufacturer. In turn, if accepting coupons is causing the grocery chains to lose money, they may implement tighter restrictions on coupon acceptance or eliminate accepting them at all.
Although the book discusses networking and blogging and using those resources to help you with matching your coupons to sales for the best value, I was a bit disappointed that she didn't actually name any of those great websites that she relies upon as resources. It was actually one of the things I was looking forward to finding in the book, because I had seen Christi's segment on the Today show on YouTube where she actually did mention a site she used to help her do her coupon matchups. However, I did a quick internet search and easily came up with a number of great websites to help me plan the most effective shopping trips. The most helpful one I used during the review period was www.survivingthestores.com. I would definitely recommend checking it out. You'll see next how I used it to save LOTS of money while implementing Christi's methods.
My first shopping trip with the new system was to Wal-mart. I normally avoid Wal-mart like the plague because the checkout lines just take up too much of my time, but I'm fortunate that they recently opened up a brand new Wal-mart Neighborhood Market right around the corner from me, as in I can get home in 5 minutes or less. Awesome! It has mostly self-checkouts, and there are no long lines, so I chose to make this location my first coupon trip. I sat down the night before as the kids were settling down for the night and utilized the Surviving the Stores website to help me make a shopping list and cut out or print any coupons I'd need for this trip. I could sort the listings by final cost, so it was easy to begin with the items that would cost me the least ou
t-of-pocket. The site told me the item and size, the retail/sale price, less the amount of any applicable coupons along with where to find them (in which dated insert or at what link where I could print them out), and showed me the final price I'd pay after coupons. If I had the indicated coupons and it was something I wanted to buy, I'd locate and/or print the coupons and then check the box next to that item on the list so it would automatically be added to my printable shopping list. Once my list was ready and printed and I'd pulled all the necessary coupons, I was ready to go shop! On this trip, I didn't just buy items on sale or for which I had coupons, because I also had a regular shopping list of things I needed to buy. So this reflects a real shopping trip, not just one to prove the value of coupons. Here, I spent $89.58 before tax, and I saved $41.55 in coupons, reflecting a total savings of 32%! Not bad at all! I even bought a fair amount of fresh produce on this trip, so I was really pleased. The cashier even remarked at how much money I'd saved as she watched my total go from over $130 down to under $90. Impressive!
I was really pumped up after this trip, and my husband was pleased. My next shopping trip was planned out the same way, but this time, I visited Target where I tend to shop most frequently for groceries. I really wanted to see how much I could save there, because Target allows you to stack store coupons with manufacturer coupons for bigger savings. In addition, they now have mobile coupons, which I'm just about to start using for the first time. But on this trip, I spent $19 and saved $13 in coupons, plus an additional savings of 5% with my Target RedCard. This was a savings of about 41%. Awesome! In this trip, I bought meat, cheese, produce, soup, and some frozen treats for the kids, so that was great!
Next up was a trip t
o Harris Teeter to sum up the trio of stores I frequent the most. Harris Teeter just happened to be doing Super Double Coupons that week, so it was a great time to maximize my savings potential. Surviving the Stores does not list Harris Teeter coupon matchups, so I had to do a search for another site to plan my shopping trip this time. For that reason, it was nice to have various internet resources available at my disposal. On this trip, I spent just over $65 before taxes, and I saved $41.50 in coupons plus $56.40 in VIC store card savings, for a total savings of $97.90 on regular retail pricing. But that $56.40 in straight coupons reflected a 39% savings. I was very pleased, as I bought fresh meat, lots of cheese, and produce on this trip, as well. I even got to stock up on my favorite natural soda, Zevia, which is normally quite expensive!
There's a limit of 20 coupons per day at Harris Teeter during Super Doubles week, and they were out of a couple of items I wanted, as well. So I went to another Harris Teeter location in the same
week and rounded up a few more items with coupons. I had been running errands all day, and it was past dinnertime already, so I also picked up a ready-to-eat meal while I was there, taking advantage of on-package coupons for items made earlier in the day on those ready-to-eat items. Had I not been buying a meal for 5 people, my total reflected savings would have been much higher, as I spent about $8 on the meal alone. But on this trip, I spent a total of $17.83 before taxes, and my coupon savings was $24.37! Plus, I saved another $8.74 in VIC store card savings off retail prices. But that straight coupon total of $24.37 reflected a 58% savings. YES!
So all told, I saved over $135 with coupons alone in just one week! That's pretty substantial! And from the assortment of items I purchased, I can put together a variety of meals, as well as snacks and treats for my family. Other than specific items I used up and needed to replace, I have not needed to make another big shopping trip since then. My investment of time was minimal, and I executed it during our monthly break from school, so it didn't affect our regular routine at all. I am doing the happy dance!
After such successful shopping trips, I went ahead and went to www.coupons.com in early July to print off a new round of internet printable coupons for products I thought I might use. You can print two of each coupon from each computer to which you have access. Fortunately for me, each of the five members of my household has his or her own computer, so that works to my advantage
when a great deal comes up using an internet coupon!
These coupons are cut out and then remain loose, though, so I had to organize these a little differently. For one, I bought a bigger purse that is more tote-like but zips shut so I'd have plenty of room to carry my coupons with me at all times. I went to Wal-mart and bought a small accordion-style coupon file with 13 tabbed sections in it for $2.50 so I could label the categories and keep my loose coupons filed here for easy access. I also bought another one at Dollar Tree for $1 with 7 tabbed sections in it for filing those register coupons that spit out at the checkout stand, sorting them by store, since they're only valid at that particular store chain. Now there are no more loose coupons in my purse, and it's easy to find and file new coupons when I need them.
With this system of organization in place, I am well prepared to continue growing my cache of coupons and have a means to utilize them effectively whenever I'm ready to shop. I'm finding that even with those unplanned stops for this or that, I'm well prepared to save money now that I have my small coupon organizers always at the ready in my purse. I'm regularly saving money at the register, and that's what matters.
Overall, I'd most definitely recommend this book for a new couponer, and it should be an automatic gift for any college student who is just starting to support themselves. For the veteran couponer, much of the book will repeat what you already know, but this system of organization was one that I had not tried before, even though I knew all about it. It has gotten back into couponing regularly again without eating too much into my time, and that's a good thing. I will definitely continue this process and track my savings as a way to remind myself that I'm doing this for a reason.
One thing I should mention is that you will find a number of typos and grammatical errors in the book. This did bug me a bit, because it's one of my pet peeves. For this reason and because once you've read the book (and you can read it in an afternoon), you don't really need to reference it again later, I would probably recommend going with the e-book version for only $4.99. It's substantially less expensive than the printed book, and it will get the job done just as well. But definitely invest in the book in one format or another and give couponing a try for yourself!
Check out what other Crew members thought of this book by clicking the banner below.

***