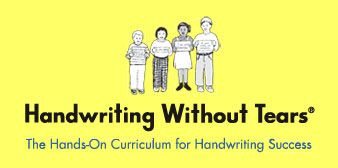 My son, Holden (5), and I recently got to try out the Wet-Dry-Try App for iPad by Handwriting Without Tears.
What Is It?: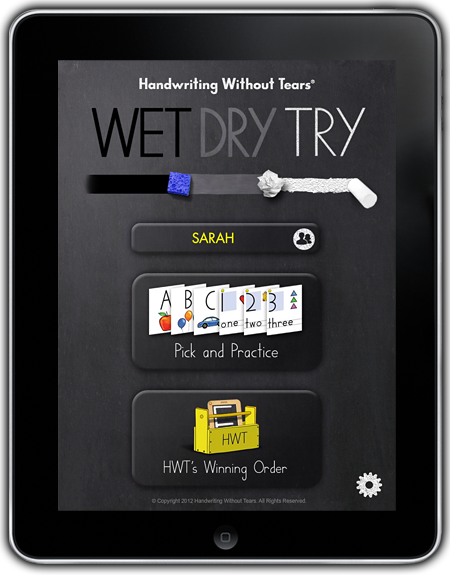 The Wet-Dry-Try App is compatible with both iPad and Android devices with a 7" or larger screen. It simulates the popular slate chalkboard that is the well-known staple of the Handwriting Without Tears program.
The app uses a combination of sounds, music, and demonstration videos to teach young children how to properly form and orient their capital letters and numbers. It's intended to be used as a supplementary tool for teaching handwriting.
It's available from the iTunes or Google Play stores for just $4.99.
It is recommended for grades PK and up, or approximately ages 4-8.
Our Experience: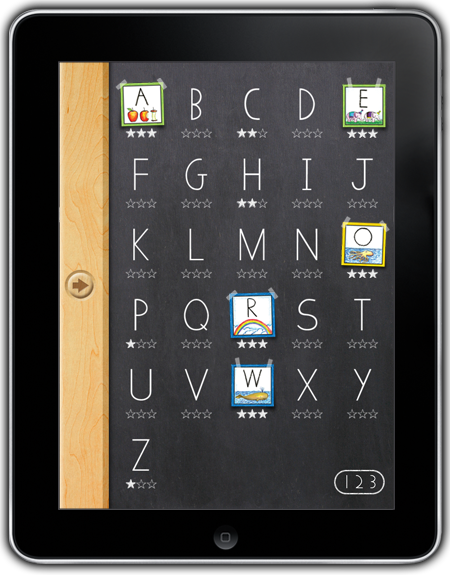 This app features two options for practice: Pick and Practice or HWT's Winning Order. As you'd expect, Pick and Practice allows you to choose to practice any letter you'd like to work on in no particular order. The photo at left shows a screen shot of that mode. At the bottom, there's a symbol that allows you to select the numbers menu, as well.
Holden started out using this mode and randomly selected some letters and numbers here. We used this mode for our first couple of sessions. As he completed a letter correctly, he was awarded a star. If he completed the same letter again, he got a second star, and three completions gave 3 stars and changed the menu letter to the HWT Letter Card showing a picture of the letter with something that starts with that letter, as shown here.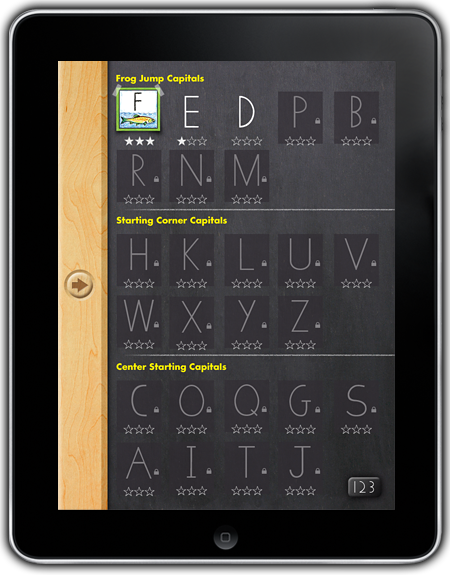 In the HWT's Winning Order section, shown at right, the letters are broken up into 3 categories that share similar characteristics: Frog Jump Capitals, Starting Corner Capitals, and Center Starting Capitals. As in the other mode, the option to practice numbers is provided in the bottom right corner, but in this mode, the numbers are broken up into two categories: Starting Corner Numbers and Other Top Starters.
As you can see in the photo at right, this section provides a carefully selected order that is recommended by HWT. The child must start with the first letter in the first category. Holden loved this section, because the other letters were locked until he successfully completed the given letter. Once he completed it, the next letter was unlocked. I found that this provided extra incentive for him, as he liked "making it" to the next letter.
As Holden worked through the program, the app played optional background music, sounds, and voice instructions. The settings allow you to turn those features on or off. You can also set game play options that can make the program more or less challenging for your child (adjusting things like stroke tolerance and whether or not starting point cues are provided). This is a key feature since the program allows you to set up as many as four different users, as it allows you to customize the options for each child. For Holden, I set everything to the easiest level to avoid frustrations to start off.
When he would select a letter, the teacher would demonstrate how to write the letter on the screen with virtual ch
alk. Then the wet sponge would appear on the starting point and tell him to wet the letter with the sponge. After he completed that task, a dry towel would appear at the starting point and instruct him to dry the letter with the towel. When he completed that, a piece of chalk would appear at the starting point, and instruct him to write the letter with the chalk. When he completed all of those steps, he'd be awarded a star. The cool thing was that as he completed each stroke of the letter, the app would speak and give him positive affirmations of what a good job he was doing. It used a variety of funny phrases like "cool beans" that made Holden laugh out loud. This inspired him to continue. There were also cute sound effects like the "ribbit" sound of the frog on the Frog Jump Letters. This made Holden giggle, too! If he made a mistake, it would say "oops…try again" or "give it another try" or else it would demonstrate the stroke again. I really liked the soft, soothing, encouraging voice of the teacher. I think all the encouragement she gave spurred Holden on to work hard and do just a little more than maybe he'd planned to work on.
In fact, to my surprise, Holden has actually asked to work on this app out of the blue, all on his own, on several occasions! That tells me that he thought it was fun. At this age, the fun factor is an important component to inspiring a child to want to learn and practice a task (like handwriting) that could otherwise be boring.
Holden just turned 5, and although he writes letters already, I generally have him trace letters I've already written for him, just because he struggles with putting the letters where they belong on handwriting lines. But with the Wet-Dry-Try app, there are no handwriting lines, so he was able to focus on the proper formation of each letter, making them proportionate within the parameters of the screen, and making the strokes in the proper order. I loved that! He got to build his confidence, and the repetition allowed him to solidify the letter formation in his mind.
I feel very confident that using this app will help him improve his handwriting and remember the correct order of the strokes involved in letter formation. He really likes this app, and it's great to pull up when we're waiting somewhere and I need something to help him pass the time. He gets to "play" with the benefit of learning and practicing in the process. That's a winner in my book!
The philosophy of HWT is to teach capitals and numbers first because they are easier to learn correctly without reversals, but if I could offer up one request for this app, it would be that perhaps they could allow a child to "unlock" lowercase letters once they've completed all of the capitals with 3 stars each. Then this app would be *perfect* to me. But this is truly a useful product, and I know we'll continue to use it and recommend it to others.
Check out what other Crew members had to say about this and other products from Handwriting Without Tears by clicking the banner below.

Disclaimer: I received a free copy of this product through the Schoolhouse Review Crew in exchange for my honest review. I was not required to write a positive review, nor was I compensated in any other way. All opinions expressed are mine or those of my family. I am disclosing this in accordance with FTC Regulations.