We had the opportunity to review
Exploring Creation with Zoology 3: Land Animals
and the corresponding
Junior Notebooking Journal
by
Apologia
.
WHAT IS IT?: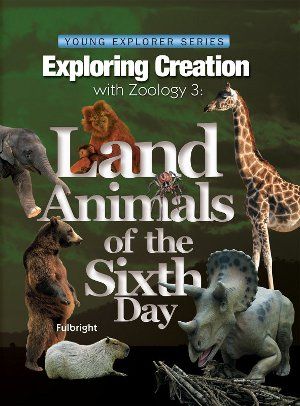 Apologia offers a series of science books for elementary, middle, and high school students. The Zoology series is designed for elementary students in grades K-6. The Land Animals book we reviewed is the third book in the Zoology series. The material allows children to explore God's amazing land animals, including carnivorous animals, marsupials, primates, rodents, ungulates, artiodactyla, squam ata, rhynchocephalia, repitles, amphibians, dinosaurs, arthropods, gastropods, and worms. Children investigate a variety of terrains such as jungles, deserts, forests, farms, and even their own backyards!
The correspo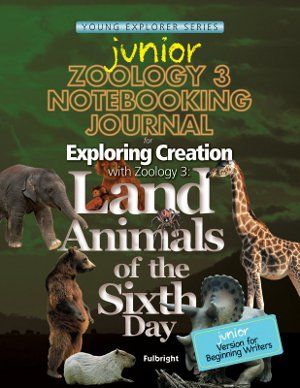 nding Junior Notebooking Journal is designed for younger elementary students, particularly in grades K-2. The Junior Notebooking Journal is recommended for younger or older students who have not yet mastered handwriting, older students with learning disabilities, or students that are new to written narration.
Each lesson in the Junior Notebooking Journal starts with two fun coloring pages that the students can complete while they listen to the material being read to them. Then there are opportunities for creative expression where children can draw and write a couple of sentences about what they've learned. Then there are activities that help the child learn vocabulary words in a fun and engaging way with things like beginner crosswords, matching activities, etc. There are also Map-It activities that include bright animal stickers.
The hardcover student textbook is available from Apologia for $39.00. The softcover, spiral-bound Notebooking Journals (regular or junior versions) are available for $24.00 each.
I am happy to say that we thoroughly enjoyed this product, right from the very start! I love how the junior notebooking journal lays out a suggested schedule for me with what to read and which activities to do per day and per week. The suggested pace is 1 chapter per 2 weeks. If I had been using this as my primary science curriculum, that would have worked out quite well, I think. But since we used this as a supplement to our regular science during the review period, we set aside one or two days per week and completed all of the reading on one day, and all of the activities on another day. This worked well for us, but the children did say it was a lot of reading for one sitting. That's why I think the suggested pace would probably be just right for the kids. I, on the other hand, was so intrigued with the reading that I found it hard to stop until it was finished! Interestingly enough, my 13-year old son also found it very interesting, and even he picked up some facts along the way that were new and fascinating, even for him.
I can't express how impressed I am with this product! The text is very engaging and informative, yet in a way that is not dry and boring like many public school science textbooks I can r
emember. The illustrations and photographs are vivid and relevant to the text at hand. I absolutely love the way science topics are explained from a creationist perspective. After biting my tongue all through my years in public school when the theory of evolution was readily spoon-fed to me, I was absolutely delighted by Apologia Zoology 3's explanation of natural selection, which made absolute sense to me and my children. Ask yourself: does it make more sense that a cat evolved into a horse due to adaptation to its environment over millions of years, or is it more sensible that the combinations of genes through breeding within a "kind" created variations, where only those best fitting their environment survived in a given area and subsequently continued to reproduce? BINGO! Not only does it match my beliefs, but it also just plain makes sense! This is the kind of science I want my children learning. I've concluded that Apologia is for us!
As for the journaling activities, I was just as pleased with those. Apologia recommends that you select your journal level based on whether or not the children are comfortable writing paragraphs, not based solely upon their age or grade level. I wanted to make sure my youngest could participate, while
my 3rd grader is a beginner writer who lacks confidence, and my oldest just plain does not enjoy writing at all. For these reasons, I thought the junior journal would allow active participation of the younger two while keeping it fun for the oldest. Our goal was to do a fun group study of the material while using it as a supplement to our regular science programs, so keeping it fun and light was important for us. I am happy with my choice of the Junior Notebooking Journal. It included such activities as coloring pages with scripture related to the reading, fill-in-the-blank pages to review facts covered in the material, experiments that illustrate a concept in the chapter, and hands-on activities that help the student recall facts learned through the creation of mini-books, lift-the-flap pages, newsletters, etc. The text also included mapping activities, and there were stickers in the back of the journal to use for those. The purpose of this is to identify where each type of animal is typically found. You need a large wall map for this.
For my family, I found that we all enjoyed the reading and learned things we didn't know, and my 3rd grade daughter especially enjoyed the journaling activities. My older son and my daughter often took turns recording facts that we learned, but any creative activities were best matched to her.
I also really like the "What Do You Remember?" section in the textbook. This was a great way to recall information and check for understanding from the chapter. We did those as a group, and my kids loved racing to see who could answer first. I was impressed that each of them remembered so much from the reading, which I did aloud. That demonstrated to me how interesting they found the material to be, since they had clearly paid such close attention to details while I read to them.
In looking back at the chapters we've covered during the review period, I can see how useful a tool the journal can be, since it becomes a storehouse of tools for reviewing what they've learned over time. What a wonderful keepsake to refer to again and again! I love how everything is printed in the book so I don't have any printing or copying or prep work to do in order to complete the activities.
I am so pleased to have had the opportunity to review this wonderful product, and I highly recommend it to any Christian homeschool family that wishes to study science from a creationist perspective. I look forward to using other books in the series with my kids in the future.
Take a look at what other Crew members had to say about this and other science books and journals from Apologia by clicking the banner below.

Disclaimer: I received a free copy of this product through the Schoolhouse Review Crew in exchange for my honest review. I was not required to write a positive review, nor was I compensated in any other way. All opinions expressed are mine or those of my family. I am disclosing this in accordance with FTC Regulations.