My 8-year old daughter, Haylee, has been doing her bible study using the
Deep Blue Kids' Bible
by
Abingdon Press
.
Kids will dive deep into God's word with the CEB Deep Blue Kids Bible. This engaging, interactive Bible offers four-color icons and illustrations throughout with a wealth of notes, devotionals, Bible trivia, and other interactive elements to capture inquisitive young minds. Plus the CEB Deep Blue Kids Bible will encourage a thirst for God's timeless message as young readers join three life-like kids in discovering the Bible and what it means to their lives. Available in printed ImageFlex, hardcover, imitation leather, and DecoTone bindings. 5 3/8" x 8 3/8". Ages 8–12.
DEEP BLUE KIDS BIBLE CONTENT:
Discover It
book introductions include things you'll discover, people you'll meet, places you'll go, and word's a who's who guide, main theme, key verse, and basic timelines that connect the events they learn in school to the biblical text.
Bet You Can!
reading challenges denote specific portions to read within suggested timeframes enable kids to experience a rewarding sense of accomplishment while developing a foundation of Bible reading.
In-text notes
cover four key developmental areas: Sailboat notes highlight positive character traits and emotions; Umbrella notes address challenging character traits and emotions; Lighthouse notes discuss age-appropriate theological concepts; and Life Preserver notes give context to passages that are confusing or hard to understand.
God Thoughts / My Thoughts
life application feature brings out major Bible themes and encourages age-appropriate response and reflection.
Did You Know?
callouts focus on fascinating Bible trivia while explaining biblical customs and practices.
Navigation Point
foundational verses to memorize are highlighted within the Bible text.
FEATURES: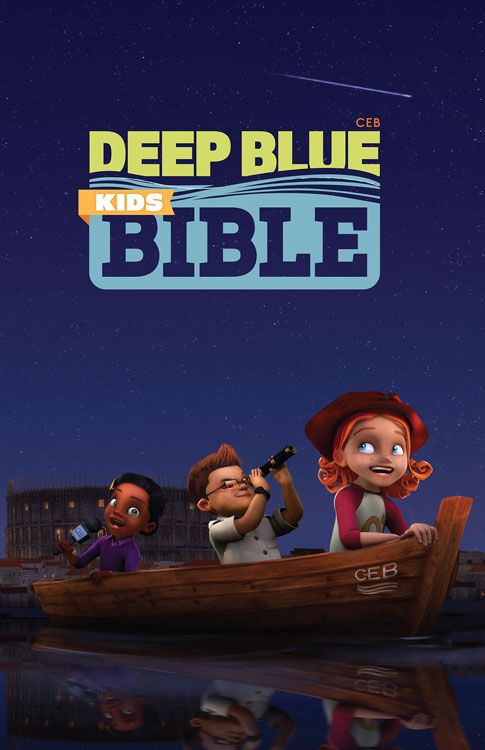 5 3/8" x 8 3/8"
8 point type
1536 pages
4-color throughout
Presentation page
In-text subject headings
Translation footnotes
8 full-color maps exclusively from National Geographic
Haylee, age 8, is the one using this bible. She has been using it for her daily bible readings, and I also began using it for her parent read-aloud bible readings. We've been sure to include the use of all the extra features this bible contains.
You can watch a great little video that introduces you to all of the wonderful features of the Deep Blue Kids' Bible
here
. It will give you a good perspective on just what sets this children's bible apart from the many others on the market today.
In the front of this bible, kids are introduced to the characters who are shown throughout the book. Their images are really cute and look like everyday kids you might know. Then it explains each of the special features that are unique to the Deep Blue Kid's bible. It lists the books of the bible, explains how to use the bible to look up scripture, and then lists key verses kids should read and check off. Then it has a brief introduction for adults, a list of abbreviations and terms, and a list of measures and what they equate to by today's standards. Then it gives some notes on the Common English Bible translation itself and how it came about.
I had initial reservations about trying out a new translation but was willing to give it a shot. I've always been partial to the NIV myself and have provided my children with NIrV translations for the school-related bible study. But I have to say that after using this one with Haylee for a number of weeks, I have not yet found any specific translations that troubled me. In fact, we both found the word choices easy to read and understand, and it flowed quite nicely. So for now, I would say that I like this translation so far and have found it to make the bible more accessible for a child's level of understanding and use of language.
Now let's discuss the special features of this particular bible. Each book contains an introduction. It summarizes the purpose of the book, who will be mentioned and how they may be related, places you'll hear about and what those places are called today, and memorable scripture from the book. Haylee found these introductions helpful whenever we started studying a new book. It gave her an idea of what it would be about and what to expect in our daily reading.
Throughout each book, there are lots of explanations that are highlighted. The "Life Preserver" sections are particularly useful in helping kids to ponder further and understand the symbolism and parallels they can find in everyday life. I think it makes scripture less of a puzzle for them and helps it to be more real and accessible to them. The "God's Thoughts/My Thoughts" sections are like little mini-bible studies for kids to engage in some self-examination and personal application of scripture. Haylee is a bit immature yet, but I'm hoping these will help her start to piece together how the bible can help her in her everyday life.
The "Did You Know" sections are very helpful in understanding the customs and beliefs of people in bible times. Sometimes it's hard to understand the significance of things that have different meanings in our own culture and times. It also gives little-known facts and trivia that I have to admit were often even new to me!
The "Sailboat" sections highlight positive character traits that kids can see demonstrated in scripture, while the "Umbrella" sections do a great job of helping kids learn how to deal with negative feelings and emotions and difficult situations.
The "Lighthouse" sections cover cornerstones of faith and dedication to God. They help kids to understand how our faith in God plays out in our daily lives. It talks about things like how, when, and why we pray and how that brings us closer to God.
The "Navigation Points" suggest key verses that kids might want to memorize, while the "Bet You Can" notations challenge children to read a section in a given amount of time. We didn't find these as particularly helpful as some of the other sections. I can see how the time challenges might motivate some kids, but when it comes to the bible, I don't generally encourage speeding through, but rather slowing down and thinking about what you're reading!
In the back of the Deep Blue Kids' Bible, there are a lot of additional resources such as a dictionary, a subject guide to emotions kids may feel and what scriptures can help them deal with that, a topical guide, devotions, reading challenges, and full color maps. These are all very helpful tools that will have lasting value as Haylee continues to study and learn how to apply the bible's teachings to her everyday life.
Overall, I'm very impressed with the Deep Blue Kids' Bible! My impression is that it's a very well-designed study bible for kids that gives them useful tools and insights that make scripture more meaningful for even elementary aged children. Personally, I think it's appropriate even for adolescents and teens, and even adults who maybe have never used a study bible before and could benefit from the sidebar discussions included. I guess you could refer to it as a family bible because it can help prompt further discussion amongst members of the whole family of all ages. I would definitely recommend it to those looking for a truly accessible bible for their children.
Haylee has enjoyed it very much and is not struggling as much with her daily readings. She enjoys reading the little extras that are included and has decided to continue using this as her primary study bible.
Abingdon Press provides links to online booksellers who carry this product on
this page
. Prices vary based upon which cover style you choose. My review copy has the soft ImageFlex cover, which
Amazon
carries for $17.81 at this time. That's a very reasonable price for an excellent children's study bible.
You can read what other Crew members had to say about the Deep Blue Kids' Bible by clicking the banner below.

I received a free copy of the Deep Blue Kids' Bible for review purposes, but all opinions are mine and reflect my family's honest use of the product.