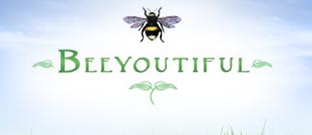 It was my great pleasure to use some wonderful skincare products by
Beeyoutiful
. First, let's learn a little about this company and its philosophy.
About Beeyoutiful
At Beeyoutiful.com, we believe that each individual is responsible for their own health. It is not a doctor's responsibility to keep you in good health. Instead they are a tremendous resource, especially for those times when urgent care is required. But, they are only one of many resources. And the tools they use, while powerful, are not the only tools available. But a tool is worthless unless one knows how to use it.
We have found a lot a tools that have worked very well for our families, and made Beeyoutiful a

repository for those tools, as well as the information to effectively use them. As we learn more, we share more. Our goal is to eventually carry every natural product that we use. We're not there yet. We may never be as we are constantly being exposed to new and great products. As much as is in our power, we want to aid others in obtaining and maintaining good health.
Our mission is to do good to all men. Please let us know how we're doing!
Find out more about us at:
Stephanie Walker Tallent's Blog -
www.traditionalfoodadventure.com
Beeyoutiful's Newsletter -
beeyoutiful.com/newsletter
Beeyoutiful's Forum -
www.merryheartmedicine.com
Our Values
We are believers in Jesus Christ. We strive to act according to what this means to us. We believe in treating others the way we would like to be treated. We strive to quickly and accurately meet every need, answer every question, take every call, and ship every order, without mistake. But we're human. We make mistakes. So we pledge to do our best to make it right.
If anyone ever feels they have not been treated properly, they are free to contact me personally.
Steve Tallent
- Executive Officer
steve.tallent@beeyoutiful.com
WHAT I RECEIVED:
I received a host of wonderful skin care products to review. Included were:
*

Laveshmint Daily Moisturizing Lotion

- 4 fl. oz. – $12.00
Laveshmint is Beeyoutiful's soothing new moisturizer that hydrates and nourishes with the power of pure Aloe Vera. It has the same PH level as distilled water and is perfect for daily use over your entire face and body. It is gentle enough for even the most sensitive skin. Aloe has been used for centuries to help repair dry and damaged skin, soothe burns, and relieve irritations. Grapeseed is a light oil which quickly disappears into the skin without leaving a greasy residue, while Coconut oil is known for its skin nourishing and softening qualities.
Laveshment is refreshingly scented with pure lavender and peppermint essential oils, creating a cool, tingly sensation on your skin. Lavender gently helps to repair damaged skin and relaxes the nerves, while peppermint leaves you feeling clean, uplifted, and invigorated. Laveshmint is best used after gently cleansing the face and neck and toning with Laveshmint hydrating toner. Although created as a facial moisturizer, Laveshmint feels great on any part of your body, especially tired feet! Just keep it away from eyes and mucous membranes, as peppermint can sting on these areas.
Laveshmint contains no artificial colors or fragrances, just pure essential oils for an aromatherapy experience every time you moisturize. So relax, as Laveshmint smoothes and moisturizes your skin, knowing that you can trust its safety and enjoy the pure, natural fragrance of lavender fields and peppermint.


*

Laveshmint Hydrating Toner

- 4 fl. oz. – $14.00
Laveshmint Hydrating Toner is the ultimate culmination of clean refreshment. Made with certified organic Aloe Vera, Laveshmint's astringent properties naturally close the pores after cleansing. Aloe Vera leaves skin hydrated and gently restores proper pH balance.
To top this off, we've added a unique blend of lavender and peppermint essential oils to cool sunburns, cleanse wounds, and uplift your countenance. With its captivating fragrance, Lavender has sedative and deep relaxing qualities, as well as being renowned for helping all manner of skin irritations. Cool and tingly on your skin, Peppermint essential oil is an incredible aid for acne, dermatitis, fever, headaches, and mental strain.
Together, the all-natural ingredients in Laveshmint have manifold functions and endless applications. Just spray it on your skin and feel the cooling refreshment wash over you.
*

Hair Shine Spray-In Conditioner

– 4 fl. oz. – $15.00
Take a shine to your hair! After a day of fun at the pool or the beach, you'll be glad you brought along Beeyoutiful's Hair Shine. It's a safe, healthy, and highly effective alternative to chemical-filled hair de-tanglers and sunburn sprays. Combing out chlorine or salt-water soaked and tangled hair won't cause balking and tears anymore if you spray on this organic blend of aloe and essential oils of lavender, rosemary, and citrus. Hair won't feel greasy, and the fresh, clean smell of sweet orange essential oil will cover the pool or fishy smells if a shower isn't available. Hair Shine can be used on wet or dry hair of all types—long or short, thick, thin, curly, or straight—to add body and softness while taming frizz.

You can also use Hair Shine as an all-over body spray—after your bath or straight from water play (a fresh-smelling idea if you plan to dine at a restaurant right after a trip to the beach!). It's even fine to use on your face (but be sure to close your eyes when you spray). The rosemary oil acts as an astringent and skin rejuvenator. A single bottle of Hair Shine contains hundreds of spritz's worth, so feel free to spray liberally.
The lavender is an especially hard worker in the mixture. It enhances body in your hair and is a major contributor to Hair Shine's detangling and softening qualities.
Hair Shine also helps:
• Sunburn. If you or your little ones got more sun than you planned, spray on cooling Hair Shine. The aloe and lavender cool burns and protect from infection. Like aloe, lavender is known for its use on burns, so putting the two together makes Hair Shine a cooling, healthy alternative to standard sunburn sprays. You won't have to worry about chemicals with unpronounceable names soaking into your skin. But do not use Hair Shine before you hit the sun—the sweet orange essential oil may actually increase photosensitivity in some people.
• Insect Bites. Lessen the itch and protect against infection and scarring—from mosquitos to ticks—with a squirt of Hair Shine on the bites. Hair or skin, tangles or sunburn, Hair Shine is good for everyone in the family.
* Vanilla Dream Body Butter – 4 fl. oz. – $15.00
Shea butter, vanilla-infused oils of coconut, olive and grapeseed, grapefruit seed extract, essential oil of ylang ylang and vanilla plantifolia augment the ancient and well loved aphrodisiac, the vanilla bean, for a relaxing effect on women, assuring us we are beautiful and desirable.
The soothing and healing oils of this body butter soak into dry, chafed skin for long lasting relief and beauty. The soothing oils leave skin looking radiant and feeling soft and silky smooth … great for damaged skin. Vanilla Dream Body Butter soaks in deep moisturizing and promotes repair of damaged tissue, restoring a healthy luster.


The day I received my box of goodies, I had just come in from taking my kids to the beach at the oceanfront for the first time ever. We live in a beach town, and my kids were all born here. But we don't go to the beach because none of us can swim, and we are all fair-skinned and therefore burn easily. Enter, the box of Beeyoutiful skincare products to save the day!
Alas, we were all burned to a crisp in various spots we missed with the sunblock. My biggest problem was my face, neck, and a circle on my back from a cutout in my bathing suit. I was so thankful these products arrived when they did! I immediately read the labels and sprayed all of us with the
Laveshmint Hydrating Toner
. Aaaah! It provided such instantaneous relief from the burning! Not to mention that it smelled wonderful. We continued to use this for several days until the heat subsided in our skin (and on several subsequent occasions when we were burned playing soccer and other outdoor activities). It worked wonderfully! Not to mention that it smelled great.
After applying the hydrating toner, we also slathered on the
Vanilla Dream Body Butter
on our backs and other places we were burned (and on subsequent days when we had dry areas on our feet or elbows). This creamy mixture was so thick and moisturizing. It clearly contained oils to achieve such a dreamy texture, yet it left no oily residue on the skin. I was duly impressed with the moisture it delivered to our extremely dry skin.
Amazingly, these two products "cured," if you will, our sunburns. We were able to develop a tan from the burn without peeling. Considering the degree to which we were sunburned, that was nothing short of a miracle!
For my face and neck, I immediately began using the
Laveshmint Daily Moisturizer
. Aaaah! It was so soothing and refreshing. I loved the minty tingling I got on my skin and the wonderful smell of minty freshness! Now I'm used to using a daily facial moisturizer twice a day - once in the morning after cleansing, and once in the evening after cleansing again in the bath. I let the Laveshmint moisturizer replace my regular daily moisturizer and continued using it twice a day throughout the review period. Not only did it cure my sunburned face on several occasions, but it did wonders for my skin! I felt very strongly that my face and neck were softer than before…like baby skin. In addition, I was no longer plagued by the breakouts that I normally experience with my monthly cycle. My skin was clearer, softer, and noticeably more beautiful!
The only downside, which took me a while to reason out, was that I kept getting sunburned on my face on a regular basis whenever I'd spend any kind of time outside. I couldn't figure out at first why I was suddenly burning my face, because it's not normally an issue with regular daily activities that might take me outdoors. Then it finally dawned on me that my regular daily facial moisturizer contained SPF 15, so I always had sun protection on my face and neck. Laveshmint does NOT contain any SPF, so that was the reason I was experiencing such frequent burns. This is remedied easily enough by adding sunblock to my face when going out, or by combining a layer of my regular moisturizer with this one whenever I was going to spend time outside. I do miss the convenience of having the SPF included in my facial moisturizer. However, I enjoy the tradeoff of having such radiant, beautiful, clear, healthy skin that I think I'll stick with Laveshmint, despite the lack of sun protection!
In fact, my mother has been experiencing bouts with extreme dry patches on her face over the last few years. She has tried many products, including some the hospital gave her after her stroke, but none have really resolved her dryness. I had a bout with that dryness myself earlier in the summer, and I have a feeling this product may just do the trick. I plan to order some for my mom to try and see if it helps her. I do know this product gives me lasting softness on my face and neck, so I hope it will do the same for her.
The
Hair Shine
Spray-In Conditioner
is meant to be sprayed on your hair while it is dry. For straight hair, you comb it out. For curly or wavy hair, you scrunch it after spraying. I have wavy hair, so I used the scrunch method. It feels great in my hair. It gives it a silky soft feel. However, its strong scent smells mainly of orange and rosemary. To me, they are not scents associated with hair products. The orange reminds me of that orange household cleaner, and the rosemary makes me think of cooking. I'm not sure I like having those scents in my hair! It's growing on me, though, because it makes my hair feel so soft. But I would definitely use it more if it smelled just of the lavender it contains.
All in all, I can highly recommend all of these products, but my favorite of all of them was clearly the Laveshmint Daily Moisturizer. I just dab a tiny bit on the tips of my fingers, and it's enough to spread all over my face and neck. You have to use so little of it…it really does go a long way. I hardly notice any gone from the container, and I've been using it twice daily for over a month. I can definitely say that it's a good value, because a 4 oz. pot of it would last for months and months, maybe even a year for me. I can definitely see me purchasing more of it in the future, because it has made such a noticeable difference in my skin. I just can't rave enough about it! Not to mention how wonderfully invigorating it feels on my skin!
The bottom line is that these products truly are all natural. This is one of those cases where you truly do get what you pay for. So if you want quality, natural skincare products, then give these a try!
Take a look at what other Crew members had to say about the skincare products as well as the
makeup line
by Beeyoutiful by clicking the banner below.

I received the 4 skincare products from Beeyoutiful free of charge for review purposes, but all opinions are mine and reflect my family's honest use of the products.