I had the great pleasure of reviewing the
Lots and Lots of Penguins and Their Happy Feet 2-DVD Set
by
Marshall Publishing
. The set included
Lots and Lots of Penguins and Their Toe-Tappin' Feet
(75 min.),
Lots and Lots of Penguins in the Wild
(50 min.), and a bonus DVD called
Party Like a Penguin
.
AS SEEN ON TV! NOT AVAILABLE IN STORES! GET 2 DVDs FOR ONE GREAT PRICE PLUS FREE ANIMATED BONUS DVD - Party Like a Penguin!! SAVE CLOSE TO $20.00 BY ORDERING THIS AWARD-WINNING DVD COLLECTION TODAY!
FIRST DVD INCLUDES:
LOTS and LOTS of PLAYFUL PENGUINS and their TOE-TAPPIN' HAPPY FEET - LENGTH: 40 MINUTES
It's time to Party Like A Penguin! If you love Penguins we guarantee you are going to love, Lots and Lots of Playful Penguins including Penguins In The Wild and the FREE Bonus ANIMATED MUSIC DVD - Party Like a Penguin!!
From emperors and kings to fairies and rock hoppers, these cute and cuddly tuxedo look-a-like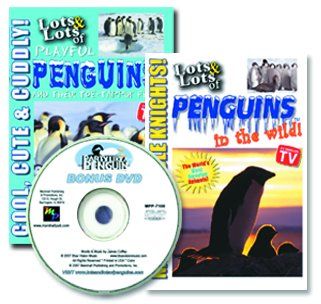 creatures are everybody favorite birds and you'll love watching them over and over again in this brand new DVD collection!
You'll laugh and sing along as you watch them hip-hoppin' along on the ice and the snow to some of the most entertaining songs ever produced by award-winning musician, James Coffey. Plus, you'll want to jump out of your seat and dance along with our fully animated penguins to the hottest beat south of the border in the animated hit music video, - Party Like A Penguin!
Lots and Lots of Playful Penguins, features some of the most incredible video footage of penguins in their natural and captive habitats you've ever seen! Listen to their calls and cries - its absolutely fascinating! Plus, you'll also learn interesting facts and trivia about all 17 kinds of penguins from around the world.
Then, as a special bonus you'll see other cold-weather creatures like polar bears, seals, and wild birds, and you'll also see rare views of the majestic scenery of Antarctica.
Lots and Lots of Playful Penguins and Their Toe-Tappin' Happy Feet truly is lots and lots of fun for young and old alike so waddle right in and have a peek, we guarantee you'll love it!
SECOND DVD INCLUDES:
LOTS and LOTS of Penguins In the WILD - LENGTH: 50 MINUTES
Here they come, the most fascinating and popular birds on earth in Volume 2 of Lots and Lots of Penguins! This time, we take you up-close and personal as our cameras travel into the wilds of Antarctica, Australia and other scenic penguin areas in the Southern Hemisphere to capture Penguins In the Wild. You will journey right into the untamed world of penguins as you see and hear them in their natural habitats like never before.
See a birds eye view of what its really like to be a penguin. Better than a webcam, our professional cameramen go face-to-face to see what its really like to be a penguin. You will see penguins nurturing their babies, feeding young, building nests and habitats, playing, swimming, hopping on rocks, waddling around and much, much, more!
The natural sounds are incredible as you hear all the singing, squawking and grunting of these incredible creatures and other animals that share their territories. There is no narration or music to interfere with the incredible, never before seen sights and sounds you will experience in this unique video. It is a fascinating program guaranteed to be a favorite among young and old alike!
You can view the
television ad
and see short clips from the videos there.
The first DVD we chose to watch together was
Lots and Lots of Penguins in the Wild
. This was about 50 minutes long. At first, I was skeptical because there is absolutely no narration or music to accompany the video. It's certainly not your typical National Geographic type of documentary presentation. However, we found that to be a positive thing! The videos were up close and personal and not shot from long distances. The only sounds were that of the penguins themselves in their natural habitats, and the whole thing gave you a "day in the life of a penguin" type of feeling. It wasn't overly edited, and it was almost as if we were right there observing the penguins ourselves.
We found that the lack of narration sparked some wonderful conversations and interaction amongst ourselves. The kids and I discussed the differences between the various types of penguins, and we talked about their behaviors and interactions with each other and their young. We got to see adults feeding their babies and how they entertained themselves. It was truly fascinating! Before we knew it, it was over, and we had really, really enjoyed the whole thing. So although I initially perceived the lack of narration to be a possible negative, it actually turned out to be the unique thing that made this video really special, and I would highly recommend it!
To accompany the video, which is indexed by the penguin species, you can print out a Study Guide that gives interesting facts about penguins and details of each species. You can find that study guide at the bottom of
this page
. I just copied and pasted it into a Word document, formatted it so it was easy to read, and printed it out front and back on just a handful of pages so we could learn more about the different species as we watched the videos together.
The second DVD we watched was
Lots and Lots of Playful Penguins and their Toe-Tappin' Feet
. This one was about 40 minutes long (though it mistakenly says 75 minutes on the package). It includes the Party Like a Penguin music video, which is what comprises the third bonus disc, as well. This DVD was really fascinating and fun! It shows all 17 varieties of penguins and gives interesting facts about each one. It discusses their size, tells you how many exist and whether or not they are endangered, lets you hear their natural calls, and shows them swimming and living in their native habitats. I can definitely forsee that my family will be watching this video again and again! You can download song lyrics to the songs in this video
here
.
The third bonus DVD, Party Like a Penguin, has just the music video on it. The video features computer animated graphics of penguins doing a dance to accompany the song which is really catchy and fun. It's definitely dance party music! My 4- and 8-year olds had so much fun dancing along with this one! I believe they'll be having fun with this for some time to come, as well. I picture them having their neighbor friends over to dance along with them! This video lasts about 2 minutes and loops over and over again until you turn it off.
The DVD's can be purchased individually:
1. LOTS and LOTS of PLAYFUL PENGUINS and Their Toe-Tapping Happy Feet DVD
Regular Price: $19.95, Web Sale Price:$12.95
2. LOTS and LOTS of PENGUINS In The WILD DVD - Nature's Noble Knights
Regular Price: $19.95, Web Sale Price:$9.95
OR
You can save by purchasing the set:
Regular Price: $39.90, Web Sale Price:$19.95
We did have some technical difficulties in that the DVD's would not play on all of the DVD players in our home, but they did play on 2 out of 3 machines. The other one seemed to not be able to read the format, so I really think it was a formatting-related issue. You may want to inquire about compatibility before purchasing. I know some other reviewers had similar issues and were sent replacement discs, so that shows the vendor certainly has caring and responsive customer service if you should encounter any issues.
I can't express how very much we enjoyed this whole set! It has a lot of educational value as well as a fun factor for the younger set. I think it would make a great addition to any homeschool and a wonderful holiday gift, as well.

I'm so impressed that I just went ahead and ordered the Lots and Lots of Monster Trucks DVD and the Extreme Motorsports DVD for my almost-5-year-old son for Christmas. He'll be so excited! What's more, Marshall Publishing is offering FREE SHIPPING (USPS First Class) on any order with code TOS27!!! Take advantage of this amazing offer while you can! It saved me nearly $8 in shipping, and that made my day!
Check out what other Crew members had to say about this and other products from Marshall Publishing by clicking the banner below.

I received this DVD set free of charge for review purposes, but all opinions are mine and reflect my family's honest use of these products.