I was so fortunate to be able to review the
Fitness 4 Homeschool Core 1 Physical Education Curriculum for K-8
by
Family Time Fitness
.
The program is designed to create a
fun and engaging atmosphere for fitness
. The
260 planned lessons
teach you everything you need to know with minimal preparation time, and the lessons are also designed so that they do not require a large investment in equipment.
Our program is the only professionally planned comprehensive curriculum for Physical Education and Athletic Development designed with the needs of the parent in mind. Our PE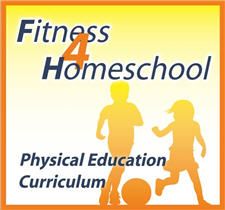 curriculum works for any homeschool because it is easy to follow, can be customized to any schedule, and can fit in almost any space, outdoors or indoors. It's even easier to follow with our tips for integrating physical education, progress logs and instructional videos.
The Fitness 4 Homeschool program is structured to be integrated into your teaching a minimum of three days per week, but we strongly recommend five. It takes 30 to 45 minutes each day, and we're certain that it is so fun and engaging for the whole family that it will be the highlight of your student's day.
The 260 lesson plans utilize repetition, but they are also progressive and sequential. The program is designed for all age levels and abilities, and because we believe that the learning process is most valuable with family engagement, the lessons are designed so that the whole family can join in the lessons.
What is included in the Fitness 4 Homeschool Package?
The Fitness 4 Homeschool Curriculum includes a startup guide, PDF lesson plans, video demonstrations, assessment tools, reminder emails, lifetime curriculum and video updates, access to online webinars and certificates of completion.
One curriculum purchase can be used for all your children, and we never charge any subscription fees or annual renewal fees.
Startup/Training Guide
- The Startup Guide is a guide for parents and includes an introduction to physical education, information on what to expect from the program, safety information, how to integrate physical education into your curriculum, teaching tips and equipment information.
Lesson Plans
– Each of the 260 professionally planned lessons arrives in PDF format and includes a List of Supplies, Warm-Up, Activity, Cool Down and Suggested Outdoor Activity. Each exercise is described in a detailed, user-friendly format for easy access.
Each lesson provides 30-45 Minutes of physical activity.
If you do all the activities that is over
7800 Minutes of activity a year!
If you do the suggested outdoor activity you get an additional 10-15 of physical activity.
1-Page Summaries
– Each lesson has a One-Page Summary to facilitate easy printing and portability. The summaries keep you from printing all 900+ Pages of Lesson Plans.
Video Demonstrations
– Each exercise includes a demonstration video with real kids doing the exercises. There are over 200 instructional video demonstrations available to you with this curriculum, and you are guaranteed lifetime access to these videos as we update them.
Assessment Tools
– We provide tools to help track progress of the basic fundamental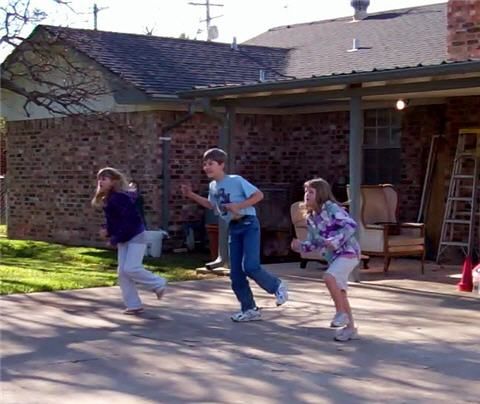 movements. Other downloadable tools include nutritional logs and meal planners for a comprehensive fitness approach.
Encouragement Emails
– During the first year of your course, we send you reminder emails each week day to keep you and your children motivated on your fitness journey. We also always include nutritional and fitness tips in the emails.
Online Webinars
– You have access to our regular online webinars and our webinar archive for further in-depth instruction and tips on the curriculum.
Pricing
The entire Fitness 4 Homeschool package with lifetime access to all program updates or revisions is available to your entire homeschool family for just one payment of $57. Online schools, Co-op pricing and licensing programs are available.
Please do not hesitate to contact one of our founding members at
(979) 209-0778
to discuss why a physical education curriculum is right for you and how our Fitness 4 Homeschool package can meet your needs.
Retail Price $199
, NEW LOW - Web Price $57
There is an option to upgrade to a Platinum Package which includes more. You can view the details of that
here
.
My kids play homeschool sports year-round and are generally very active, so I've never felt compelled to seek out a purposeful physical education program in the past. But over the last 8 months, my husband and I have both taken steps to become physically fit, engaging in regular, rigorous exercise on a daily basis. We have seen ourselves transformed and have taken an active interest in healthy nutrition, as well. Our healthier habits have begun to rub off on the kids, and they've shown interest in exercising with us. So when I was given the opportunity to review this program, I felt this was a good opportunity to provide them with exercises appropriate to their ages and abilities.
When I received the PDF file, I began printing out the lessons. I was really shocked at how extensive a program this really is! I punched the pages and bound them with plastic comb binding into several thick books of lesson plans. There is a LOT of material here to cover! It was clear that this was going to provide us with lots of activities throughout the year.
Next, I made a list of the very basic equipment needed and found everything in one place at Five Below. The expense was minimal for my 3 kids. I purchased 3 hula hoops in appropriate sizes, 1 playground ball, 3 jump ropes, 2 packs of 3 cones, a stopwatch, and a drawstring equipment bag to keep it
all together. These are items that lots of families already have on hand.
The kids were very excited to try this out! They got up extra early with eagerness to start their days with a P.E. lesson. My kids are 13, 8, and 4. Though my youngest was on the lowest end of the recommended age range, I just let him participate to whatever extent he was willing and able. His attention span wasn't quite there with the others, and he got tired more quickly and often acted silly, but I was content to let him have fun and participate in the ways he desired.
First, we sat down in front of the computer. Although I had printed out the lesson plans, I was duly impressed to find that each of the exercises includes a link to a video demonstration of how to do each one correctly. For that reason, I found it convenient to work from the digital version of the text from that point on, or at least until we were familiar enough with the exercises. (There's such a variety, though, that we continue to look some up each day. At some point, though, I expect that we will be able to follow just the printed text.) We watched the demonstrations together and made sure everyone understood the instructions. Then we began the lessons indoors. It was still quite hot outside when we began the program, so we did as much inside as was possible before finishing up outside with the outdoor activities.
I was surprised at the amount of repetitions required for children, but the kids followed the program just as it was laid out. It clearly provided them with a real, honest-to-goodness workout! Again, I felt impressed with all that went into the program! The kids really enjoy the activities, and it definitely gets their wiggles out! It provides us with a great way to start our school days, for sure. This was one of the side benefits that I was hoping to gain!
To give you an idea of how effective the program is at providing good, solid exercise, I have to tell you that the day after their very first lesson, they all began to complain of mysterious soreness in their thighs, and none of them seemed to know from where it had come. My eyes lit up with the realization that it was from their exercise the day before! When I shared this with them, they all had a good laugh, realizing that was indeed the case! So as much exercise as they get from playing sports, they clearly were not getting a full body workout until they began this program!
I can tell you from watching them that all of the repetitions made the exercises very challenging for them! I could see they were getting a great cardiovascular workout with each lesson. Now that our soccer season has begun, my 13 year old has told me that many of the exercises they are doing with this program are ones they are being asked to do at soccer practice, as well. So it's clear that this program is also conditioning them well for soccer.
I love that the program offers such a variety of warm-ups, activities/games, outdoor activities, and cool-downs. The combinations of activities are switched up each day, so the program never seems to get old. The bottom line is that the kids are having fun AND getting fit. The program recommends that you use the lessons at least 3 days/week but preferably 5 days/week. With soccer practices, gym classes, and soccer games on 3 days a week already, I've chose to incorporate these lessons 2 days/week. That gives them 5 out of 7 days of the week with organized, purposeful exercise. That's the beauty of any homeschool program, though, isn't it? We are able to adapt any curriculum to meet our family's own needs.
I think the lessons in this program are fun and engaging, all while providing my children with the opportunity to learn about physical fitness and ways to keep themselves healthy and strong.
We have enjoyed this program so much, and I am seriously considering purchasing the optional
workbooks
that are offered by Family Time Fitness to accompany this fitness program. The workbooks help children familiarize themselves with the terminology of fitness and nutrition through pencil puzzles and fill-in types of worksheets. I think they'd make a great addition to this overall fitness program. I also have my eye on their high school fitness strength training program as my oldest enters high school next year.
My overall impression of this product is that it is a well-researched, well-thought out fitness program for kids that keeps them active and engaged. I would definitely recommend it for children ages 4-13. With free lifetime curriculum and video updates, you simply can't beat the value this program offers. We will definitely continue to use this product so the kids can continue to benefit from the healthy fitness habits it instills in them.
To read what other Crew members had to say about this fitness program, click the banner below.

Although I received this e-book free of charge for review purposes, all opinions are mine and reflect my family's honest use of the product.