The infomercial for the Power Pressure Cooker XL playing over and over in the middle of the night to me and my young son had us both convinced many years ago that we had to have one! And we weren't wrong about that…we did end up buying one, and it got a lot of use. In the end, it had some issues, and we ended up getting the Go Wise 8-qt. Pressure Cooker to take its place. It comes out at least once or twice a week and has become instrumental in saving us time and turning out great meals, particularly in the winter months when soups and stews make a regular appearance on our menu.
So I guess it's no surprise that the infomercial for the Power Air Fryer XL convinced me that I had to have one of those, too! LOL.
My sister has been telling me for years how much she loves her air fryer and how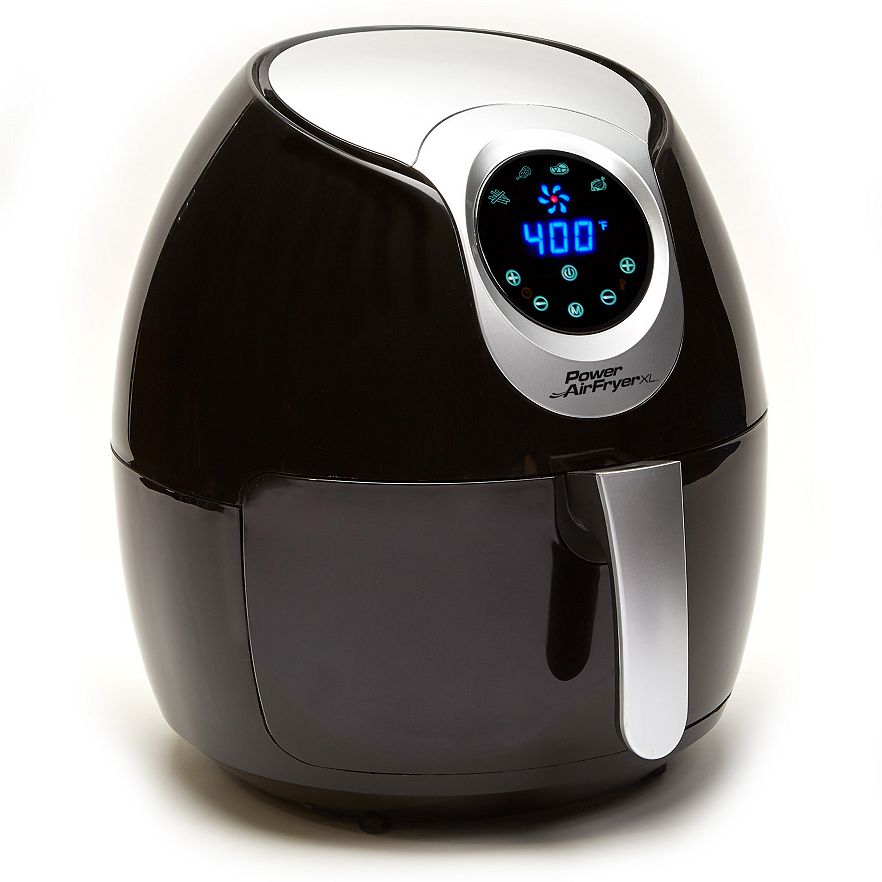 it makes perfect fries…and she is a connoisseur of fries! I've had it somewhere on my radar for about a year, but I just couldn't justify the cost, nor did I know enough about them to gamble on any one brand or model. But Steve started looking at getting me one for Christmas since I wouldn't spend the money on one for myself, and when he found the Power Air Fryer XL on sale at Kohl's, he came home and told me I should probably just go ahead and work out my best deal on it while it was on sale if I wanted it for Christmas, so that's what I did! Between the sale price, some stacking Kohl's coupons, some Kohl's rewards, and a $25 Kohl's gift card I've had since last Christmas, I was able to get the price down to about $70! And on top of that, I earned another $10 in Kohl's cash and got 3% cash back through e-bates! Then because I ordered online but picked it up in-store instead of getting free shipping, I earned another $5 in Kohl's cash on top of that! Not a bad deal at all.
I got the bigger 5.3 qt. model. What I love most about this brand over the others is that it's the only one with a copper basket. That means it's really non-stick, and I don't have to worry as much about the surface peeling after repeated uses. That's one of the complaints I've seen made regularly against other brands of air fryers. Because I love my Go Wise pressure cooker so much, I started out looking at their air fryer, but it had tons of complaints about the non-stick surface peeling off after a short time of use. That made it a no-go for me!
I really didn't know too much about air fryers, and I wasn't even sure how I was going to use it. But so far this week, I've tried out a number of different things in it, and it's all turned out really well! I put plain old frozen fish sticks and fries in it using the included divider for the basket. I had to do a lot of shaking doing both at once because the food wasn't in a single layer, and that definitely makes a difference. Once the fish was done, I removed the divider and laid the fries out flat. They crisped up quickly then! They were so good. No burned edges or unevenly cooked fries.
Next, I made some frozen country fried steaks. Those turned out really, really well. They were evenly crispy all over, and they were not greasy like they usually are when they end up cooking in their own grease in the oven. Any oil dripped into the outer basket, and the steaks were perfect!
Then the other night, I tried out a recipe for homemade egg rolls. I made the filling in my pressure cooker and then rolled up the egg rolls and baked them in the air fryer. They were really crispy, and no deep fat frying! That was pretty cool. The key is cooking everything in a single layer. I made a lot of egg rolls…enough for two dinners for 5 people…so I cooked them in 3 batches. It didn't take long, though, so doing separate batches was not a big deal. Very cool! And when the leftovers got soft in the fridge overnight, I just tossed them back into the air fryer for 3 minutes to crisp them up again. Easy peasy!
Then this morning, we were pressed for time, and I wanted to bake some frozen Pillsbury Grands biscuits. I didn't have the kind in a can. I couldn't find online where anyone had made the frozen ones successfully in the air fryer, so I set the temperature at 380 degrees for 15 minutes. They were browner than I wanted them to be, but they were fully cooked and soft inside, and they weren't burned. I would probably do 13 minutes next time. Very good! And no preheating is required with the air fryer, so it saved me a lot of time overall.
I really love how it only takes a minute to clean up the fryer basket when I'm done cooking. I literally swish it with soapy water…the inner and outer baskets…and wipe them dry with a paper towel. Done! Can't beat the easy cleanup. So I think I'm hooked on this thing. The texture is great, and it cooks so evenly. Cleanup is a breeze, and it saves on time. I'm all in!