I was really excited to review Language Smarts™ Level E by The Critical Thinking Co.™ with my 8-year old son, Holden.
WHAT IS IT?: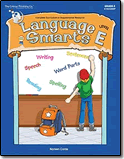 Language Smarts™ Level E is a colorful 392-page comprehensive workbook that covers a wide range of language arts lessons for students in 4th grade. It includes concepts in reading, writing, grammar, and punctuation skills. It even helps students develop 5th grade skills in critical thinking, vocabulary, and more!
No lesson preparation is required by the teacher, and the simple, straight-forward lessons are presented in a concise manner before several pages of practice and skill development are provided for each concept.
This workbook can be used as a full language arts curriculum or as additional practice alongside another textbook. With 258 individual assignments, there's enough content to provide the student with up to 2 assignments per school day to be completed over the course of the entire school year. Its colorful presentation and simple layout are designed with visual learners in mind.
This product is available for just $42.99, and you can choose between either print or e-book formats. This series is offered in levels B-E for grades 1-4.
OUR EXPERIENCE:
Let me just say that I was impressed with this workbook from the moment it arrived. It was much larger than I had pictured in my mind, and as I thumbed through it, I was immediately drawn to the large and spacious font that was so easy on my tired old eyes, as well as the colorful highlighting in the lessons.
There is a table of contents that helps you locate just the topic you might want to work on at any given time. In addition, there is a colorful chart that lays out the standards of learning, grouped in colored boxes by topic. These features make it easy to navigate to a specific skill or concept. There's also an easy-to-use answer key located at the back of the book.
Each lesson begins with a red bordered box that explains the concept and includes green highlighting for examples. I loved that instructions for every lesson are highlighted in yellow, making it easy for students to spot just what they are expected to do. My son often rushes through and fails to read complete instructions on worksheets, so I felt that was a useful feature to gain his attention to the necessary details of each assignment.
Every page includes plenty of practice in applying the concept and demonstrating understanding, and there are varied activities for each concept to be practiced over a period of time.
Because Holden is only in 3rd grade this year, I decided to slow the pace to just one
assignment per day to be spread out over this school year and next. I felt he was capable of understanding the concepts, but I slowed down the pace just a bit so he doesn't run into more advanced concepts too early. So far, it seems to be just fine for him! I helped him out by doing a lot of the writing for him as he answered orally and by assisting him with word searches by giving him hints on where to look. This worked out great for him! He thought the assignments were fun, and he liked the way the format varied from day to day.
During the review period, we covered 5 exercises on syllables, 8 exercises on prefixes, and 3 of the 8 assignments on suffixes. He did tasks like breaking up words into syllables, deciding which syllable to accent, demonstrating understanding of how a prefix or a suffix changes a word's meaning, choosing correct prefixes and suffixes to make new words to be used in context, unscrambling words with prefixes and suffixes that we'd used in previous lessons, finding words we'd used in word search puzzles, organizing words into groups based on their prefixes and suffixes, and creating sentences using those words.
In later lessons, we'll cover topics like these:
word relationships (synonyms, antonyms, anagrams, analogies, palindromes
spelling
editing
using reference materials (dictionary, thesaurus, online resources, nonfiction books)
reading comprehension
parts of speech (nouns, pronouns, verbs, adjectives, adverbs, prepositions, conjunctions, injections)
sentences (types, subject/verb agreement, clauses, etc.)
capitalization and punctuation
using words correctly (homophones, misused words, homographs)
reading and writing skills (context clues, similes and metaphors, idioms, proverbs, genres of literature, point of view, inferences, characters, theme, etc.)
writing (the writing process, personal narratives, opinion writing, and informative writing)
As you can see, the contents are quite thorough and comprehensive. I am especially pleased to see that by the end of our 4th grade year, we will have begun to address the writing process, and Holden will have had the opportunity to use the steps in the writing process to create three types of writing samples of his own.
Language Smarts™ Level E truly is a complete language arts program, and I'd be completely comfortable with using it exclusively for grammar and writing instruction, adding in only vocabulary, spelling, and handwriting to accompany it. Take a look at the sample pages and try it out for yourself!
With the importance of preschool academics, you might also want to check out their Reading, Writing, and Arithmetic Before Kindergarten! software bundle if you have younger children in your household.
Check out what other Crew members have to say about this and many other products from The Critical Thinking Co.™ by clicking the banner below.