We were really looking forward to reviewing Times Tales by The Trigger Memory Co. with Holden!
WHAT IS IT?:
Times Tales is an amazing mnemonic-based program that uses simple animated stories to help kids recall otherwise boring multiplication facts that are often difficult for them to memorize.
I received the digital download of Times Tales, which includes everything that's in the DVD version (the videos come in two files) and 3 digital .pdf files that include your printable tests, crossword puzzles, flashcards, and cube games. The video files are easy to watch on your computer, and you can use the printables as often as you need for your family.
Times Tales covers the following multiplication facts: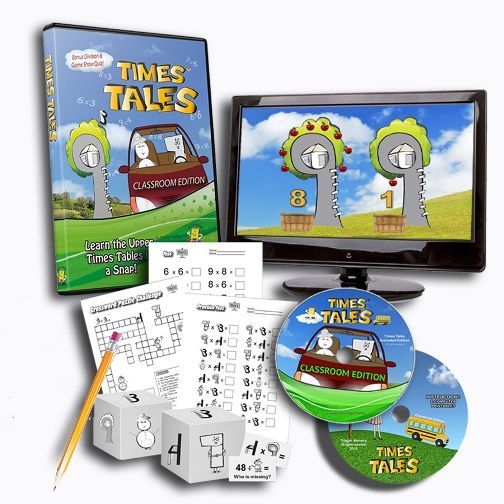 3x6, 3x7, 3x8, 3x9
4x6, 4x7, 4x8, 4x9
6x6, 6x7, 6x8, 6x9
7x7, 7x8, 7x9
8x8, 8x9
9x9
The entire digital download set is available for just $19.95! You'll receive your digital files within 24 hours of purchase, and there are no shipping costs for digital purchases!
You can even try a free sample that will teach your child the upper 9's in just 15 minutes!
OUR EXPERIENCE:
I can't even begin to express to you how difficult teaching the times tables to Holden has been for me. We begin each homeschool day with our math lesson, and it includes a daily drill sheet of 25 facts that is supposed to take only 45 seconds to complete. Sometimes, he gets a longer sheet of 100 facts that are supposed to be done in 5 minutes. This has turned into a completely frustrating process for both of us, as it can take him 3 hours to complete his math lesson, mainly because he just can't focus on those math facts long enough to get that drill sheet done! No matter how many different ways I've tried to teach him, he just can't seem to recall them from memory…he has to calculate the facts each and every time, which is painstakingly slow for both of us!
This is where our review of Times Tales came into play. I knew it would either be wonderful or a complete failure like everything else we've tried. Well, I'm absolutely ecstatic to tell you that this program was a complete game changer for Holden!
The whole program was so easy to use. The introduction at the beginning of the first video file gave us a quick explanation of how the program is laid out and how we should plan to do the videos and activities.
I started by having him watch the first vide
o with me, which I projected from my computer onto our large wall-mounted television so we could both watch it easily. We were first introduced to the characters that would be used in the stories, followed by a series of cute little animated tales that were fun to watch. They were very colorful, and each character was very memorable had the shape of a number. Those number characters interacted in each tale, and each tale involved two factors and the digits of the product from a multiplication fact, only Holden did not realize this until later.
After watching the stories, a quiz show game came up that asked him questions about the stories to help him recall the "characters" involved in each tale. We paused the video at the appropriate times to see if he could remember them correctly. He didn't quite show complete recall of the stories the first time, so I set it aside and had him watch it over again another day. This time, he completely mastered the quiz show questions, so we moved on. Next, the video explained that the tales revealed actual multiplication facts. Holden's face lit up
when he realized he'd been learning his times tables!
So when it came time to work with the printable flashcards, he was amazed that he knew the answers! He jumped up on the couch with the biggest smile on his face, and it totally warmed my heart to see that light bulb moment happen for him…FINALLY! We did the character flashcards and the character fact sheets one day, and he recalled the answers so quickly! I was really impressed. Then I saved the regular flashcards and regular act sheets for the next day, and he again did them so well! He was talking super fast, recalling the stories out loud and then telling me the answers…and getting them right!
The video recommended that we let a week pass between watching the first video and starting the second one, so we kept practicing with the flashcards, test sheets, crossword puzzle, and cube games until a week had gone by before we repeated the whole process again with the second video. And I must say that Holden willingly completed the activities and even asked if we could work on it after school. I could really see his confidence building, and it gave him more momentum to answer those questions faster each time. He felt proud of himself, and I felt proud of him, too!
We continued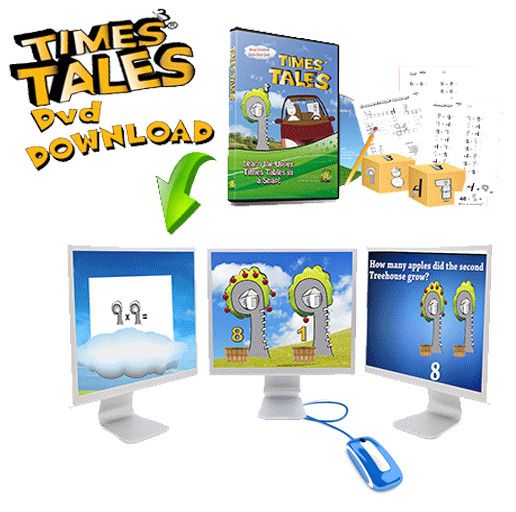 with the second video, which taught us additional tales and facts in the same manner, and again, he had great success!
I have to say that the stories are so memorable that I really think this program is an incredible tool for any child to learn their upper times tables. And what's more, it's fun! Somehow, it doesn't even feel like learning. I've never seen anything like this before. It's remarkable to me that a child can master it in just a couple of weeks! How I wish I'd had this program when my daughter was younger and learning her times tables! She struggled for years to get them down, and not being able to memorize them really slowed her down as she progressed into more advanced math. Times Tales has been such a blessing for my son, and it's brought sweet relief to me as his teacher, too! It has been worth its weight in gold by turning our frowns upside down!
I'm convinced that Times Tales could work for any child. It's like entertainment with immeasurable educational value, and it's worth every penny in my book!
Take a look at what other Crew members have to say about Times Tales by clicking the banner below.