I was shopping at Dollar Tree this weekend, and I noticed they had these 4-packs of Charles & Alice 100% Fruit for All blended applesauce cups available in a variety of flavors. These are 100% fruit with no artificial colors or sweeteners, they are non-GMO, and they have no added sugar. Amazing! The flavors they had were cherry-apple, blueberry-apple, mango-apple, banana-vanilla-apple, and raspberry-apple. I understand there's also an apricot-apple flavor, but my Dollar Tree didn't have that one. I bought the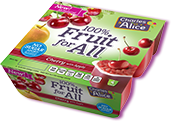 cherry-apple one to try, and it had whole cherries in applesauce. It was tart because it didn't have any kind of sweetener, but I like it that way. It was delicious, and my kids liked it, too! And it was only 50 calories per cup.
The first bonus I discovered was that printed on the inside of the cardboard wrapper was a coupon to cut out for $1.25 of the purchase off two 4-packs. That means my next purchase will be 75 cents for two 4-packs!
But then the deal got even better. I was curious about the company, which I'd never heard of, so I went to the
Charles & Alice
website. There on the site was a link for a printable $1 off one 4-pack coupon, which you can print twice, giving me 2 FREE 4-packs! As if that wasn't great enough, then I noticed you could sign up to
receive offers
on the website, so I did that. The welcome email I received right away had another link for a printable $1 off one 4-pack coupon, which you can again print twice, so now I'll get four of the 4-packs FREE!
So if you start out with the 4 coupons for $1 off one, you'll get 4 FREE packs along with 4 of the $1.25/2 coupons inside the packages, so you can turn right around and buy 8 packs for $3…giving you a total of 12 4-packs for a grand total of $3! That's 48 fruit cups for $3, making them just 6 cents per cup! That's a steal of a deal for natural foods. And each fruit cup is one serving of fruit. I can feel good about giving these to my kids for a snack, and they'll be great to include in my son's lunch at school. I love it!
So go print your coupons, and grab yours before they are gone!