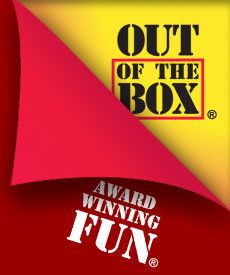 My family was ecstatic when they found out we'd have the opportunity to review Snake Oil-Party Potion from Out of the Box Games!
WHAT IS IT?: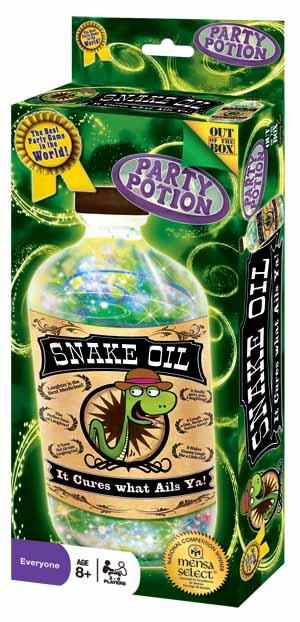 Out of the Box Games has a new addition to the Snake Oil family of games…Snake Oil-Party Potion! This is a smaller and more portable version of the original Snake Oil game. It can be played as a stand-alone game, or it can be added to the original game to bring you a host of new card combinations to add to the fun!
Just like the original game, this game is designed for 3-6 players, and the premise of the game is that after drawing random cards from the decks, each player tries to pitch a product to the designated customer using a 2-card combination. Then the customer selects the winning salesman! This is hilarious fun, and the combinations are endless! You just never know what you're gonna get!
Snake Oil-Party Potion is designed for ages 8 and up, and it's available for just $14.99!
OUR EXPERIENCE:
My 15-year old son, Hayden, asked for only one thing last Christmas, and that was the original Snake Oil game! After some research online and subsequently calling the company directly, they confirmed that there were no retailers closer than 2 hours from my residence that carried it. I was so disappointed, since my son rarely asks for anything, and I really wanted to get it for him. Then the vendor did something wonderful…they offered to let me buy it from them directly, even though they don't sell the game directly from their website, and they even offered me free shipping, as well! Well, I couldn't pass that up, and Hayden was so excited and surprised when he opened it up on Christmas Day! He has played it often with his siblings, and he absolutely loves it. I mention this because as a customer, I was so impressed with the customer service I received from this company! And because Hayden loved this game so much, I was pretty excited when I saw they had come out with the Snake Oil-Party Potion game!
I should say that I had not actually played either game before this party version of the game arrived for my review, so my personal impression of the game was fresh and new! I was not disappointed!
Since Snake Oil-Party Potion is so compact and portable, I decided to take it with us to a restaurant for breakfast one day when we were all off from school. As soon as we finished our meal, I sent my 6-year old off to play in the restaurant's playroom, and Hayden (15), Haylee (10), and I opened it up and briefly went over the rules. Even though I'd never played it before, it just took a moment to understand.
All we had to do was put the card decks on the table, choose one of us to be the customer, and then the rest of us had to draw out 6 cards each from the decks. The customer selected one of themes from the two sides of the card and laid it down on the table. Then the other two people chose 2 of their cards to combine into a product and pitch it to the customer. Then the customer voted on which product they'd prefer to buy, and the winning salesperson got to keep the customer card. Play continued through all of us for each round. Whoever had the most customer cards at the end of a round was the winner! We played 2 complete rounds and then found we were still tied, so we had to play one more round to determine the winner, which was Hayden!
Let me share with you some of the hilarious sales pitches that won over the customer during our game!
For the Snowman:
Lake Mop – When your snowman melts, no matter how much water it produces, mop up even your lake-sized puddle with the Lake Mop!
For the Grandma:
Dairy Cookie – Grandma probably has calcium deficient bones and doesn't like drinking milk. Have no fear…just enjoy some Dairy Cookies!
For the Clown:
Tickle Putty - Worried that you won't be able to make your audience laugh? Worry no more! Just pass out some tickle putty to get your audience laughing at everything you do!
For the Fire Fighter:
Trumpet Rug – A special rug that alerts even off-duty fireman when there's a fire anywhere in the city!
For the Dad:
Nap Purse – When dad has to watch the kids and they're driving him absolutely crazy, he can whip out his nap purse, which contains an ultra-comfortable nap mat, allowing him to take a luxurious nap anywhere he might be and escape the madness around him!
For the Treasure Hunter:
Memory Coat – What would you do if you were out treasure hunting and realized you'd lost your treasure map? Never fear! You can just put on your Memory Coat! It will help you access your memory banks so you can remember the content of the lost map.
For the Camper:
Trampoline Chair – In case you're out camping and get discovered by a wild animal, just use your Trampoline Chair to bounce your way to the safety of a tree!
For the Chef:
Smoke Curtain – When you're busy cooking and accidentally burn your gourmet dishes, just open your handy dandy Smoke Curtain! It will whisk all the smoke away so your customers will never know!
For the Fisherman:
Bubble Potty – No more bathroom emergencies while fishing! When the fisherman needs to go, he just blows up this special bubble that he can sit on and go potty, and then he just tosses it in the lake when he's done!
For the President:
Victory Sled – When you've been out on the campaign trail in a remote, frozen place like Alaska and those votes come in declaring you are the Presidential winner, just hop on the Victory Sled, and let it take you across the terrain announcing your victory with loud speakers and video screens on-board. It's a real celebration station!
For the Mad Scientist:
Gorilla Sponge – When you have big chemical spills in your lab, just reach for the Gorilla Sponge…it can soak up the biggest messes quickly!
For the Astronaut:
Video Wish – Missing the comfort foods of home? Just fire up the Video Wish machine to view and select what you're craving the most. The machine will then teleport your favorite dish right to your spacecraft!
Oh my goodness! We had so much fun playing this game! I can honestly say that I think I had more fun playing this game than any other game I've ever played! We laughed over and over again. We were having such a good time that we were starting to attract the attention of people in the restaurant around us! It was a great way for us to spend the morning together.
My 6-year old wandered out of the playground a couple of times and made up his own funny combinations. He's not quite ready for following the rules and taking turns because he gets so excited when he comes up with an idea that he has to blurt it out, but he can have his own fun just making up products without playing by the rules of the game. He's a bit young yet, but he will be able to join us before we know it. I got to thinking that this would be fun even to play without a scoring system…then there'd be no winner, and everyone could just focus on having fun. My daughter can be a it of a sore loser, so that might actually work better for her!
Seriously, though, this was a box full of hilarious fun! I would definitely recommend it for families, and I imagine it would be a great party game, as well, since you can have up to 6 players. I can't wait to toss it into my suitcase the next time we take a trip…it would be a great, portable game to take on vacation with us!
Take a look at what other Crew members had to say about both the original Snake Oil game and Snake Oil-Party Potion by clicking the link below.