My 13-year old daughter was super excited to get to review the Thin Stix Creativity Pack by The Pencil Grip, Inc.
WHAT IS IT?:
The new Thin Stix Creativity Pack includes 24 colors of the unique solid tempera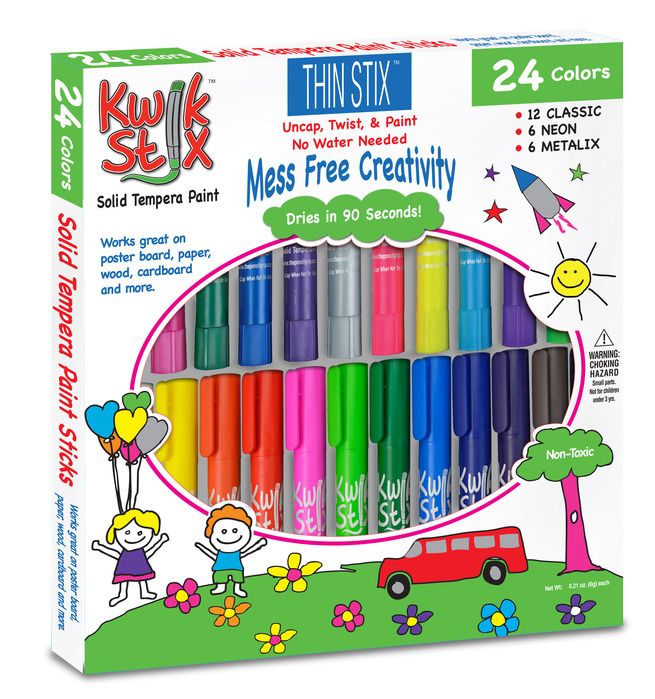 paint sticks that my daughter loves. Thin Stix are the more slender version of Kwik Stix that allow kids to paint in more detail. This complete set includes all 12 classic colors, all 6 neon colors, and all 6 metalix paint sticks!
This pack is now available in your local BJ's Wholesale Club and on their website at BJs.com, as I mentioned a couple of months ago, for just $19.99.
These can be used on a variety of surfaces, such as poster board, paper, wood, cardboard, and more!
OUR EXPERIENCE:
My daughter loves these paint sticks so much! She is 13, and she just loves to sit and paint with these, one picture right after another. They're a great boredom buster, for sure! She now owns every color of both the original Kwik Stix and these Thin Stix in every finish. You might recall that she reviewed the 6-pack of neon colors and the 12-pack of classic colors earlier this year. She just can't get enough of them!
What she loves the most is how bright and vibrant the colors are and how smoothly they can be applied to just about any kind of surface. They dry in just 90 seconds,
so she doesn't have to worry about her little brother coming along and messing them up. She enjoys framing some of her creations or pinning them to her cork display board and displaying them on her bedroom wall. I think my favorite part about them is that there's no mess! Not only do they dry quickly so there's no smearing, but there's also no need for messy brushes or water cups…no chance for spills, and no messy cleanup. Even the box they come in has a nice storage tray to make putting them away orderly, and it's also easy to find the color you want.
With this particular pack, she mentioned to me that the metalix seems even more metallic than sets she's had in the past. I don't know if there was a reformulation, but when she showed her drawings to me, I noticed the shimmery finish right away. I really wish I could do the colors and finishes justice in my photographs! They are just so vivid! She loves bright colors in all things (even her choice of clothing), so these suit her so well.
She has used the Thin Stix sets so many times before, but she usually just draws and colors with them on paper or cardstock. This time around, she wanted to try out some new surfaces, so we went shopping and picked out her initial carved from wood so she could decorate it for her bedroom door. It turned out so cute! She used the gold metalix paint stick to draw the "ice cream cone" texture across the pink "ice cream" drawing. It looks really neat in person the way it shimmers in the light! She really enjoyed using them on the wood surface and wants to do the rest of the letters in her name (I see a Christmas present coming!).
She also tried them out on ca
rdboard this time. She used the metalix to make a neat, shimmery "Fall" decorate plaque for the front door. She said that no matter what kind of surface she used them on, they were just as smooth and easy to apply. But I think she liked using the wood surface the best of all! The outcome had a very finished look to it.
She was able to quickly create vibrant greeting cards for various occasions, a cute owl drawing, and she even demonstrated the vast variety of colors available in this pack by creating a rainbow display of all of the hues in succession. You can see how many beautiful colors there are!
I really think this Thin Stix Creativity Pack would make the ultimate holiday gift for the creative child in your life. Haylee had this pack on her Christmas wish list until she got lucky by getting it for review! Now she doesn't have to wait for it.
Grab one of these wonderful complete color collections, and let the creativity begin!
Check out what other Crew members have to say about this awesome pack by clicking the banner below.