I was delighted to find out I was going to get to review the brand new, updated edition of Everyday Cooking by Everyday Homemaking!
WHAT IS IT?:
Everyday Cooking is a practical cookbook and guide to cooking that m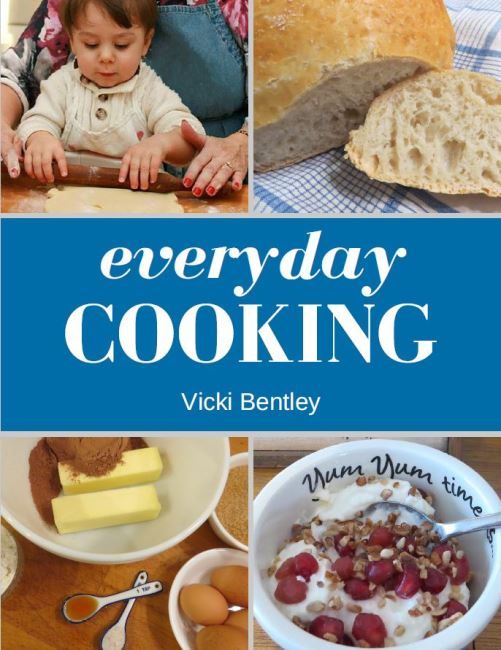 eets your everyday household needs. The recipes take a "from scratch" approach to cooking but without a lot of unusual ingredients. It gives a more natural ingredient list but still suggests ways to complete the recipes with more common healthy ingredients (like honey vs. sucanat).
It also gives you basic recipes for items that are typically prepared food ingredients, like "cream of" soups or seasoning blends, so you have the option to go a step further with preparing things from scratch, or sub in the prepared item if you're in a pinch. Either way, this cookbook makes it easy!
I previously reviewed the first edition of this cookbook back in 2012, but to my pleasure, many more recipes have been added in this latest edition that's now available in a printed, bound cookbook for just $19.99, or you can opt for the downloadable e-book version for just $15.99! I had the e-book before, and I must say that I really enjoyed the hard copy this time around, which is nicely printed with a full-color cover and is spiral-bound…my favorite style of cookbook so it can easily lay open on my stand!
OUR EXPERIENCE:
I have fond memories of the recipes I made out of the first edition of this cookbook, and I wanted to start off by making one of my favorites. It was really hard to choose, because I really loved Mom's Roast, as well as Becky's Mystery Cake. But I decided to make Mom's Roast for dinner one night. I hadn't made it for a while, but it popped into my head when I found out I was getting the updated version of this cookbook for review, and my family "ooh-ed" and "aah-ed" over the results, just as they did several years ago.
I loved that I could throw it all in the crockpot and then come back to something so wonderfully tender and moist, with a delicious gravy to boot! I served it with some roasted potatoes, green beans, and crusty French dinner rolls. Yum!
I was really pleased with the variety of recipes available in this edition. There's truly something for everyone and every occasion! I also love that the author included the option to prepare many of the recipes in an electric pressure cooker! In recent years, I've really fallen in love with the ease of my appliance, and I often adapt recipes to be cooked in that way. So it was a pleasant surprise that she gave alternate preparation instructions for some of the recipes using the pressure cooker. It took out the guesswork!
The next recipe I picked out was the Tortilla Soup, which was one that had pressure cooker instructions provided. I happened to have all of the ingredients on hand (which was true of a lot of the recipes…I love it when that happens), so I set to work gathering everything together and had it ready in no time!
I was really short on time, so I used some pre-cooked grilled chicken strips and subbed out some ready-to-eat tri-color tortilla strips to serve on top. It was all ready in just 10 minutes of cook-time!
And of course, I had to try out a dessert! I so enjoyed Becky's Mystery Cake from the previous edition of this cookbook, which I had made for my son's birthday that year. It was almost his birthday again, so I let him have the honors of choosing which dessert to make this time around. He picked the Peanut Butter Kiss Cookies! I had everything except the Hershey's Kisses, so I sent him off to the store for those while I gathered up the ingredients.
I must say that they were quite a hit! The ovens in my new house are quite small, so I had to cook them in batches (this recipe yielded 4 dozen cookies). But these delightful cookies disappeared almost as fast as they came out of the oven! Personally, I'm not that fond of peanut butter cookies, but these didn't have an overpowering peanut butter flavor, and I really enjoyed them a lot! My kids who do love peanut butter cookies said they would have liked the peanut butter flavor to be more predominant, but they were tremendously enjoyed by all! We ate a whole platter of them and still had enough to fill up the cookie jar for the next day. They didn't last long! I even sent some as a treat in my husband's lunch.
Back in Virginia, I often hosted cookie exchanges with my friends (any excuse of an occasion would do!), and I kept thinking how great these would be for a cookie exchange! The recipe makes more than enough to share, and they were so cute, too. They cooled really fast, so they were ready in a flash.
And if you've ever wanted to try your hand at bread-making, this cookbook offers many recipes for basic bread with a host of variations, plus rolls, muffins, and fruit breads. It includes step-by-step instructions with full-color photographs to help you get the basics of it right.
This cookbook also offers practical tips for using a pressure cooker, preparing a buffet station, meal planning and shopping hints, and quick ideas for getting breakfast on the table when you're family is too busy to sit down together. And for the student and future homemaker in your home, there's even a mini-unit on food and nutrition, information about basic kitchen accessories, and a checklist of basic cooking skills. Everyday Cooking has it all!
I have my eye on so many of these recipes that I plan to make soon. The Belgian Waffle recipe is at the top of my list, along with the homemade Spiced Apples to put on top. And I can't wait to try the pressure cooker version of Lasagna!
I'm sure you'll be thoroughly delighted with the repertoire of recipes and resources in this lovely cookbook. There's just so much to choose from, and I can feel good about preparing my family's meals with natural ingredients and not a lot of junk. Yet at the same time, the recipes are realistic and not too over-the-top "different" for the average family. Give it a try, and add some belly-pleasing recipes to your family's meal planning!
If you decide you'd like to purchase either the e-book version or the printed version of the cookbook, or if you'd like to purchase The Everyday Family Chore System (be sure to read the Crew reviews), Everyday Homemaking would like to offer you a special 10% discount through September 5th! Just add the items to your cart (as many copies as you'd like), and then apply code TOS10books at checkout.
Check out what other Crew members had to say about these products from Everyday Homemaking by clicking the banner below.