My 12-year old daughter was quite pleased to review the Entire Level III by ArtAchieve.
WHAT IS IT?:

ArtAchieve is an online art instructional program for children and adults of all ages that allows you to teach drawing without any prior art background. Kids learn to draw, paint, and create projects inspired by art from around the world!
Students can choose the delivery format that suits them best, whether it's through step-by-step videos or a Powerpoint slide presentation. Try a free art lesson and see if this program is right for you!
You can buy individual lessons, a bundle of 3 lessons, or an entire level to save even more money! The prices vary based upon the level (I-IV) of the lessons. For Level III, an individual lesson is $6, a 3-pack bundle is $16, or the entire level consisting of a total of 13 lessons is just $58.50. When you purchase online lessons, you receive a license to access them for one full year.
OUR EXPERIENCE:
Haylee tried out the Level II lessons last year, and she really enjoyed them. Our neighbor's little girl even tried did some with her w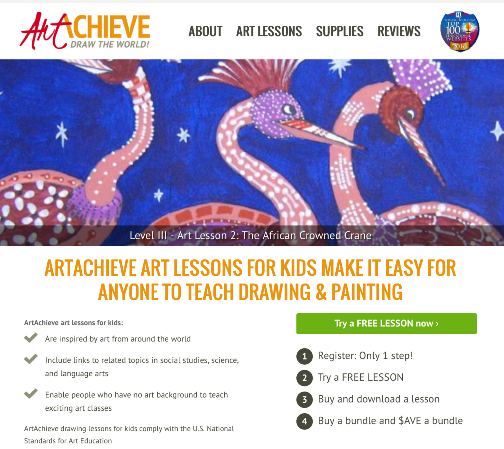 hen she came over to play one day. They really enjoyed them. So Haylee was quite happy to try out the Level III lessons for this review!
I asked Haylee if she felt it was necessary to do the levels in order. She said if you haven't done a lot of art, then she felt like you should progress through the levels. But if you've done a lot of art in the past, then she felt you could begin wherever you like. She did say that the Level III lessons were more difficult than the previous level, but she didn't have any trouble with them at all.
Just as in the past, she really enjoyed the projects. She was familiar with the way the lessons were laid out already, so that saved her some time. Each lesson begins with a mini-art lesson about the project you'll be creating. Then there is a relaxation exercise to help you prepare your mind for the work. Next you do some warmup exercises that have you draw small portions of the finished project, just to get a feel for the lines and curves that will be required. Then it goes into the drawing of the actual picture itself.
The website is pretty easy to navigate, and everything you need to know or to have in order to prepare for a lesson is easy to find. The majority of the lessons require only a Sharpie marker for the line drawing, plus whatever medium you like to use for coloring if you want to add color at the end. Some projects suggest other items like glitter paint, but you can really apply whatever you like…it's your project!
Haylee prefers the slide presentation to teach her the steps for the projects as opposed to the video with the teacher. She likes it because there's no talking to distract her, and she can move through the slides at her own pace. There's no need to pause a video while she performs each step in the project, and she can more easily concentrate on what she is doing.
She tried out a variety of projects this time around, and I thought her work turned out really well. She was quite pleased with how they turned out, and we'll probably frame a couple of them for her bedroom wall. She chose to add color to some of them, but a few, she chose to leave as line drawings. They all look amazing!
Here's a showcase of some of her work so you can see what even a 12-year old can do with this program:
Lesson 1, The Hawaiian Frog
Lesson 4, The Face from the Gambia
Lesson 5, The Pacific Northwest Totem Pole
Lesson 6, The Eastern European Firebird
Lesson 9, The Nine-Banded Armadillo
In addition to the drawing and painting instruction, the program offers Cross-Curricular Connections to really expand your art lessons into something much more. For example, on The Face from the Gambia project, the program gives you suggestions on how to incorporate social studies, food, science, writing, literature, and dance! Many links are provided to this additional material so you don't have to spend a lot of time researching your own resources to add this valuable material to your lessons.
Haylee has really enjoyed this program, and it doesn't require a huge time commitment or an expensive list of supplies. Everything needed is clearly listed for each project. I would definitely recommend this program for anyone who feels intimidated by drawing. It's easy to follow, and the results are something you can feel good about!
Check out what other Crew members have to say about different levels of ArtAchieve by clicking the banner below.