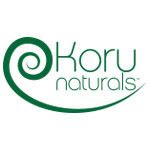 I was very happy to find out I would get to try out more products from Koru Naturals. I reviewed their Skin Clear Cream, Manuka Honey Propolis Soap, and the Emu Oil Shampoo and Emu Oil Leave-In Conditioner set.
WHAT IS IT?:
Koru Naturals offers a vast array of all-natural health and beauty products. I reviewed the Emu Oil and Pure Lanolin Lip Balm earlier this year, and I absolutely loved them. This time, I used:
Skin Clear Cream: a 4 oz. jar of moisturizing cream that is very effective for acne-prone skin, but also as a day/night moisturizer; contains raw, unpasteurized Manuka honey, pure steam-distilled Manuka Oil, and other botanical ingredients. Available for $19.20.

Manuka Honey Propolis Soap: a 4.93 oz. bar soap with intense moisturizing and skin protective properties; contains Manuka Honey and Propolis from bee hives. Available for $7.90.

Emu Oil Shampoo and Emu Oil Leave-In Conditioner: an 8 oz. bottle of shampoo and a 4 oz. bottle of leave-in conditioner spray that provide protection for damaged hair with key ingredients like emu oil, keratin, white tea extract, and others. Available for $17.10 for the set.
OUR EXPERIENCE:
When I received these products, I got started right away with putting them to work. I should mention first that I have very sensitive skin. Because of that, I've always been limited to the kinds of soaps that I can cleanse with in the bath. The list of soaps I can use if fairly limited, be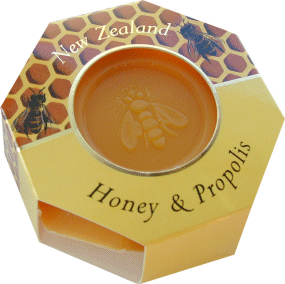 cause they cause intense itching in sensitive areas. I've had this sensitivity since I was a kid, so I try to stick with natural soaps without a lot of chemical ingredients, and soaps that provide moisturizer for my skin without artificial scents if I can help it. Often, I end up with plain glycerin soaps or those with botanicals like real lavender in them. So since that's my situation, I was a bit nervous to try another new soap. Enter the Manuka Honey Propolis Soap.
Let me say that I was pleasantly surprised that I had NO itching at all for the entire review period, and I used this soap for daily cleansing in the bath. I was so happy! In addition to not having any irritation from the soap, it was a wonderful soap to use. It had such a creamy texture and lathered up easily with a thick, creamy foam on my washcloth. It felt great on my skin! And the smell is just amazing…it has the intense smell of pure honey. I loved it! This one is definitely a keeper for me. And I would say that after about 6 weeks of daily use, I am probably about halfway through the bar. That's pretty great for a bar that lathers up so well.
The next order of business was the Emu Oil Shampoo & Emu Oil Leave-In Conditioner set. My hair is very long right now because I haven't had it cut at all for over a year and a half. That equals lots of damage from split ends. It's also naturally wavy, and it has a tendency to get frizzy from the blow dryer. I generally have to use a very thick, heavy conditioner to control the frizzies, so I wasn't sure how well this would work for me. But to my surprise again, both products were wonderful!
The shampoo was not at all what I expected. It was thin…almost watery in texture. I always shampoo my hair twice and then condition it once, and I wash it every other day, so I wasn't sure how long the small bottle would last. I applied the shampoo the first time, and I was shocked that it didn't feel at all like any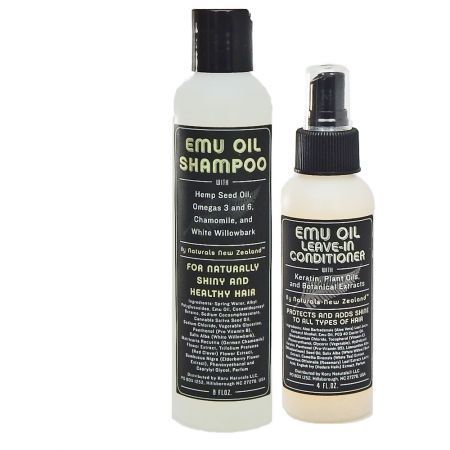 shampoo I'd used. It didn't lather up at all on the first application, and I wasn't sure it was cleaning my hair at all. But when I applied it the second time, it lathered up beautifully, which showed me that the first application had indeed effectively removed all of my hair spray residue. I was duly impressed! And it didn't seem like it took a lot of shampoo, either, even though I did two applications.
It seemed strange to me to get out of the tub without putting conditioner in my hair, but I followed the directions and applied the sprayable conditioner to my damp hair afterwards. I was careful to apply it most to the ends of my hair where there was the most damage, but also working it into my scalp, as well. I was amazed at how soft it made my hair feel right away! It gave it a silky sort of texture, and it smelled great. Once my hair dried and it continued to have that soft texture, I was hooked! It was not frizzy, either, and I didn't have to have that heavy conditioner feeling I was used to. Now I was my hair every other day, but that conditioner continued to make my hair look great until I washed it again. Impressive! Can I just say that I love this stuff? To my surprise, both bottles are only about halfway gone after about 6 weeks of use every other day. And just this weekend, someone I see regularly asked me if I was doing something different with my hair, because she thought it looked so pretty and noticeably different. I said no, I haven't done anything except let it grow out and use these incredible natural hair products! That was pretty cool!
The final product to try out was the Skin Clear Cream. While this product's main purpose is to help clear up acne-prone skin, it can also be used as a day/night moisturizer. Note, though, that it should only be used by those age 12 and up. I don't have a big problem with acne all the time since I'm in my 40's, but I do periodically have breakouts on my face in conjunction with PMS. When I opened the jar, I noticed there's an inner plastic lid and a small plastic paddle applicator. Right away, I noticed the very pleasant, clean-smelling scent of the cream. It's fairly thick but very easily spreadable, and I appreciated the inclusion of the applicator so you don't contaminate the contents with your hands. For this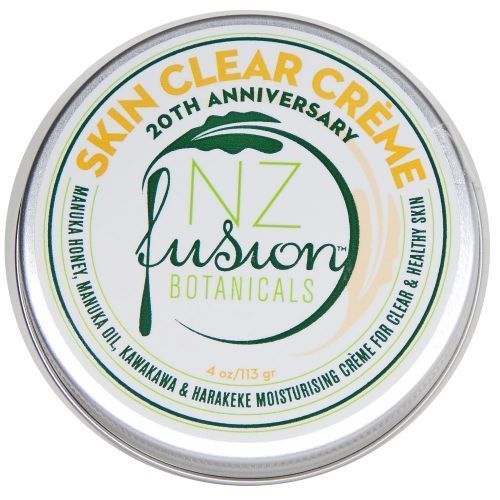 reason, I kept the clear inner lid and applicator inside, just as they were when I first opened the jar. I began using this mainly for spot treatment in the most vulnerable areas of my face…on my chin, my nose, and at my temples. I did notice that my acne seemed to clear up more quickly than usual, even when not using my usual acne treatment medication. So by the time my next PMS cycle came around, I had begun using the cream in those same areas as a daily prevention, and low and behold, I didn't even break out at all! Now that's something! And I have gotten so I really enjoy that clean, fresh smell of it on my face when I go to bed. I've only been using it at night, but it does recommend that you use it twice daily.
Now my teenage son, Hayden, is another story. He is 16, so he has much more intense breakouts, not only on his face, but largely on the backs of his shoulders, arms, and back. Those areas had really gotten to be more of an issue for him than his face. So I talked him into trying this out after his shower at night. He reluctantly let me apply it on his arms, back, and shoulders, and wow! We were both amazed that right away, you could see that by the next morning, the redness and inflammation of the breakout had really subsided. And with subsequent applications, we saw even more improvement. Not only did the large breakouts begin to clear up in a hurry, but the worst of it didn't even return! He had only smaller and far less irritated breakouts. He noticed such a difference, in fact, that he started coming to get the jar and was using it all on his own! He was very pleased with the results, and I was absolutely amazed at the improvement! The difference was clearly visible, and I can see that this is a product we'll continue to use in the future. In addition, I can hardly tell that we've used any of the cream, even after 6 weeks of steady use by two people, because just a tiny bit of it truly goes a long, long way. This jar will last us for a long time! And of course, I would much rather we be using this natural product than a bunch of chemical products that contain harsh ingredients like salicylic acid. No thank you!
I truly feel privileged to have had the opportunity to use all of these wonderful products! And now my so is a believer, too. Their effectiveness is unquestionable in my book, and they smell great and feel wonderful on our skin and hair. I would recommend all of them to anyone! I continue to fall in love with this company's products.
See what other Crew members have to say about these and other great products from Koru Naturals by clicking the banner below.