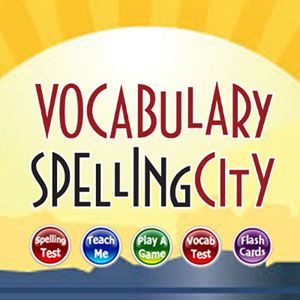 My 9- and 5-year old kids and I had the opportunity to review the VocabularySpellingCity Premium Membership by VocabularySpellingCity.
WHAT IS IT?:
The VocabularySpellingCity Premium Membership offers parents and educators a versatile resource for students to practice both spelling and vocabulary with customizable word lists through a variety of engaging games and activities.
While a number of the activities at VocabularySpellingCity are FREE, the Premium Membership adds a variety of bonus features, such as:
Vocabulary Tests
Definitions
Synonyms
Antonyms
Parts of Speech
Automatic Test Results
Record Keeping
Progress Tracking
Individual Student Log-Ins
Student Grouping
Word List Grouping
Game & Activity Logs
Premium Games
Interactive Flashcards
Printable Flashcards
Telephone Support
No Commercial Banner Ads
Additional free resources include:
Teacher/Parent Homepage
Sharing Lists
Importing Lists
Handwriting Practice
Printable Worksheets
Teacher Resources
A 12-month premium membership for a family with up to 5 students is just $29.99! Other rates are available for classrooms and schools of varying size.
This program is designed for all ages from grades K-12.
OUR EXPERIENCE:
I was able to easily set up my 5-year old son, Holden (grade K), and my 9-year old daughter, Haylee (daughter), as students in my family account. We've had a premium membership once before that just recently expired (if I could have afforded it, I would definitely have felt it worthwhile to renew). We still had a free account we were using, which we had used for years before we ever tried the premium membership, but I can't tell you how happy I was to regain use of the premium membership features!
Haylee had used the site for several years before, and she was jumping for joy that she could once again practice her spelling words on the many premium games available! Holden is just in Kindergarten, so this was the first year that I had him doing a formal spelling program in our homeschool. Every week, I just log in to our account as the teacher and then go in and quickly use the "create new list" feature to add their weekly spelling lists. With the premium features, I can group the word lists into grade levels and save them for future use. I still have a myriad of lists pre-saved from past years that my older children have already used, and it's wonderful to not have to duplicate my past work in setting up the lists. At the beginning of the week, I use the "add assignment" feature to select practice activities and an end-of-the-week spelling test and/or vocabulary test for each of them to do. Another premium feature allows me to then group those assignment lists under their names so it's easier for me to manage multiple students and keep their assignments organized so I can see at a glance what I've got scheduled for them to do. I can assign due dates and select options for their tests, like whether or not I want to randomize the order of the words or test them in the order they were entered.
Without the premium games, Haylee never asked to practice her words using games, but now she begs for time to practice during the week and even after school! I love the enthusiasm this product generates in her, and she does much better on her tests with the frequent interaction with the words that she gets with this program. Holden was really motivated by the bright sunshine and rewarding sound he hears when he scores 100% on his tests! He asked me if he could get a certificate for doing well. This program actually does have a printable certificate you can generate for a test right after the student takes it. However, we had clicked out of the score screen before I realized that was the only opportunity to print it. I really wish I could access award certificates from the teacher log-in after the fact!
Now I'd like to talk a bit about some of the premium games that Haylee loves so much!

Letterfall – In this game, the student is briefly shown one of their spelling words, and then they must maneuver their little mouse character holding a basket so that they catch the letters to spell the word in the correct order. Penalties are given for catching incorrect letters, and points are accrued in the game for catching the correct letters to spell the given word. Play continues through the list until all of the words have been spelled correctly. As you catch incorrect letters, it appears that the cat at the top begins to awaken and look as though he will pounce on the mouse, but after purposely getting thousands of negative points, it didn't appear the mouse would actually get caught, encouraging the speller to continue to try to get the correct spelling of the word. Haylee and Holden both really liked this game. Play speeds up as the student gets farther into their word list.
Speedy Speller – In this game, the student hears the spelling words spoken one at a time and used in a sentence. A timer is running in the background, and the student must spell the word as quickly as possible. If an incorrect word is typed in, a negative sound is heard, and the spelling the student gave is shown in red on the left-hand side of the screen. Then the student must continue to attempt a correct spelling of the word until they achieve it before play continues to the next word. After all the words have been spelled correctly, the timer shows how long it took to complete the list, and if the student achieves a high score, they can enter their initials to be kept on the high score board for that list. Haylee liked trying to beat her time…we even played at the same time to see who could spell the fastest!
Match It Definitions – This is an excellent game for learning and practicing the meanings of your spelling words. The student is given a list of the spelling words on one side with the
definitions scrambled in a list on the other side. The student clicks a word and then clicks its matching definition, which are then connected with a colored line. The student continues down the list and then clicks "submit" to get immediate feedback as to which are correct or incorrect. If any of the matches are incorrect, those matches are removed so the student can try matching them again, while the correct answers remain. The student continues submitting the matches until they are all correct, and then play continues until all of the words in the list have been matched correctly. A score is given at the end, along with how many tries it took the student to complete the list correctly. I thought this was wonderful for ensuring the child not only can spell the word but also understands its meaning. Haylee did great with this game, which I was glad to see, but the amount of reading required made this a little beyond Holden's capabilities. It will be a great tool for him in the future, though!
Which Word? Definitions – In this game, the student is given a definition features in a cloud above with a selection of 4 possible spelling words underneath that go with the definition. The student clicks on their answer choice and will immediately be given feedback as to whether the answer is correct or incorrect. If it is incorrect, the word is then grayed out, and the student must continue making a selection from the other choices until the correct answer is achieved. When all the words are complete, the student is given a score at the end. The nice thing about this game was that the definitions and instructions are read orally in addition to being printed on the screen, so even a very young student like Holden could still play…they need only be able to read their spelling words in order to choose their answers, and even those are read aloud when you pass your cursor over them.
Word-O-Rama – This games is so funny! It's set up like a game show, and your host is
a penguin. You are randomly given either a definition, a synonym, an antonym, or a fill-in-the-blank sentence, and you must select from one of four spelling words as your answer. If you get it correct on the first try, you get 20 points. If you miss once, you get 15 points; if you miss twice, you get 10 points; if you miss 3 times, you get 5 points. Each time you miss, the host and the audience tell you to try again. The game show feel really adds to the fun, and tropical music plays in the background. At the end, you are shown your total points for the game, and the game show host bids you farewell.
Parts of Speech – In this game, the student is given an underlined spelling word used in a sentence. The student must select from four possible parts of speech to identify the word. The choices might be noun, verb, adjective, adverb, pronoun, preposition, conjunction, or interjection. Incorrect answers are grayed out one by one until the correct answer is selected. Points are given based on the student's correct responses. A total is given at the end. After each correct answer, the sentence is read aloud before moving on to the next question. I was really happy to see this game, because this is an area that Haylee could use some extra practice!
Sentence Writing – In this activity, students are given their list of spelling words and must type in a complete sentence using each word in its proper context. The sentences can be up to 150 characters each and will be graded on whether or not they are complete sentences, have clarity, follow a topic/main idea, grammar/usage, and mechanics (capitalization, punctuation, and spelling). When the student submits their sentences the first time, a speaker symbol appears next to each sentence, allowing the student to hear each sentence being read aloud. This is to help them catch errors in how they composed their sentences. The student has the opportunity to edit any of their sentences at this point before submitting for grading. Once submitted at this stage, the sentences are transmitted to the student's teacher for grading.

Paragraph Writing – This activity works exactly as the Sentence Writing activity, except that the student is given all of their spelling words in a word bank and is asked to write a paragraph using every word from the list. This is again submitted to the teacher for grading, based on the same criteria.

Vocabulary Test Me – In this activity, the student is given the definition of one of their spelling words, and they must choose the correct spelling word from 6 word choices. The student proceeds through the list without feedback until a grade is given at the end of the test. At that time, the score is displayed, and the correct and incorrect answers the student provided are grouped together.
All of these premium games and activities are in addition to the free ones, such as Spelling Test Me, Spelling Teach Me, Word Search, Audio Word Match, Hang Mouse, Missing Letter, Word Unscramble, Test-N-Teach, Read-a-Word, Alphabetize, Handwriting, and Sentence Unscramble. Flashcards are built into the student's word lists so they can see the words and their definitions and even print them out front-to-back for practice on paper.
Another wonderful feature is the free iPad app! You can take advantage of most of the activities of the website on your iPad with the app, and if you have a Premium Membership, you can log in to your account in the app itself and access your premium games and features, as well. This was a real bonus for us, as any activity on mom's iPad sparks immediate interest in my younger kids! Haylee and Holden were readily willing to play the games with their spelling words even more often using the app, and the games had a clear, crisp, colorful appearance in the app. Not all games were available, but most of them were, and it appeared the rest would be coming soon. I love the portability and the novelty of using the membership as an app on the iPad. This was a big draw for my kids to practice even more.
One of the teacher's premium features I love the most is how the program stores my kids' scores and progress. At any time, I can view each student's time spent on each activity and how well they did. I can even pull up their graded tests and see which words they missed. That's a valuable tool so we can revisit missed words at a future time and even assign additional practice with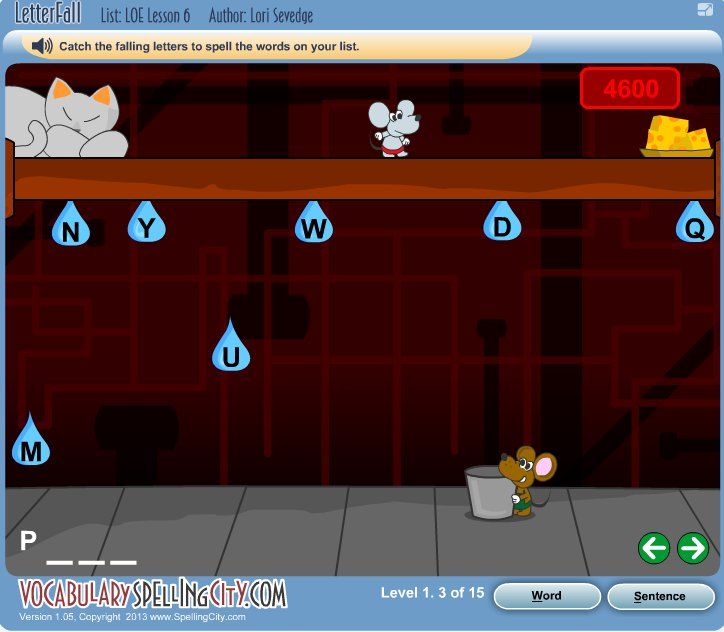 word lists as necessary!
While some of the games like Letterfall got to be a bit fast-paced for my 5-year old to play without help, he still enjoyed the challenge and fun of the games, and it didn't keep him from wanting to play them. I know that he will grow into being able to play some of the others that required more advanced reading ability, but he can still use the learning functions like the flashcards, Spelling Teach Me, and the Spelling Test Me features for now and be very happy to do so.
The bottom line for us is that for the kids, the games are fun, engaging, and give them repeated exposure to their spelling words in a variety of different ways so they can remember them more clearly AND know how to use them in context from having heard and seen them used in a number of ways. In addition, they get a wide range of practice in language arts skills across the board. And for me as the teacher, I can't put a price on the value of having a program that builds enthusiasm for learning in my kids, keeps track of scores for me so I don't have to maintain a separate grade book, allows me to enter customized word lists from their studies (or use pre-made lists or those shared by others), and allows me to organize and group those lists and assign them to specific students in advance.
In addition to spelling words, try thinking out of the box…why not enter vocabulary words from other subjects like math or science? This gives them another wonderful interactive opportunity to work with words from across their curricula and better learn their meanings and uses.
I do feel this Premium Membership is worth the expense, particularly if you have multiple students. If you have 5 students, that's only $6/year per student. How great is that? I know that going forward, I'll be continuing to renew the premium membership whenever I can afford to do so. When I can't, I'll use the free features and games and greatly miss the premium features until I can subscribe again!
This is a great program, and the Premium Membership features give me all the tools and features I want most as a teacher, with oodles of learning fun for my students.
Take a look at what other Crew members had to say about the VocabularySpellingCity Premium Membership by clicking the banner below.

***