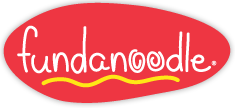 My 5 year old son, Holden, got to try out the I Can Do Math Level 3 and Max & Alphie's Adventures Book 3 educational products from Fundanoodle.
WHAT IS IT?: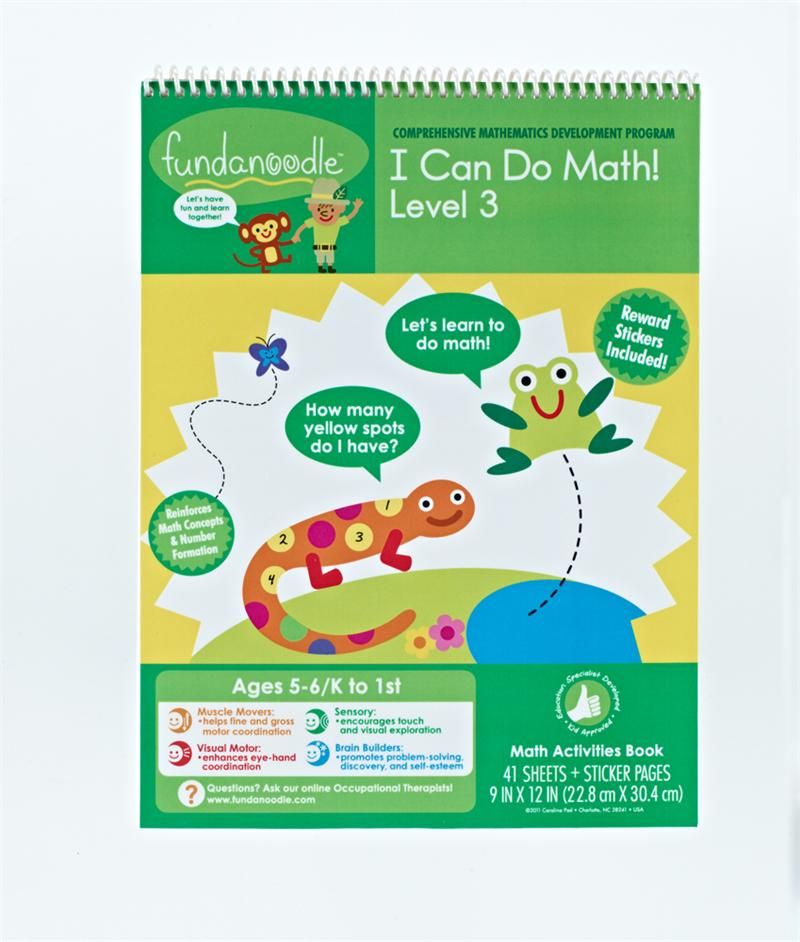 I Can Do Math Level 3 allows your K-1st grade student to practice essential math skills including addition, subtraction, time, patterns, and other math skills that align with Common Core standards. It includes 41 sheets plus sticker pages and can be purchased for just $5.99.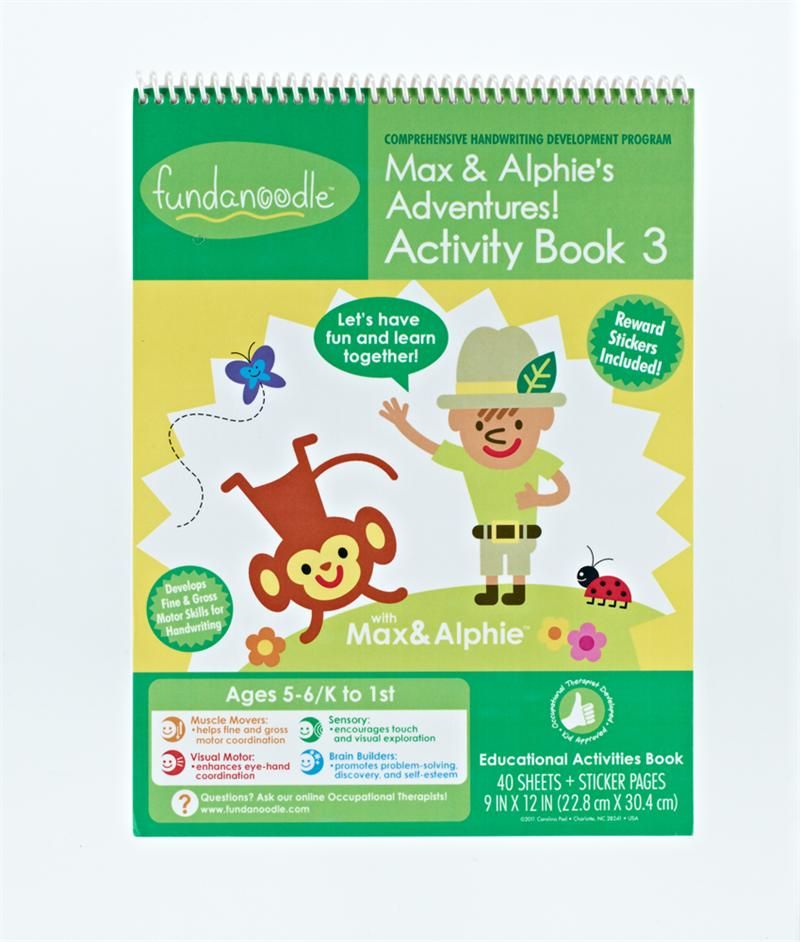 Max & Alphie's Adventures Book 3 allows your K-1st grade student to practice classroom concepts such as basic handwriting, letters, numbers, drawing, and mazes through a variety of pencil activities in this all-in-one activity pad. It includes 40 sheets plus sticker pages and can be purchased for just $5.99.
OUR EXPERIENCE:
Holden tried out the Max & Alphie's Adventures Book 3 first. I expected him to balk at having so many extra worksheets to do outside of school, but I was clearly mistaken! He was crazy about this book! It had so much variety in it that he was very excited about the fun things to do in this activity pad. I'll highlight some of the activities he did:
Beginning Letters: Pictures were provided, and Holden had to fill in the letter that represented the beginning sound of each picture. Then he followed the tunnel that swirled the pictures like a maze.
Crossword puzzles: These included a word bank of simple words to answer the crossword clues. For these, I read the words from the word bank to him and then read aloud each clue so he could tell me the answer, and I wrote them down for him.
Drawing: These drawing activities used a line of symmetry to divide a pre-drawn half of a shape or figure and a blank half that he had to mirror and draw in himself. He did well with these! He's never been one for drawing or coloring, but he seemed to enjoy the challenge of these!
Mazes: Holden is always excited at the chance to do mazes! Just as I'd taught him in past activities, he first traced the correct path with his finger and then drew one line from start to finish. These are so great for concentration and memory!
Hidden letters: This was pretty challenging! There was a busy little scene drawn on the paper, and capital letters were hiding in the lines of the picture. He had to go through and circle all of the letters he found. This was fun!
Fill in the blank: This activity gave sentences with a missing word to fill in the blank. Instead of a word bank, it gave the scrambled answer under each blank. These were simple 3 or 4 letter words, and Holden could mostly guess the missing word even just using context clues without even looking at the scrambled letters. But they were there if he needed an extra clue. I dictated the answers for him since he's not fond of a lot of extra writing.
Find the differences: These provided two pictures that were almost the same but contained a handful of differences. He had to locate and circle the differences. He really had fun with these!
Connect the dots: He was very excited about these, because he immediately recognized the activity as being like geo-boards and geo-bands printed on paper. He had to look at the way the dots were connected with lines on the left side and draw the identical design on the right side.
Find the shapes: Holden had to find the given number of fruits of each kind and circle them in a page full of assorted pictures.
Counting: On these activities, numbers were provided in a variety of pictures, and he had to draw in the given number of items represented by the numbers.
Word Searches: I didn't feel Holden was quite ready for the word searches, so we'll be saving those for a more appropriate time. But they had up to 8-letter words in a word bank to be located in a word search form. Then there were blank lines at the bottom where he was asked to write favorite things from the word bank.
Needless to say, this book had such a variety of engaging and fun activities that it was a big hit with Holden! He didn't view it as extra school work at all. I was surprised at how many worksheets he was willing to do in one sitting. He was very enthusiastic about this one!
Next, Holden tried out the I Can Do Math Level 3 workbook. This book included a variety of activities involving numbers and patterns, such as:
Counting and writing: This involved handwriting practice in writing digits and number words. I didn't make Holden do these yet because he has not yet learned number words, just counting and working with digits in math equations. These activities include the numbers 0-30. It has large handwriting lines that are easy for kindergartners to write on.
Add/subtract the dots or objects: Here, he had to add up the number of dots or objects as shown, write the number below it, and then write the total number in all. Alternately, he had to count the number of objects, count the number of objects crossed out, subtract, and find the difference. This is basically addition/subtraction with pictures.
Write the time: This was good practice for Holden, as we just recently reviewed telling time to the hour. These exercises offered practice with reading both digital and analog time.
Number matching: This involved drawing lines to match number words with the matching digits 0-20. I'm saving this activity for Holden to use when he has learned more of his number words.
Patterns: He had to determine the given pattern of shapes and objects and draw the next two objects that continue the pattern. He really liked this activity, even though actually drawing the pictures was a bit of a challenge! Another type of pattern activity involved identifying the number that did not belong with the others in a given row because it was out of sequence.
Skip counting: Here, the student fills in the missing numbers when counting by 2's. Holden has learned skip counting by 5's and 10's, but we have not yet covered 2's, so I'm saving this activity for when we've covered that. It will be great practice!
Beginning fractions: Here, shapes were shown divided in 1/2, and he had to color 1/2 of each shape. This was a new concept for him, as we hadn't yet discussed fractions, but he caught on to it pretty quickly.
Connect the dots: There were lots of these activities with slight variations in each. He had to fill in missing digits while doing the dot-to-dots and counting by 1's, 2's, or 5's. He got so excited about this one, and I loved that he had to concentrate on what he was doing so he could pause to write in the correct number, yet have enough focus to resume connecting the dots in order. Great activity!
Addition/subtraction: These just showed the equations without pictures, and he either had to draw a line to match the equation with the correct answer, or simply solve the equation and write the answer.
Left/right: There were a number of activities that required him to identify an object on the left or right or pointing to the left or right. This was great practice with identifying left and right!
Again, there was a lot of variety in this book, as well. I really liked how even within a skill, the workbook gave a number of approaches to each one so the activities had differences that kept them from being too repetitive within the book.
Both of these workbooks included sheets of stickers with pictures on them that matched a symbol at the bottom of each sheet. As Holden completed the worksheets, he was able to find
the matching sticker in the back of the book and place it on the bottom of the page to show that he had successfully completed it. This was a good motivation for Holden! He really liked "earning" the stickers for his worksheets. I often use stickers on his school work to reward him for particularly good grades on tests and activities, so this was a familiar reward for him!
Overall, we really liked these workbooks. They are sturdily bound with spiral binding and stiff covers, the pages are printed on thick, bright white paper with rounded corners, and the perforated worksheets tear out easily. Everything about these books gives you an impression of quality, the activities are well thought-out and varied to prevent boredom, and they cover such a broad spectrum of skills in a fun and engaging way. These are not your typical "fluff" workbooks for young children. They definitely give your child a workout in real skills while making it seem like it's not your typical school day…it's just fun! Holden felt great about his accomplishments in these books, and I saw a smile on his face more than once. That was worth it's weight in gold!
See what other Crew members had to say about this and other products from Fundanoodle by clicking the banner below.

***