My 4th grader and I had a chance to try out a Time4Learning Subscription from Time4Learning.
WHAT IS IT?:
Time4Learning offers a unique subscription service that allows your children to play fun, interactive games while learning core subjects. It can be used as a diverse supplement to your homeschool curriculum, or you can use it to cover all of your core subjects as your primary curriculum.
Lessons are taught in small chunks, so your student doesn't need a lot of time set aside to complete an assignment. All of the instruction in online, so there's no need to download any software to your computer. Your subscription includes:
For students:

interactive lessons
multimedia reinforcement activities
printable worksheets
learning games

For Parents

assessments with reports
printable lesson plans
homeschool teaching tools
detailed reporting for use in a portfolio
parental support through the online Parent Forum
Parents and their students have a number of key features available to them:
students get individual logins
parents can set each student's grade level for EACH subject
students can access one grade level above and below their assigned level for review and further study
detailed lesson plans
online playground that rewards and motivates
a time-stamping feature on activities for attendance purposes
the automated system grades lessons and keeps reports
sign up and get started on the same day
The subscription comes with a 14-day money-back guarantee. Take a look at the lesson plans, try out the interactive lesson demos, and look through the curriculum overview. You can subscribe for $19.95/month for the first PK-8th grade student and $14.95/month for each additional PK-8th grade student. If you have high school students, it's just $30/month per student and offers 4 courses.
There are no contracts, and you can start, pause, or cancel at any time.
OUR EXPERIENCE:
When I received my subscription access for my 9 year old daughter who is in 4th grade, it only took a few minutes to set up my account and schedule her activities. I loved that it gave me an option to just select a beginning and ending date for when I wanted her to complete the curriculum, and then it created lesson plans that fit the material into my specified time period. I was able to easily change it to give her the number of activities per week that I was aiming to have her complete. Then all she had to do was log in and start learning!
When Haylee got started, she found that her choices of activities were in Language Arts, LA Extensions, Math, Science, and Social Studies. I placed her into 4th grade for every subject except math, which I set at 5th grade to reflect her current grade levels for those subjects.
You can see in the chart below just how many activities are available in each subject for a given grade level…it's a lot of material!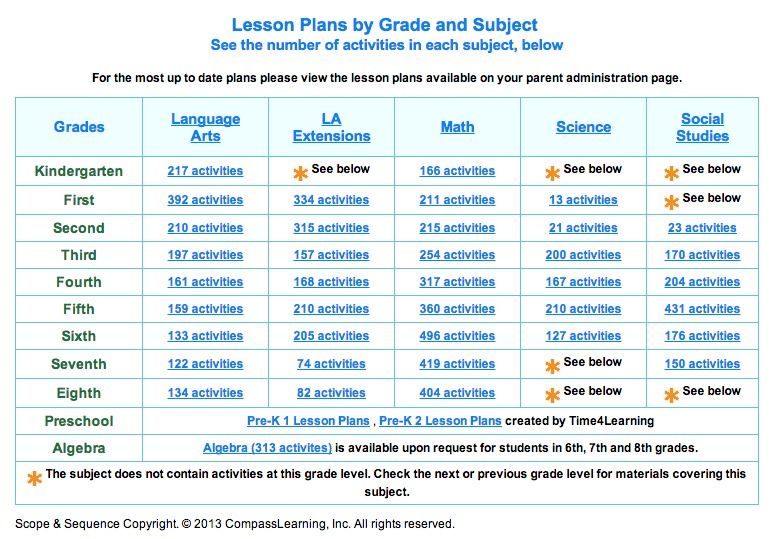 Haylee selected a Science activity first regarding principles of sound. It took her into a lesson about stringed instruments. She got to click on little audio clips for each instrument after reading
about them, and it let her hear what each instrument sounded like. She really enjoyed that! There was a fair amount of reading involved, but I was surprised and impressed to see that it kept her engaged and moving on to the end of the lesson. Typically, I would have expected her to lose interest and try to click out of it, but that was not the case here, so I was interested in seeing her reaction to some of the other subjects and lessons in the weeks to come. In the end, she spent more time on science than on any other subject, so I think that was probably the most interesting category for her. That intrigued me, because we don't spend a lot of time studying science in her regular homeschooling curriculum. She tried out a variety of activities involving changes in matter and energy, scientific investigation, and sound.
Next, she worked on some math. My husband helped her with those lessons because she felt it was sometimes a bit hard for her. One of those lessons involved Roman and Greek Numerals,
which were totally new to her. She did say that the lesson introduced the material to her first, so she did have an opportunity to learn it before practicing it or taking the little quiz at the end, but let's just say that math has never been her strongest subject!
She had to spend more time on each of the math lessons she tried than on any of the other subjects, but that was pretty typical for her since she struggles with math. She spent as much as 23 minutes of some of those activities. Here, she tried out activities in whole numbers and place value. For one of the games, she got to pretend she was a cashier in a store, and she said it was fun and was something she'd play again. In another game, she said she was in a clothing store and had to figure out how many combinations she could make with pants and shirts. She said she liked that one, too. I was happy to hear that, because she generally avoids math-related activities like the plague! Now my husband said that the math section seemed very dry to him, and he couldn't imagine setting her down to work on it by herself. But he's not accustomed to teaching the kids in general, so you'll have to take that into consideration.
Then she worked on some Language Arts activities. Here, she worked on things like vocabulary skills, synonyms, and antonyms. She got to watch some videos and take quizzes. She liked this, but she said that she and her dad thought one of the characters had an annoying voice. I had to laugh at that. Those two are hard to please! My husband said that he caught her laughing a number of times while watching the videos and that she seemed to really enjoy them.
I sat with her while she completed some of the LA Extensions activities. The choices of categories in this
section included Comprehend & Respond, Grammar, Literature, Written Communication, and Convention of Language. In the grammar activities she learned about sentences and fragments, sentence parts, and types of sentences. It gave her a thorough description, plenty of examples, and then gave her some samples to try on her own. I liked that she could check each answer instantly as she went along. She enjoyed the choice of photos they included along the way (dogs, cats, etc.). Towards the end of the review section, it gave her a little joke to click on, and it was so funny (Why does a seagull live by the sea? Because if it lived by the bay, it would be a bagel!) LOL. She got a real kick out of that. It was like a reward for doing the review work. I liked that. She took the quiz and scored 100%. Now that's progress!
In the Social Studies section, the categories included Ancient Civilization, Aztecs/Incas/Mayas, U.S. Revolutionary Period, Geography, United States Civics, Economics, Current Events, and
Prehistoric Art. We selected Geography and were taken to a list of subcategories that included Tools, Skills, Maps, Longitude & Latitude, Delta/Strait/Channel, Plateau/Prairie/Mesa, Isthmus/Peninsula/Fjord, Mountain Ranges, and Rivers. We chose Latitude & Longitude to work on first. Here she worked on reading a grid map (which was very colorful), learning about the prime meridian, and finding cities on a map using the lines of latitude and longitude. She didn't think she could do that, but once she tried it, she got the hang of it pretty quickly!
Overall, we liked Time4Learning. Like my husband, I'm not sure it's something I'd turn my daughter loose with unsupervised, just because she can click out of activities without completing them and things of that nature. If I wanted her to do the activities alone, I think I'd only use it as a supplement for that reason, and then she could pick and choose what she liked and wanted to learn more about. But if it were my core curriculum, which is clearly an option given the amount of material covered, I would want to observe her using it effectively. I like how the sections are broken out into subsections so that you could easily target specific skills for additional practice or instruction. I think this site could be a really useful tool alongside a traditional curriculum to enhance and reinforce learning. I really liked the variety of presentations provided for various topics so the lessons are not predictable and boring for the student. They never know if they're going to get a video, an interactive illustration, or photos that enhance the text. I'm likely to recommend this product to fellow homeschoolers looking to add some variety and extra practice their repertoire of activities.
See what other Crew members had to say about this subscription by clicking the banner below.

***