My family was recently blessed with the wonderful opportunity to review the MusIQ HomeSchool program by Adventus.
WHAT IS IT?:
Adventus is a multi-level music and piano education program you can use at home, and MusIQ HomeSchool was designed specifically for homeschoolers with levels to accommodate ages 4-18!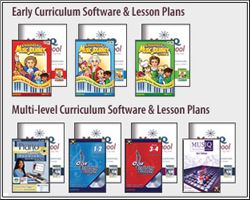 Here's a quick summary of the levels in this program:
Children's Music Journey 1, the recommended starting point for ages 4-6
Children's Music Journey 2, the recommended starting point for ages 7-9
Children's Music Journey 3, the last of the beginner levels
Piano Suite Premier, the recommended starting point for ages 10 and up and begun in year 1 of the multi-level program
Ear Training Coach 1 & 2, to be completed in year 2 after PSP is completed
Ear Training Coach 3 & 4, to be completed in year 3
MusIQ Challenger Game, to be completed in year 4
The use of a MIDI keyboard is required to use MusIQ HomeSchool. If you don't already own one, you can purchase the recommended M-Audio KeyRig 49 directly from Adventus for $114.95.
This 7-year program for homeschools incorporates 20+ levels of instruction for beginner to advanced intermediate piano students. You can buy each program outright, but if you have children of multiple levels, your most affordable option is to do a monthly subscription of $10.95/month. This requires an internet connection. It also entitles you to a discount on the purchase of the recommended keyboard. Lesson plans are not included with the monthly subscription option, but each year of lesson plans can be purchased separately for $29.95 in the Early Curriculum Store.
If, however, you wish to purchase the software outright, you can get Children's Music Journey 1-3 in a bundle for $309.95. Or purchase just a single year…CMJ 1, 2, OR 3…for $89.95 each. In a special BONUS OFFER, you can purchase CMJ 1-3 plus the KeyRig 49 MIDI keyboard for just $279.80.
The multi-level program begins with Piano Suite Premier. You can purchase Year 1 as outlined above for $109.95, Year 2 for $59.95, Year 3 for $59.95, Year 4 for $69.95, each with lesson plans included for that single year.
Or you can purchase the Complete MusIQ School Bundle (CMJ 1-3, Beginner Level 1 Lesson Plans, PSP, Ear Training Coach 1-4, Level 1 Lesson Plans, and the KeyRig 49 keyboard) for $489.95.
There are a number of purchasing combinations available on the website, so if you are interested in purchasing this program, take some time to explore the various package offers to determine which one best suits your needs.
OUR EXPERIENCE:
I received the subscription access to all 7 levels of this program along with the lesson plans to examine for this review. I have 3 children ages 5, 8, and 13. All of them tried out the program at their own level, but I focused mainly on my daughter, age 8, for the duration of the review period because she has the most interest in music. So I'll mainly be discussing her experiences with the program.
Based solely on the recommended age, Haylee would have begun using Children's
Music Journey 2 right from the start. But after looking at the lessons and discussing her background with a helpful representative at Adventus, we determined that she'd probably benefit most by starting with CMJ 1 and going at her own pace. This is because she has had no formal music or piano instruction prior to this experience.
Now that we've been using the program for a few weeks, I can see that CMJ 1 really was the best starting point for her. It gives her exposure to 25 weekly lessons taught by Beethoven, Bach, Joplin, Mendelssohn, and Villa-Lobos. She has been able to learn how to read music and find the appropriate keys on the keyboard. She also had an opportunity to practice regularly in Miss Melody's Practice Room and try out composing her own music and experimenting with different beats in the Improv Room.
I was really impressed with the lesson plans that were provided. It gives you, the homeschool teacher, a detailed play-by-play of where to direct your child within the areas of the software program, what to discuss to measure understanding, and which worksheets to have the child complete. It also recommends when to supplement the learning with your own classical music collection to expand the lessons. I happen to own an extensive collection of classical music, which is my favorite genre of music, so it was especially fun for me to be able to pick out appropriate selections to share with my daughter that tied in with her lessons. I noticed that Haylee began to recognize pieces on the classical radio station that she had heard in her MusIQ School lessons. I was thrilled about that!
A typical "session" included:
a brief review discussion of what we'd covered recently
some time spent using the CMJ software lessons (usually 1 or 2 lessons per session)
some practical application in the software's Practice Room
some fun time playing the software's games (which are unlocked gradually as the student progresses through the lessons)
a brief discussion of the music history covered in the lesson (sometimes augmented by an information sheet on the composer)
occasionally some time spent practicing rhythm
a few minutes of play in the Improv Room in the software, and sometimes the Library
the concluding time spent reviewing the lesson with the Practice Sheet and doing the assigned worksheet(s)
We kept to the recommended pace of weekly sessions, but I can definitely see Haylee's interest is in doing more than one session per week. Since she is older than the recommended age for starting with CMJ 1, she can freely go at her own pace without risk of getting ahead of herself. I plan to let her continue doing just that. Using the program has been a real motivator for her! She begs to work with it, and she wants to complete her other school work in a timely manner when the promise of extra practice time hangs in the balance!
We used the recommended keyboard with the program and had no problems with the initial setup. It was very simple and got us up and running pretty quickly. It's very easy to use and connects to my laptop computer with the included USB cord. I loved that the notes were labeled above the keys to help her effectively learn the keys.
Haylee really enjoyed the animated composers who taught her the lessons. I think this approach is just right for kids. When Beethoven brought out his giant earpiece to help him hear, she began
to laugh, and it immediately got her interested in learning more about this funny composer. She learned memorable facts about the composers and the types of music they wrote, how many beats the notes represented, and the proper hand and finger positioning for playing the piano. I loved the enthusiasm this program generated in her! And being a worksheet-kind-of-girl, she enjoyed doing those, too. I had a sense that this program was all-encompassing, covering so many aspects of music instruction in one convenient package. I could definitely see us continuing to use such a wonderful product. It has already brought her so many hours of happiness while learning at the same time!
Now I just want to touch base briefly on the limited experience the rest of us had in using the product. I personally spent many hours in Piano Suite Premier for my own enjoyment. I did not use the lesson plans for my own use, but strictly practiced using the software's lessons and practice areas. I was astounded at the sheer number of pieces available for me to practice playing! I'm totally addicted! I never had formal music instruction, but my family owned an organ when I was growing up, and I taught myself to play. So I'm greatly looking forward to using Piano Suite to hone my skills and correct my bad habits so I can learn to play properly!
My 5-year old son briefly used CMJ 1. He really enjoyed it, too. He needed me nearby to help him navigate his way through the program, unlike his sister who could make her way through it independently, but he really had fun, and he asked to play again several times. His sister, though, dominated use of the keyboard, so he hasn't gotten his turn as often as he would have liked!
My 13-year old son also used Piano Suite Premier, but having had no formal music instruction, he felt a little discouraged at his lack of understanding. It just seemed to move a bit too quickly for him. After this experience and some discussion with a kind representative at Adventus (they're very nice and so helpful!), we determined he'd be better served by backing up and starting in CMJ 2 at an accelerated pace, continuing through CMJ 3, and finally coming back to Piano Suite Premier when he has gained a stronger overall knowledge and skills base. We're all set to sort of "start over" with him now, and I'm busy printing up the materials for CMJ 2 so he can begin again. I have a strong suspicion that he will find it to be a lot of fun, and it will certainly help build his confidence before coming back to PSP.
So as you can see, if you have kids of different ages and skill levels, you can really benefit by taking advantage of the monthly subscription so you can have access to all the levels at one time with the freedom to regroup and start in a new place when necessary and already have the levels you need in order to do that. If you really want to purchase the program on CD-ROM, then you might find it beneficial to at least do the monthly subscription for the first month so you can figure out what levels are right for your kids before making your final purchase. But however you decide to do it, you also have the benefit of a 30-day guarantee. Just do it! You won't regret bringing this kind of fun learning into your homeschool!
Check out what other Crew members thought of this program by clicking the banner below.

***