Recently, I had the opportunity to review a great game called the Jeepers Peepers Glasses Game by Super Duper Publications.
From the company:
Am I a monkey? A hamburger? An astronaut? How many questions will it take to find out?
That's the question on everyone's minds—or glasses—in Jeepers Peepers, The Ask and Answer Question Game that builds questioning skills, describing skills, categorizing skills, problem solving skills, and more! Have one student put on the glasses. Place a photo card in the Peepers slot without showing it to the student. Have the student face the other players and ask yes/no questions to find out what he/she is! Then, have everyone play!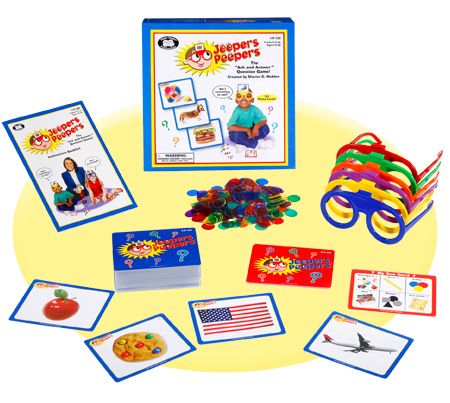 This game can be played with up to 6 players.

The instructions provide you with a number of variations of how to play.
You can watch a video of how to play here.
Everything is ready-to-go when you open the box…no initial setup is required. That's a big selling point in my book!
Jeepers Peepers is recommended for grades K and up, but I feel it could even be used with preschool-aged children with some modifications.

I would suggest giving preschool-aged children clues as to their identity on their turn rather than having them ask the questions. This way, they could still have the opportunity to use deductive reasoning skills to figure out what they are supposed to be, and in time, would perhaps learn to ask their own questions with some practice.
My 12-year old son, Hayden, and I played it the first time through.
We didn't have a lot of time to play on this occasion, so we selected a simple version of game play.
We each wore a pair of glasses and placed a photo card in each other's glasses so only the other person could see it.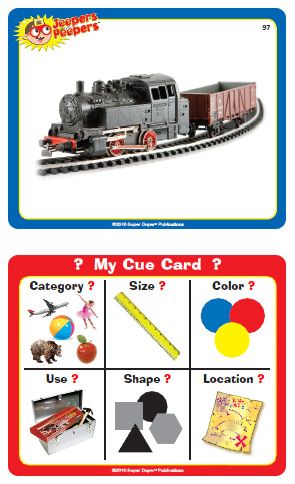 Using the Photo Cards as a guide, we devised questions to ask each other to help us narrow down the possibilities.
As we narrowed the gap of what the choices could be, we began to use our turns to guess what we each were.
This is where it got really fun for us, because we each knew the other was getting close to guessing the right answer!
We were able to finish this first round in about 15 minutes, so that was great.
We had some laughs and really enjoyed the sense of competition with each other.
I'm sad to say that he beat me!
It was close, though.
Maybe next time!
J
The photo cards include 5 categories:
Animals, Food, People, Things, and Transportation.
There are 101 photo cards within those categories that indicate the possibilities of what you might be.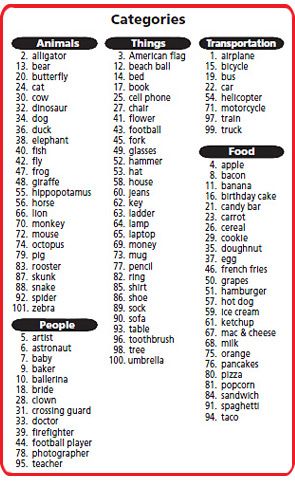 $29.95 includes:
*
6 pairs of Jeepers Peepers glasses
*
101 photo cards (4" x 5")
*
Spinner and bingo chips
Additional add-on cards can be purchased for $15.95, as well as an extra set of 6 pairs of glasses for $11.95.
Overall, I think this is a really fun game that builds great skills in deductive reasoning through a process of elimination, doesn't require a lot of time to play, can be played a number of different ways, and is one of those rare games where players of all ages truly can actually play together and still have fun on their own level. That makes this game a winner for my family of 5 that ranges in age from 4 to 41!
And although there are 101 photo cards that you would eventually exhaust and might at some point become bored with, you do have that option to expand the game with the add-on pack, and that certainly extends the life and interest factor of this game. The parts are sturdy and should last a long time, making it a good investment.
Right now, they are offering you a wonderful discount of 30% off for
Jeepers Peepers
with coupon code BLGJP30 through 08-31-12, so be sure to take advantage of this awesome opportunity to add this game to your family's game night!
Super Duper Publications specializes in products for special education needs. However, many of their products can be used for regular education, as well. It's worth taking a look at their products to see what might work for you. My 7-year old daughter tried the free trial of the HearBuilder software on the website, and she enjoyed it very much. I can see how it could help build listening skills in young children, regardless of their level of education.
Additional coupons are available for the other Super Duper products that The Crew reviewed, so be sure to read more reviews of these fabulous products from Super Duper Publications by clicking on the banner below.

I was provided with this product at no charge for the purpose of completing this review, but all opinions are my own and reflect my family's honest use of the product.