My 4th grader and I had a wonderful time reviewing this wonderful homeschool geography curriculum by Let's Go Geography.
WHAT IS IT?: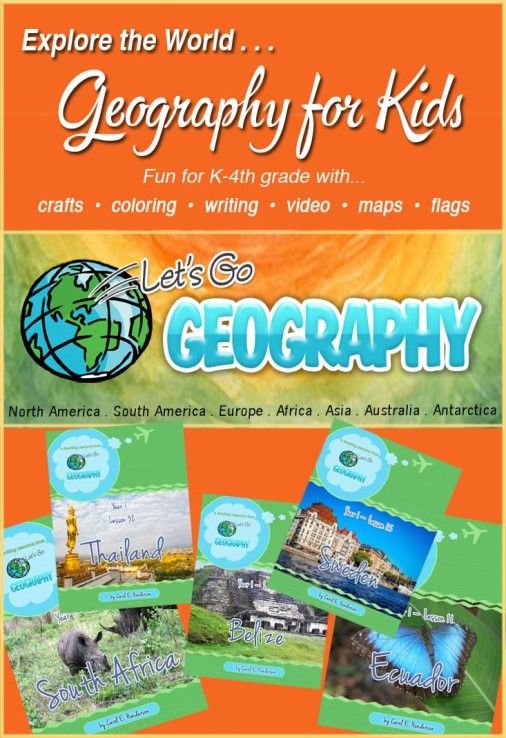 Let's Go Geography is an engaging new geography program that allows your children in grades K-4 to explore the globe one country and one continent at a time!
This program provides a gentle introduction to places and cultures using a combination of map work, fascinating video links, full-color photos, simple summary writing, coloring pages, and hands-on crafts. It also provides book lists for optional reading and additional links for more in-depth facts and information for older students who want to learn more.
Year 1 is currently available, and Years 2 and 3 are still under development. Take a look at the 3-Year Schedule to see what countries are studied and when. And also watch this video to understand what's included and what a typical lesson looks like.
This first year is available for just $21.99. You also have the option to purchase just one semester or to purchase both semesters in 2 payments, receiving access to only one semester at a time. They are also in the process of offering single lessons for sale. Take a look at all the options and see what's right for your family!
OUR EXPERIENCE:
Let me just say that I was really excited to see this unique product offered for elementary students! I've never really taken my kids through specific geography studies where we got out maps and looked at countries as we studied them. I'm teaching my third and final homeschool student now, and he's in 4th grade, so this product came along just in time for us!
I really love this program with its gentle introduction to geography lessons. It's just right for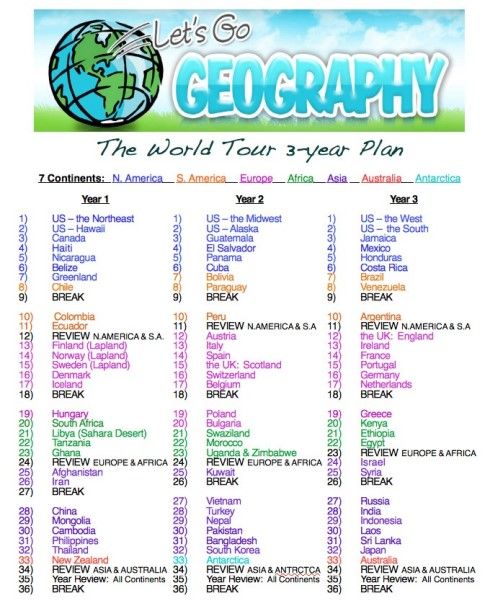 elementary students, and perfect for Holden, who is 9, almost 10, and has ADHD. His attention span for anything school-related is pretty short, and he loses focus after more than a few minutes. But the setup of this program was perfect for him. It is pretty flexible. It's designed to take about an hour of study per lesson, with one lesson per week. The assignments are broken up into smaller chunks, as well, so you can either plow right through a lesson in one sitting if your student is up for it (we did that sometimes on Fridays, which are days off from school for us), or you can do it in smaller, more manageable chunks each day that are easy to work into your school schedule. We do a 4-day homeschool week, and it fit very well with that schedule, as well.
When I first gained online access to the program, I realized I could either access the lessons right from my subscription page, or I had the option to download them onto my computer. The lesson page times out after a while of inactivity, like when we were busy watching the video links in another window, so we found it flowed better for us if we downloaded the lessons onto our computer and clicked the links from there. That kept us from having to log back in repeatedly during one lesson if we were planning to do the whole thing at once.
So after downloading the lessons, I also printed the student Passport, which was free for doing one social media share. It turned out really cute. I printed the cover on colored cardstock, inserted the pages, and stapled it in the binding so it would work just like a real passport. There was a place to put his picture and personal data on the first page, too. The subsequent pages named each continent we'd be studying and gave us space to glue in each country's flag as we studied each new location.
The next step was to print "My Travel Journal." This was basically a binder with an insertable cover and printable tabs to create dividers inside by continent. Then there were picture collages of the countries we'd study on each continent that we pasted on the front of each divider. Now we were ready to begin!
Before each week began, I'd receive an email reminding me which country to study that week. Then I'd go ahead and print all the materials from the lesson that we'd be using and insert them in the binder.
Each lesson began with a map of the continent where we'd color in the country of the week. Then there would be an additional map we'd label and color that showed the specific country or region in more detail. With both maps, we were provided with some questions and answers we'd go over together that got Holden looking more closely at the maps to observe bordering countries and oceans and other bodies of water.
On the next day, we'd color 2 copies of the flag for that country…we'd cut them out and paste one into the passport and one onto a map of the continent, where we'd draw a line from the flag to the location of the country on the map. Then we'd listen to the country's national anthem using an online link in the lesson.
On the t
hird day, we'd start off with exploring the country. We'd learn some quick and interesting facts about the region, and then we'd go sightseeing by clicking the online links to a series of fascinating videos. Usually, it would show us an aerial view of the country's terrain and land features, and we might see an example of how people live from day to day in the marketplaces and such. Then there were additional videos that might tell more about their history or unique features of the area. We'd often learn about animals in the region, as well. The videos were very entertaining, and we both enjoyed them very much! This was my personal favorite day of the week, and I think it was Holden's favorite, too! He loves to watch videos, and none of them were too long…just a few minutes each.
On the fourth day, we'd look at photos of major landmarks and unique features of the country, and then we'd use the included journal page t
o write down things we both remembered learning about the region…the things that stood out in our minds. Then I gave Holden the printable coloring page for that country, and we'd end the day with that. There was an additional craft activity for each country, as well, which would be great for day 5. But Holden's not big on doing crafts, so we just looked at them and left the option open if there was something he decided he wanted to do. They were simple projects like constructing a lighthouse out of plastic cups, painting with watercolors over a maple leaf impression, or making a sea turtle paper bag puppet. They were all things you could make with simple printables and household materials, and all of the instructions and color photos of finished projects were included.
During the review period, we were able to complete 5 lessons over the course of 5 weeks, covering the U.S. Northeast region, Hawaii, Canada, Haiti, and Nicaragua. As we completed each lesson, we checked the little box on our subscription page to show we'd completed it, and the next time we logged in, there were check marks next to our completed lessons to make it easy to know where to pick up with the next lesson.
The program is designed to have 32 weekly lessons with 4 weeks of breaks built into the suggested schedule, but of course, it's easy to follow the pace that best suits your own
interest and availability. Every 12th week is a review week.
The review week begins with a map review. Here, your student finds and colors/labels the countries that were studied so far. Then they learn some additional map skills like latitude and longitude, compass rose, etc. Then there's an activity page where the student can answer questions about the new map skills they learned.
The next portion is a flag review. Here, the student is given printable pages of the continents with full-color flags printed on them, and the student has to match the flags with the countries on the maps from memory.
The third portion is a review of what they explored. Major facts are summarized for each continent learned so far. Then the student is given a printable activity where they match photos of key places, attractions, or animals in each country with the name of the country where it can be found. This is challenging!
Lastly, there are links for additional online exploration, a printable journal page to summarize what they've learned, and printable collage coloring pages for each continent they've studied during the period.
As you can see, there's a lot to see and do here! I love that the review is built-in, making it easy to assess what your child has retained from his or her weekly lessons as they progress through the year.
The bottom line for us is that the lessons are fun, there's a lot of variety in the daily activities,
it's entertaining, and we're both learning interesting things! I think Holden's favorite part so far was the videos of the erupting volcanoes in Hawaii! And he was also fascinated with the videos of Niagara Falls when we were studying the Northeast region of the U.S. I've actually been there, but he hasn't, so it sparked a fun conversation of sharing what it's like to actually be there and feel the water spray on your skin and see the frozen wonderland that surrounds it in the dead of January!
The photographs are so vivid, and the videos keep it interesting and entertaining, while the map work, questions, and journal pages ensure he's learning tangible skills in geography. In summary, I feel like this is the most interesting elementary geography program I've ever seen! It fits with our schedule, and it keeps his attention well enough that we can actually keep up with it and get it done! That makes it a keeper in my book.
Check out what other Crew members have to say about Let's Go Geography by clicking the banner below.