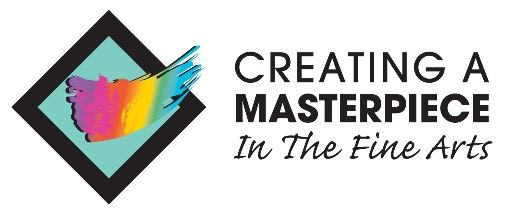 We were absolutely overjoyed to get to review the Monthly Plan from Creating a Masterpiece!
WHAT IS IT?:
Creating a Masterpiece offers many options for access to their unique online art instruction program, including monthly or annual subscriptions, as well as annual access to individual levels. There are also discounts for group access.
We received access to the Monthly Plan, which gives unlimited family access to all levels of projects on a month-to-month basis without an ongoing commitment for just $39.99/month. This provides your entire household with access to over 144 lessons, plus additional videos and tips!
Creating a Masterpiece has been used successfully by students as young as 4-5 years old, and yet it's appropriate for adults, as well. The goal of the program is to teach students in such a way that they can produce a masterpiece rather than simple refrigerator art, as is the case with so many art programs used by children. The aim is to have them complete something they can truly take pride in!
OUR EXPERIENCE:
I was really, really excited when we were selected to review Creating a Masterpiece! The reason for my excitement was that many years ago, a good friend's children used it when it was just available as individual lessons on DVD, and even her preschool student produced the most amazing results! I was truly impressed. I had watched some testimonial videos online that showed even very young students being called from the audience at various homeschool conventions and completing beautiful works of art right before your eyes. It was really something to behold! That led me to believe that anyone could use this program with success.
Years later, I was at a homeschool convention myself and saw a booth set up by this vendor. I stopped by and looked at the materials and was informed that they were transitioning to online access to all of the projects at once. That really got me intrigued! There would be no need, then, to keep buying individ
ual DVD's to learn new projects. That was a great idea.
So fast forward to now…I just knew my daughter would love this program, and she absolutely did! She normally jumps at the chance to do any kind of art review, but I can honestly say that this program quickly took the forefront as her most favorite art program EVER! And those are her words, not mine. She had a favorite art program before for many years, but she made it clear to me that there's no longer any competition. She is in love with Creating a Masterpiece!
She said it's so easy to use and follow. Once you log in to the site, you see all of the projects laid out before you. They are visually categorized by level in the order from simple to most difficult. There is a sample project, then the beginner level, then all of the projects for levels 1-5 broken down, and then finally, a section for art in history.
Once you click on a project, it describes the project and breaks dow
n how many lessons it will take to complete it. When you select the first lesson, you will get an embedded instructional video, color swatches to help you match your supplies to the right shades for the project, a list of required supplies, some tips, highlights, downloads for the project (including a .pdf of the supply list as well as a link to purchase the right supplies from the Dick Blick website), and samples of advanced applications of the techniques learned in the project. Even the instructional videos are broken down into individual stages.
My 12-year old daughter, Haylee, said it was so easy to follow. I was just able to log in and set her loose to choose a project and work on it without any help from me. I just made sure I had an assortment of supplies for various mediums available to her, and she was able to work on it from start to finish on her own. When she would let me know she would like to do a particular project next, I would pull it up on my phone at the art supply store and easily access the supply list to make sure I got just what she needed. The color swatches shown for each project made it easy for me to use my phone to match up paint colors and such to ensure the project would turn out the way it was intended. I loved the convenience of that!
During the review period,
Haylee was able to complete two watercolor projects and two soft pastel projects. Watercolors were always her favorite medium, but she really fell in love with the soft pastels, which were totally new to her. She knew nothing about how to use them properly, but she learned all she needed to know in the project videos! She really liked how forgiving they were. She explained to me how easy it was to fix a mistake with them. We both loved the soft finish of those projects. I told her I'd have to get some frames with glass to display them and protect the surfaces. They were so pretty!
I think Haylee plans to move on to trying out the watercolor pencil projects next. She just got a new set to use for that purpose. I love that she is feeling so enthusiastic about this program! Sometimes, she'll pick a project that is broken down into multiple lessons, but she'll just keep at it until it's finished, only stopping to let something dry between stages. I'm really proud of how hard she worked on it, and the results were so beautiful!
Haylee's cousin made her a wood-framed cork
display board for her bedroom a few months ago for her birthday, and she likes to display her art work on it above her bed. I can only imagine it being filled up with lovely masterpieces created with this program before long!
We would definitely recommend this program to anyone who doesn't want to waste time feeling discouraged or inept in their artwork. This program has a unique way of making masterpieces an achievable goal for everyone!
Take a look at what other Crew members had to say about this awesome art program by clicking the banner below.