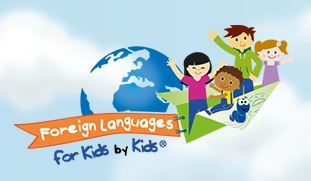 My 8-year old son, Holden, was really looking forward to practicing his Spanish with the Starter Set 1 by Foreign Languages for Kids by Kids.
WHAT IS IT?:
Foreign Languages for Kids by Kids offers a complete Spanish language course for students from preschool through adults. It combines immersion with visuals in the form of entertaining videos, flashcards, workbooks, and stickers to engage all types of learners. The videos make you laugh, and laughing makes the content more memorable. The program is available online via subscription, but it's also available as a physical kit called Starter Set 1, which is what I received.
It includes:
Complete 20-week curriculum guide with games and activities
DVD 1 containing the first three videos in the series
Three workbooks that coordinate with the three videos
Sticker set that accompanies the first video
Flashcard set with graphics and vocabulary from the first three videos
Go Squish! Card Game (included as a bonus for a limited time)
The starter set is regularly $165.00, but it's on sale now through August 31st for just $140.25! That's a savings of 15%!
You can watch a brief sample video to get a feel for the immersion involved. You can also try out some of the student workbook activities from Level 1 in the online format, which is identical to the contents of the printed workbook.
OUR EXPERIENCE:
Holden really enjoys a good interactive Spanish program. We've tried a number of different formats, but he generally enjoys a combination of visuals and hands-on activities. This beginner Spanish program definitely fit the bill!
I was excited when I opened the box to find so many elements included! It seemed a little overwhelming at first, but then I realized there were several sets of workbooks and teacher's guides…one to accompany each of the included videos. So after pairing up the materials in the order we'd be using them, I sat down with the first teacher's guide and read the very helpful introduction called "How to Get Started." This gives a basic overview, goals, and methodology for the program. The basic premise is that by having students hear the conversational language spoken in everyday situations repeatedly over time, they will be able to discern the meaning of the words based on their use in the context of conversation. Repetition is key here. Students will watch the videos over and over again in segments and as a whole.
This section also explains the layout of the guides, which are broken down by lessons. If you choose to use the suggested lesson plans, it really makes it super easy to follow! It even includes an estimate of time needed for each lesson (including the activities), which really helps in planning purposes. It might also help you to know that the format of the videos is such that it's meant to feel like you are on an airplane taking a trip to the designated Latin American country, and you are watching these videos as in-flight entertainment. My son got a big kick out of that! It made him giggle. Our first "trip" was from Washington, D.C. to Lima, Peru.
The first video is called Basketballs Aren't for Breakfast. In this show, three brothers are i
ntroduced as they arrive downstairs for breakfast. One brother loves to eat, one loves to read, and one loves to play basketball. You also meet the family dogs, and you learn of their personalities by observing their dreams…one wants to eat the family's breakfast off the table, and the other one just wants to sleep!
Throughout the film, you get to hear and observe the characters interacting in everyday activities like getting up, eating a meal, looking for missing items, going to a party and giving a gift, playing, etc. Students get to learn a host of vocabulary words naturally, to include basic greetings, words of courtesy, family members, names for foods, household items, as well as other common words to describe things like big/little, sleep, I like/do not like, where is, here is, there is, etc.
There are eleven lesson plans in the Level 1 teacher's guide, and we got to do a variety of activities after each viewing of all or part of that first video. Some of those activities included:
doing workbook pages together (the workbooks are recommended for 3rd grade and up)
learning about the geography of Lima, Peru
choosing some of the stickers from the sticker pack and placing them around the house to label appropriate items with Spanish words. We had fun sticking "la pelota" on his ball bin and "huevos" on the egg bin in the refrigerator!
matching Spanish words or phrases with photos in the card decks
playing the Rapid Review game. At the end of the video, Holden tried to call out the Spanish words for items that appeared on the screen before I could…that was a fun game and a great way to review! It really challenged him to have quick recall of words.
discussing interesting facts from the student workbook
learning grammar applications in the final lesson
There are also additional suggested activities at the back of the teacher's guide for extended learning. We haven't quite finished Level 1, but pretty soon, I definitely plan to use some of those extended activities like drawing the Peruvian flag and cooking some Peruvian food. Those are the kinds of hands-on things that really excite my s
on! When we get to the end of the teacher's guide, there's also a lovely completion certificate that I can tear out and present to Holden for completing the first part of the course.
In the student workbook, Holden got to match images with Spanish words, do a simple word search, label things he likes or doesn't like with "me gusta" or "no me gusta," answer yes or no questions that reviewed events from the video, unscramble Spanish words, and circle appropriate images to match words. He also got to do some grammar activities like determining if a noun is feminine or masculine and using el/la or las/los before the nouns. We learned about the geography and culture of Peru. There was also a crossword puzzle, some fill-in-the blanks, a secret message, some more grammar and idioms, and a cartoon activity.
In peeking ahead to the Level 2 and Level 3 student workbooks, it looks as though there are a variety of written activities in those, and each workbook has different types of assignments in it with progressing difficulty.
There's also a Go Squish card game that is similar to Go Fish, only the players speak only in Spanish! It has two levels of play using either simple phrases or complete sentences. Fun!
In speaking with the vendor, I learned that hopefully in the fall, they plan to give access to online quizzes for purchasers of the physical Starter Set 1. Currently, the quizzes are only available to online subscribers. I'm looking forward to assessing Holden's learning with those online quizzes!
Overall, I'm very impressed with this program. The vocabulary is extensive, and learning the language is fun! We found ourselves using the vocabu
lary words throughout our day, reinforcing what we'd learned. I love the suggested lesson plans, which provide me with an open-and-go curriculum. I also love that the videos are funny, and since we have been doing the recommended two lessons per week, the repetition of the videos does not become too monotonous. Also, the amount of time that Holden is required to sit is relatively short, which is important for him. The activities get him moving around from place to place, watching a video, placing stickers around the room, moving to the table to do a workbook page, or spreading out on the floor with a fun card game.
If you're looking for a fun, interactive Spanish curriculum that doesn't feel too heavy, then give this a try and see for yourself how well it works!
Check out what other Crew members have to say about this awesome program by clicking the banner below.