My 8- and 13-year old kids had the opportunity to try out Let's Make a Web Page by Motherboard Books.
WHAT IS IT:?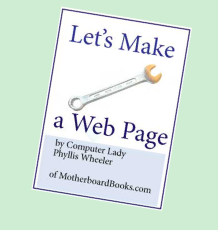 Let's Make a Web Page is a short-term lesson e-book providing step-by-step, easy-to-follow instructions on how to build your own web page using a 30-day free trial of the Coffee Cup HTML editing software. It is intended for kids ages 8 and up. Children under 10 may need an adult alongside them. There are 10 lessons in the book, including:
An Interview
Download and Set Up the Program
Add Text
Make a Table
Add a Photo
From the Internet, Add Animations
Browser Check, Backgrounds, Photos
Sounds
Links
Post Your Work
This 60-page e-book is available for $19.95.
OUR EXPERIENCE:
The first thing I did when I downloaded the e-book was to print it and bind it into a manual using plastic comb binding. It's not necessary to make a hard copy, but I just prefer it.
My husband worked on this with Hayden (13) and Haylee (8) in the evenings after work over the course of 4 days. They sat with their laptops side by side on the countertop, and he read them the instructions from the book while they executed the steps.
For the first lesson, we had them interview each other about something they liked to do. My husband and I took each one aside to help them formulate some useful questions to ask each other, and then they did the interview. That was all for the first lesson. Steve took their hand-written interviews and typed them up on his computer.
The next day, I downloaded and set up the 30-day free trial of the Coffee Cup software on each of their laptops before Steve came home from work. When he got home, he helped them with the next 3 steps to add text, make a table, and add a photo that they took of each other. Steve added the photo to the interviews he'd typed up and emailed it to them so they'd have it on their computers ready for the next lesson. That was all for that night.
The third evening, they added animations and worked on picking their background colors and photos. They really got excited during this lesson when they could each start to customize the appearance of their pages. They had a lot of fun playing with the background colors and deciding how they wanted it to look. They chose not to add sounds or links, so they stopped there for the night.
On the last day, they worked on posting their pages. For some reason, Coffee Cup would not even open on either of their computers. We're not sure what happened with that, but fortunately, they were already done with making the HTML file. On with lesson 10! Luckily, there were alternate instructions for lesson 10 for those who were no longer using Coffee Cup. That was a relief, because we were a bit panicked at first!
That final lesson gave us instructions on how to make their web page show up as their default page in their browser so that it would be local to that computer only. So that's what we did. Voila! It was so neat for the kids to see their completed pages! Here they are:
All in all, this was a super-simple, well-explained program that my kids really enjoyed using. It built their confidence so much so that they both felt they could create another page without any problems. Not bad for 4 sessions!
At the end of the book, the author also gives other suggestions for free HTML editing software you can try if you don't want to continue using Coffee Cup beyond your free trial. So the fun can continue, even after your 30 days are up!
If you or your kids have an interest in learning to make a web page, then this may just be the product for you!
See what other members thought of this and other products by Motherboard Books by clicking the banner below.

***