My family had the opportunity to review the book One Minute Mysteries: 65 More Short Stories You Solve With Science! by Science Naturally.
WHAT IS IT?:
One Minute Mysteries: 65 More Short Stories You Solve With Science! is a brand new book of short story mysteries that was just released in January of this year. Each mystery takes just a minute to read, and they are designed to get you thinking through your knowledge of science and using your critical thinking skills in order to solve the mysteries.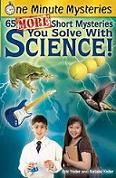 So if you love mysteries, you love science, or both, this is the book for you and your students, even if you only have a minute to read! What a fun and engaging way to put your thinking cap on! You'll get exposure to a variety of science disciplines in the process.
This book is targeted for ages 8-12, but adults can enjoy it, too!
You can take a look at a sample before you buy, and this 180-page book is available for just $9.95. It also comes in digital format for your Apple device for the same price, or for the Kindle, Nook, or Kobo for slightly less,
OUR EXPERIENCE:
Each mystery story is printed on the front of a page, and the story is concluded with its explanation of the solution on the backside of the page. This gives you the opportunity to think about the science application and try to solve the mystery before you turn the page to conclude the story and see how the mystery was solved.
We absolutely loved that you could pick up this book just any time and read a story or two as you had the opportunity to do so. It's great that it doesn't take a big block of time, because in our busy family, that means it's more likely to get used more often!
There are a total of 65 science mysteries: 15 stories each in Life Science, Earth and Space Science, Physical and Chemical Science, General Science, plus 5 miscellaneous science stories and a bonus section with 5 of the mysteries from the book titled One Minute Mysteries: 65 Short Mysteries You Solve With Math!
Both my 8-year old daughter and my 13-year old son enjoyed listening to me read the stories aloud as they tried to see who could solve the mysteries first. Most of them were pretty simple, but the mysteries did get their brains working. I enjoyed them myself, scanning back over the story for clues to solve the mystery in my own mind while waiting to see which one of them would get it first. Then I'd turn the page and finish the story, giving them the solution with a complete explanation of the "why" behind it. Of course, anybody who hadn't figured it out would exclaim loudly "OH!" because they all made perfect sense.
We tried out stories from each of the science disciplines as well as the bonus math section. I only told them which science discipline the story was in so they could apply the right principles as they listened to each story unfold. They had so much fun with it! And as for the preview into the math mysteries, I can definitely see how it would be good for my 3rd grader. Those stories are like extended word problems that get the student thinking about real life applications for basic math. That was pretty neat, too!
We found these stories to be stimulating yet simple enough even for my 3rd grader, but still fun for my 8th grader, too. This book is great entertainment for a rainy day, a relaxed evening at home, or an unexpected wait at an appointment. We packed it for a mini-vacation we took and thought it was great to fill downtime in our hotel room. This is a great book to add to your collection of fun stuff to do!
If you're ready to give it a try, take advantage of this special offer for a limited time: Purchase any 3 books from Science Naturally for only $19.95 + $2.95 shipping. The retail value for 3 books is $35.80 with shipping, so that's a savings of $12.90! Just enter coupon code "3SPEC" in your shopping cart at Science Naturally. Enjoy your savings!
Take a look at what other Crew members had to say about this product by clicking the banner below.

***